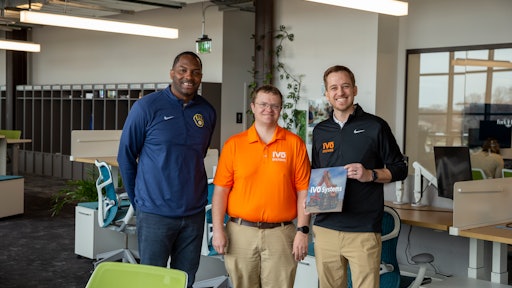 IVO Systems/TitletownTech
With offices in Madison, Wis., a growing staff and nine modules of software for heavy, highway and civil contractors, IVO Systems is positioning itself as an alternative to incumbent construction software suites in the space.
In August, IVO Systems and TitletownTech, a venture capital firm anchored by the Green Bay Packers and Microsoft, announced a successful $1.5 million seed round led by TitletownTech with additional investment from customers including Oklahoma-based Woods Dirt and Ohio-based Eramo & Sons. Funds will be used to make product enhancements and hire for roles in marketing, sales, and software development.
TitletownTech invests in early stage, high-growth companies, and has also backed Kentucky-based Configure, a marketplace to help designers and contractors purchase engineered-to-order and technical products through a digitized supply chain with local suppliers. Titletown Tech makes investments of between $200,000 and $2 million, either as a leader or co-investor. They favor founders in Wisconsin or the Midwest and have construction and manufacturing as a target sector.
Modern, Mobile Heavy Construction Software
In a September briefing with IRONPROS, IVO Co-Founder Eric Christensen said the company was small but hiring, with sales and customer success calls both currently being fielded by the founders themselves.
"With this funding, we have three go-to-market strategies," Christensen said. "Number one is creating our internal salesforce; number two is creating an external sales rep network. And number three is channel partnerships getting into sales marketplaces and integrations with all the construction enterprise resource planning (ERP) products like Sage, Foundation, Acumatica and Viewpoint."
Christensen said the Procore marketplace may be on the list for IVO Systems to join, but "they're probably a little bit more competitive in our space, and we'll probably go to them later than some of these other ones with less competing products."
Christensen and co-founder Bob Lien worked together at R.G. Huston Co., a Wisconsin-based civil contractor where Lien laid the groundwork for the equipment management component and other concepts underpinning IVO Systems' current product line. Lien used the online magnet board to pull in data from Caterpillar, John Deere, Volvo and other telematics systems and to manage operators, fuel usage, idle time and more.
"We used the HCSS products while we were there, all of them," Christensen said. "My co-founder worked in the shop with the mechanics, using Equipment360. I worked in office, where we had heavy job for dispatch. We built what we wished we had. We've been described—and this is an easy explanation but not 100% right—as like HCSS lite. We're a modern platform that's mobile-friendly with the core essentials heavy contractors need."
IVO Systems currently offers nine modules including:
TrackVO equipment and project tracking
DispatchVO dispatch ticket management and scheduling
TelematicsVO, a GPS and telematics integration platform
RentalVO for equipment rental tracking
MaintainVO for automated preventative maintenance and work orders
EQInspectVO equipment inspection forms
ScheduleVO for employee project scheduling and notifications
FieldVO, a field reporting dashboard
UtilityLocateVO, a tool for utility location and documentation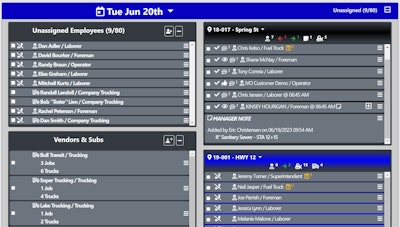 The list of modules is set to expand into more construction processes with:
TimeVO for auto-populated employee timecards
FuelVO fuel and fluid tracking
CredentialVO for employee licensing, certification and training management
SafetyVO safety inspection forms
PlannerVO for long-term employee and equipment tracking
The current customer list is naturally heavy with Wisconsin contractors, but IVO Systems has customers from coast to coast and as far afield as Australia.