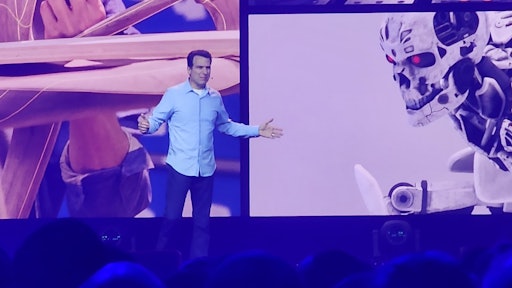 IRONPROS
While Autodesk has been ramping up elements of artificial intelligence (AI) in its construction and architectural/engineering design products for a while, a fresh complement of new AI tools came to market in Las Vegas at Autodesk University the week of November 13, 2023.
Autodesk offers a spectrum of software products for architects and engineers, extending workflows into construction with Autodesk Construction Cloud construction management and products including the Autodesk Build project management application.
About 12,000 Autodesk customers and partners were on hand for an event that kicked off with pounding house music and a light show, and proceeded into a rapid fire series of product announcements for construction and Autodesk's other sectors. Front and center was the Autodesk AI initiative, which encompasses existing and emerging AI technologies.
Some of these, like Construction IQ which has applied AI to predict, prevent, and manage construction risks on more than 12,000 projects, have been in the market long before Autodesk University. But together with emerging releases announced at the event and trickled out in the weeks and months before, they signal Autodesk's progression toward intelligent construction software.
Autodesk Forma, the platform for early stage design, now harnesses AI to automate design for wind, noise and operational energy consumption during early planning.
The new Machine Learning Deluge Tool brings to Autodesk's InfoDrainage software product the ability to steer users toward optimal placement for retention ponds and swales.
AutoCAD leverages AI to help users read handwritten and digital markups, determining the intent of the user and recommending context-aware actions to incorporate changes.
Presenters included Adam Tank, co-founder and chief customer officer for Transcend Software, a company in which Autodesk has invested. Transcend Design Generator is used by asset owners, engineering firms, and equipment suppliers to rapidly produce conceptual designs for infrastructure including water, wastewater and power.
More than AI
In a briefing for media prior to the event with Vice President of Industry and Portfolio Marketing Vikrum Dutt, investment priorities were built around business priorities rather than artificial intelligence.
These include:
An open, interoperable, accessible and secure data strategy
Development of Forma industry cloud for the AECO sector
Interoperability agreements with Trimble, Nemetschek, Ansys and others
These priorities were evident at Autodesk University. Construction keynotes touched on recent significant, if incremental, functional improvements to Autodesk Construction Cloud that improve project communication and drive design data into the field. As covered by IRONPROS, these include:
The Correspondence product, which aggregates email communication, harvesting project-related documents and correspondence directly from email clients like Outlook or Gmail.
Model Quality Workflows that package data from design into construction-ready models. Using Model Quality Workflows, users can curate data to provide more relevant and usable ways for contractors to engage with it.
Sheets Collection, which streamlines project document management inside Autodesk Construction Cloud and eliminating the need to create and own multiple projects or prefix sheet names for a single job. Sheets are accessible to teams in the office and field for larger multi-building projects.
Bridge for Closed RFIs, which will expand access to closed RFIs across projects or accounts using Autodesk Bridge. In the Tuesday Construction Keynote, we learned this will also encompass closed design packages, workshare models and as-builts.
AI is not new for Autodesk, and neither is a heavy focus on interoperability. But yet there was plenty of legitimate interoperability news on two fronts.
The first is internal to the Autodesk product suite. While Autodesk Construction Cloud is probably one of the more modern architectures in enterprise construction software, there is still enough room for improvement that Autodesk is announcing further investments here to get their own suite of products to work more seamlessly together.
Autodesk Docs, the common data environment running within Autodesk Construction Cloud, is becoming more central to the solution. Specifically, data in Autodesk Doc will be decoupled from the application where it was created so it can more freely move from one application to another.
In an announcement with broad implications, Autodesk also announced a new interoperability agreement with Trimble. According to an Autodesk release:
"The Trimble and Autodesk collaboration demonstrates their ongoing commitment to support open industry standards such as Industry Foundation Classes (IFC) and Construction Operations Building Information Exchange (COBie), and can enable current and prospective Autodesk and Trimble customers working on the same projects to work together seamlessly through optimized file compatibility across applications.
"Under the terms of agreement, Autodesk and Trimble will take steps to accelerate interoperability by exchanging Application Programming Interfaces (APIs) and developer tools to build and market interoperable products. This allows the two companies to improve upon existing data exchanges, as well as open up new workflows between their products. Tighter product-to-product integration can enable design and construction professionals to share models, project files and other data between select Autodesk and Trimble solutions both in the office and the field, and allow for the reuse of information during design and construction throughout all phases of the project."
Interoperability Between Fabrication and the Field
As modern methods of construction including modular, offsite, volumetric and other prefabrication methods become popular, technology will be important if factories, contractors, owners and designers are to realize the efficiencies of these project delivery systems.
In these models, design for manufacturing and installation and field logistics are a challenge. Main stage content focused on the Oakland, Cal. Phoenix Project, a 316-unit affordable housing project by Factory OS and MBH Architects completed in about half the cost, time, and carbon footprint of a typical multi-family building in the San Francisco Bay Area.
According to Factory OS Vice President of Design Engineering Andrew Meagher, Autodesk technologies have streamlined this substantially.
"Six years ago, that would have been a question fraught with peril," Meagher said when asked how the factor and field coordinated activities on the project. "If you have five GCs, you get seven opinions. Now, through all the years of working with our architect, we've built 27 projects, and we've got another dozen in in mid construction."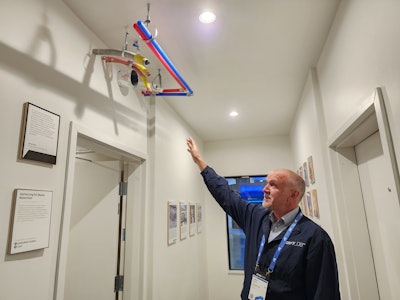 The Autodesk tech stack, most notably Revit, is central to the process.
"We build the whole building in Revit in the factory, and then we collaborate in the cloud with the general contractor to make sure that the podium and the mods will land where they're supposed to land," Meagher said. "There are embedded plates that are required in the on the concrete, that we have hold downs that get welded to it. So all of that gets coordinated. During the course of construction, our modules are done before the podium gets built. We're able to use our as-built as it were to coordinate that with the podium pretty similarly to doing bathroom pods for healthcare … We use Revit throughout our factory, and right now we're using BIM 360."