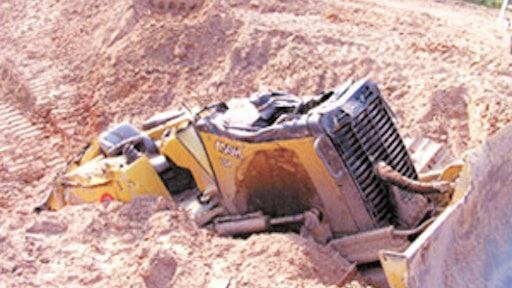 Triple B Services, L.L.P., a Houston, Texas area based excavation, utility and paving contractor, even equips any rented equipment with its real time GPS vehicle location and fleet management software system supplied by Teletrac, Inc.
According to Stoney Welch, Triple B's operations manager, the decision to invest in such a system was the direct result of an August 2004, $3 million equipment loss due to a group of very aggressive vandals. In that incident, the vandals actually used the company's equipment on the jobsite to destroy and damage 15 pieces of additional equipment beyond repair. One example? They literally buried a bulldozer. The total loss ended up being closer to $5 million by the time jobsite damage was repaired and additional labor costs and lost revenue were calculated. Shortly after that, in November, one of their pipeline projects was the site of a vandalism attempt.
That's when Charles, Keith and Kevin Burke, the company's owners, instructed Mr. Welch to investigate various systems that could provide accurate equipment location information, alert designated personnel if equipment was being moved or operated between approved operating hours and provide data capture that could be used for project billing, automating field maintenance schedules and providing detailed reports on truck fleet operations.
Several systems were investigated. In December of 2004, the company began a 90-day test of Teletrac's FleetDirector product. Following a successful test, the company than began equipping its lube, fuel and service trucks, plus its spread of construction equipment with the tracking and data recording units. Triple B now even places the units on equipment it may rent for specific jobs.
Mr. Welch summed up this commitment when he said, "Now, nothing leaves our yard without a Teletrac unit. We found out - the hard way - that it is well worth the investment to protect the company's assets."
To date, this philosophy appears to be working. Since the system was installed, not a single piece of equipment has been lost. That includes an $85,000 rubber tire backhoe that was stolen and tracked to inside a building in Harlingen, Texas, near the Mexican border. When police arrived at the location, the equipment had been stripped of Triple B's decals, repainted and was ready to be shipped out.
"If it had made it into Mexico, we probably would have never seen it again", Mr. Welch noted. He continued with, "Its recovery made us and our insurance company very happy."
The FleetDirector units that are installed on the construction equipment have sensors that record ignition on and ignition off data. With FleetDirector's Alert software, each piece of equipment is assigned designated hours for engine operation. This, combined with geo-fencing boundaries at each job site, provides a unique level of security. If the engine is started outside of the approved time periods, or the equipment is moved outside of the approved geographic boundaries, designated Triple B personnel are instantly notified via a pager, cell phone or on their computer monitor.
"With FleetDirector Alert software, we can immediately contact appropriate law enforcement agencies, identify the specific piece of equipment as to type and make, and provide them real time, accurate location information, even if the equipment has been loaded on a trailer and is being moved from the jobsite", Mr. Welch said.
Triple B also uses the engine on-off data to track and document equipment job cost factors as well as use the engine operating hours records to schedule routine maintenance operations. The automation of recording engine data has greatly reduced the time required for scheduling field maintenance activities while eliminating the need to manually record engine hours.
FleetDirector is also utilized to help manage the company's fleet of 52 field support trucks. Dispatchers can see the location, speed and travel direction of vehicle in real time. Knowing the distance and estimated arrival times at various jobsites helps coordinate maintenance activities while keeping tight control over out-of-route miles. Visual reference points, known as landmarks, appear on the dispatcher's screen as an additional aid in providing directions to drivers.
All vehicle operating data is recorded and made available in a wide range of management reports. The reports may be tailored to individual drivers,
for sub-fleets of all equipment assigned to a specific job, or broken out in any number of other ways. According to Mr. Welch, having accurate information on total jobsite activities - what equipment, how many hours on the project, total fleet miles logged to support a project - is a valuable tool when estimating similar projects or supporting additional cost claims.
Triple B Services has come a long way since its founding in 1996 when Keith and Kevin Burke put out $638 worth of signs promoting basic dozer work such as clearing lots. Today, Triple B has 335 employees and is closing in on annual revenues approaching $80 million.
According to Mr. Welch, the company's success has been achieved with a combination of hard work, dedicated personnel, owning modern top-quality equipment and employing the widespread use of technology products like Teletrac's FleetDirector system.