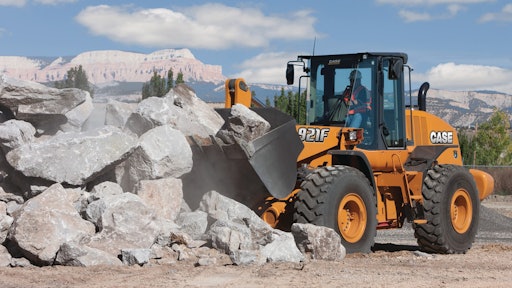 Over the last decade, the telematics industry has grown not only in use but also in capabilities, and continues to do so. According to Michael Geffroy, vice president of sales and marketing at Quake Global Inc., it continues to grow 25% to 40% year over year depending on the industry sector. The heavy equipment sector, he adds, is one of the fastest growing. "When you look at the overall market, the bigger companies have made quite a bit of progress. But the Tier 2 companies haven't, and that's still a significant portion of the market," he says.
When the concept of telematics began to emerge in 2000, it was focused on providing benefits to the end user and was limited in the type of information it could deliver. However, telematics has evolved to the point where a continuous stream of information is transmitted – everything from hour-to-hour operational data to locating vehicles around the globe.
As these systems have progressed, the benefits have expanded to OEMs and dealers, as well. The data can help them evaluate and improve their designs, or better assist and prepare for maintenance needs.
"There's just been enormous evolution, and I think today every OEM, whether it's a big guy [or one] of the smaller companies – they're all seeing [the benefits] now more than ever," says Geffroy, "For many companies, telematics systems have become just as essential to their product offerings as the engine.
Design Sooner for Benefits Later
Geffroy says considering the implementation of a telematics system earlier in the design process can ensure a more beneficial solution is developed. "When we're able to get in early we're able to influence [OEMs] and get them thinking on a higher level with regards to the potential benefits of such a solution," he says.
"Now that the OEMs recognize the increased value of early stage telematics integration, ORBCOMM's engineers work more closely with the OEM's engineers at the beginning of the new machines' design process," says Bill Purdie, general manager of Mobile Net, a division of ORBCOMM Inc.
Brad Stemper, solutions marketing manager, Case Construction Equipment, says Case considers telematics integration in the early stages of development because it comes standard on several of its machines. As the company continues to upgrade its equipment lines and integrate Tier 4 Final systems, he says telematics will be considered from step one of the design process because of the amount of information it can provide the customer about health, productivity and security.
"If it is built organically into the system from the first concept, it increases our ability to capture that data and communicate it in a meaningful and actionable way to the customer," he points out.
Supplier Partnerships or OEM Built
While there are some OEMs who prefer to take on the development of telematics systems themselves, many find it more worth their time and money to partner with a telematics supplier.
ORBCOMM has been working with Doosan Infracore Construction Equipment for over a year to develop a new, expanded telematics system that will be integrated into Doosan equipment (http://www.oemoffhighway.com/11142310). The two companies have worked together a solution that will expand end users' view on equipment performance through a web-based analytics platform. ORBCOMM's solution will provide global satellite data service, as well as cellular connectivity. 
"As wireless network coverage and bandwidth increases, ORBCOMM's telematics solutions will have the capability of further evolving into real-time, remote machine diagnostics, a tool that can benefit end users, dealers and the OEMs by minimizing machine downtime and service technician time," says Purdie.
Case is one of several OEMs that has chosen to take on the development of its own telematics solution. "By developing it as an OEM, we can make sure that our systems are optimized in a way that makes the collection and communication of that data as easy as possible," says Stemper. "We can also refine the science of 'how' to capture that data from varying systems earlier, or build on the reporting that we receive from the data, whereas a third-party system is not as integrated." He adds that APIs are available for mixed fleets that allow the integration of data from differing systems.
Case SiteWatch tracks engine hours, maintenance intervals and equipment health, and automatically collects all information in one centralized location. The data is available on a user web portal that can be accessed from anywhere — home, office or mobile device. Customers and dealers are able to review and analyze up to 18 months' worth of data, as well as download and store information.
"We've really just started to scratch the surface on the capabilities," says Stemper. "Data will continue to play a more important role in how companies do their jobs."
Stemper says optimizing the way information is delivered to customers will be the next big push for the industry, along with finding new ways to gauge and assess machine and operator performance. In addition, there will be an effort to learn more about how machines operate for R&D purposes.
"The possibilities are endless," he says. "In the end, telematics provides a greater opportunity for machine integration and knowledge of operation. Telematics is really the launching point of so much more for machine utilization and application. It paves the way for machine upgrades such as digital connectivity to the equipment for system upgrades, machine control plan uploads, wireless troubleshooting and systems customization for performance maximization."
Companies in this article