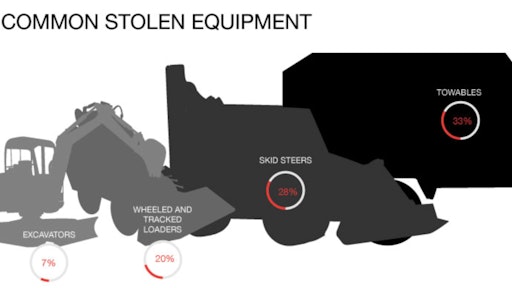 During the 12-month period from January through December 2015, LoJack tracked theft reports in LoJack coverage areas where equipment theft was reported and where construction equipment outfitted with the LoJack System led police to recover the stolen assets. According to LoJack, law enforcement officials throughout the United States recovered more than $6.6 million in stolen construction equipment and machinery equipped with the LoJack System for Construction & Commercial Vehicles and Equipment in 2015 (LoJack System).
LoJack's "2015 Construction Equipment Theft Recovery Report" highlights the ongoing problem of thieves targeting construction businesses for their high value equipment. The report identifies equipment categories and classes, manufacturers, and geographies where theft is most likely to occur. 
"Construction sites have been popping up all over the U.S. as part of the economic recovery, making the theft of construction equipment a very lucrative market for thieves. The increased exposure of equipment opens up vulnerability to theft," said Courtney DeMilio, National Vice President of Commercial and Fleet for LoJack. "Because construction projects create jobs, the cost of unrecovered stolen equipment extends far beyond the equipment itself and potentially affects the lives of construction workers. LoJack is dedicated to partnering with law enforcement and the construction industry to recover stolen construction equipment in a timely manner to reduce operational downtime and minimize the impact of stolen equipment."
Highlights of the LoJack 2015 theft report
Most common types of equipment targeted in 2015: towables (33%); wheeled and tracked loaders (28%); skid loaders (20%); excavators (7%); UTV (6%)
64% of equipment taken in 2015 was less than five years old
The states with the highest number of equipment thefts in 2015 were: Florida (26%); Texas (25%); California (14%); Arizona (5%); Maryland (4%); Colorado, Georgia, New Jersey, New York, North Carolina, Tennessee and Washington (2%) 
56% of recovered construction equipment installed with the LoJack System were recovered in 24 hours or less after being reported as stolen
Top five most common manufacturers of stolen equipment in 2015: Bobcat (25%), John Deere (15%), Multiquip (6%), Caterpillar (6%) and Case (6%)
January (10%) had the highest theft by month in 2015 while May had the lowest (6.2%); historically October is the most popular month for theft
The 2015 LoJack Construction Equipment Theft Recovery Report is gathered from LoJack's proprietary theft and recovery data and EDA, a division of Randall-Reilly. The report data is specific to stolen construction equipment and machinery outfitted with the LoJack System for Construction & Commercial Vehicles and Equipment that were recovered from January to December 2015.