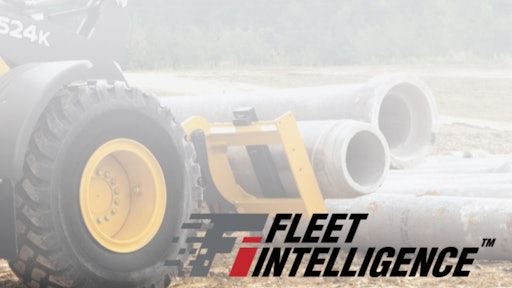 Foresight Intelligence, a leading provider of data analytics software, is pleased to announce its recently-released product, Fleet Intelligence, was named a mixed fleet solution for John Deere Worksight. The new product provides heavy equipment dealers and contractors the intelligence they need to be more productive, operate more efficiently, and build a competitive advantage.
"The telematics revolution is here," said Dale Hanna, Foresight Intelligence, CEO. "Dealers and contractors are drowning in overwhelming amounts of data. They are telling us they need intelligence with actionable insights to thrive in the new telematics era and Fleet Intelligence delivers just that. Our users are embracing the telematics revolution and becoming leaders of the industry."
"We are pleased to collaborate with Foresight Intelligence to bring our dealers an intuitive and user-friendly mixed fleet solution," said Andrew Kahler, product marketing manager, John Deere WorkSight. "Their speed and responsiveness throughout the product's development has been impressive. We only utilize the best solutions for our dealers and customers, and we're proud that Fleet Intelligence is now a mixed fleet solution provider that is compatible with John Deere WorksightTM."
Fleet Intelligence is a mixed fleet solution designed for construction and forestry contractors and dealers. End users can view all of their machines, no matter the brand, in one application. The application delivers map views, charts and graphs that allow users to protect their assets, maximize utilization, optimize machine health, manage costs, and increase uptime.
"Fleet Intelligence is a robust, flexible, and easy-to-use application," said Andre Toone, Solutions Consultant, Fleet Intelligence. "We partnered with dealers and contractors to really understand the nuances of their business and then worked quickly to develop the product. We were able to release it in less than six months and the response has been overwhelming."
Select contractors and dealers have already signed up for a Fleet Intelligence subscription and have success stories to report. In one instance, a 624K loader with a rising front axle temperature was alerted to the potential problem by the proactive machine monitoring that Fleet Intelligence provides. In another example, the dealer was able to alert the contractor about a transmission filter restriction before the contractor even knew about the problem.
Machine monitoring is just one of the many features that Fleet Intelligence offers. Subscribers can manage job costs, preventative maintenance schedules and more. A new feature, the dynamic geolayer, allows users to sort for low utilization machines and filter the criteria without leaving the map view. The foreman insights feature organizes machine statistics by foreman.
"Contractors and dealers derive benefits from leveraging telematics," said Hanna. "With Fleet Intelligence, they can step into the new era and win. Simply put, we help them take control."