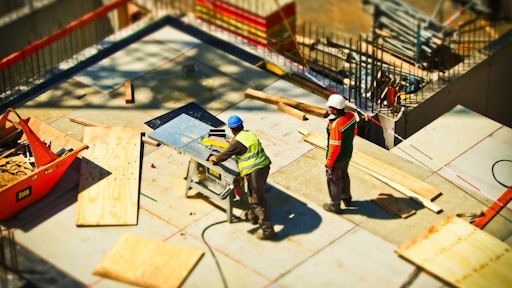 Pexels
Skanska USA and the Carbon Leadership Forum announced the creation of the Embodied Carbon in Construction Calculator (EC3). The tool is a ground-breaking solution for calculating and evaluating the carbon emissions embodied within a wide array of building materials.
The EC3 tool was initially conceived by Skanska and developed with C Change Labs. The project was jointly seed-funded by Skanska and Microsoft, which then determined that a collaborative, open-source solution was the optimal path toward maximizing the reduction in global carbon emissions. 
The built environment's embodied carbon challenge
Over 2 trillion square feet of buildings will be built or will undergo a significant renovation between now and 2050. Of the average 30-year lifecycle of a new building completed in 2019, roughly half of its carbon will come from embodied carbon - or the emissions associated with construction. Considering the materials used for construction will consume 75% of all new materials annually by volume, there is a strong care for reducing carbon emissions embodied in building materials. 
"It may not matter how efficiently we operate our buildings over time if we don't immediately address the carbon embodied in what and how we build," says Skanska USA Chief Sustainability Officer, Beth Heider, FAIA. "We have only a short time to actionably reduce carbon emissions as a society. With our benchmarking and the EC3 tool, we more fully understand the emissions footprint of how and what we build—and can chart an urgent course toward its reduction."
Skanska: The EC3 tool initiator and co-creator
Skanska has been addressing the embodied carbon challenge since 2016. The company partnered with software developer C Change Labs to develop a solution that would enable the building industry to easily access and view material carbon emissions data, allowing them to make carbon smart choices during material specifications and procurement. 
In 2018, Skanska and the EC3 tool's co-creators determined that an open-source platform was the optimal path toward maximizing the impact of the tool. To accelerate development of the solution, The Carbon Leadership Forum continues to incubate the project with strong leadership and financial support from the Charles Pankow Foundation, MKA Foundation, Autodesk, Interface and more than 30 other industry leaders. 
Reducing carbon without increasing cost
Now as a limited pilot, the EC3 tool is an open-source database of construction material information based on environmental product declaration (EPD) data, searchable by material performance requirements and design specifications; project location and global warming potential. There are over 16,000 materials in the database, including concrete, steel and gypsum. 
With the EC3 tool, contractors, owners and designers can work together to examine data for common building materials and create an overall embodied carbon footprint for a project. This new method allows stakeholders throughout the entire construction ecosystem to understand the potential environmental impact of a project.
During the ongoing pilot period of the EC3 tool, participating development projects are realizing embodied carbon reductions of up to 30 percent. These emission reductions are achieved without significant additional financial impacts for piloting companies, and in most cases are cost neutral.
Visit www.buildingtransparency.org to pre-register for the tool's public release on November 19, 2019, during the Greenbuild International Conference and Expo in Atlanta, GA. Further information on the EC3 tool and the Carbon Leadership Forum is available at www.carbonleadershipforum.org.