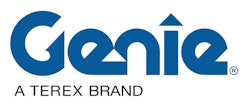 In response to rental customers' needs, Genie is introducing a telematics-ready connector to enable telematics devices to be plugged into Genie boom lifts. The telematics-ready connector is now available on the S-80 and Z-80 boom lifts, and will be available on the S-100, S-120 and ZX-135 models by the end of the first quarter. Genie will also introduce the connector on machines boom heights below 80 ft. over the next year.
"Our customers have many brands of equipment to manage, and many proprietary types of telematics solutions to go along with them," said Christine Zeznick, Associate Product Manager, Terex Aerial Work Platforms. "The last thing many of our customers wanted was another OEM providing a proprietary solution for fleet management. Our solution provides a unique and open approach to help our customers better manage their diverse fleets without being forced into a particular telematics solution."
The telematics-ready connector allows for the ability to work with multiple telematics systems, empowering customers with the option to easily "plug and play" for flexibility, adaptability and portability. The connector is capable of providing machine hour meter reporting, location, machine utilization and security abilities such as geofencing, alarms by movement or input and remote machine disabling.
The telematics-ready connector is factory-installed and is available in all global markets.
Companies in this article