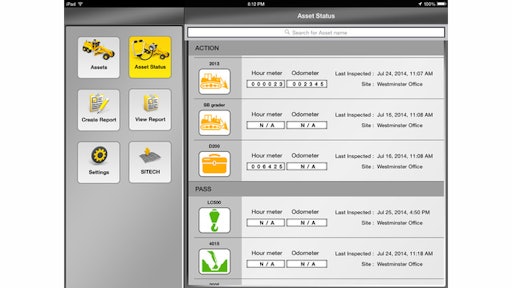 Trimble introduces three new asset inspection software solutions for heavy civil contractors - Trimble Inspector, Trimble Inspector Pro and Trimble Asset Manager. Trimble Inspector is a free mobile app that allows equipment managers to easily inspect assets in real-time using their smartphone or tablet. Trimble Inspector Pro, the premium, subscription version of Trimble Inspector, is used to wirelessly aggregate and share asset condition across multiple sites using Trimble Asset Manager office software. Trimble Asset Manager software gives contractors the ability to store the inspection data of all assets in a centralized, Web-based database for accurate reporting and documentation.
"Contractors can achieve significant cost savings by proactively scheduling asset maintenance with Trimble's new inspection solutions," said Alan Sharp, business area director for Trimble Heavy Civil Construction. "Trimble takes the guesswork out of asset maintenance and puts the control back in the hands of the equipment manager."  
Trimble Inspector
Trimble Inspector, a free mobile app, runs on both Android and iOS smartphones or tablets for daily, weekly and monthly visual inspections using a library of equipment, machine and vehicle types, makes and models, and inspection checklists. Reports containing current visual health status, hours, odometer reading and general condition can be promptly emailed to equipment and maintenance managers. The reports, along with photos, can then be retained for legal documentation of health and safety standards compliance, and for audit purposes. In addition, Trimble Inspector assists with scheduling maintenance to reduce equipment downtime and unplanned stoppages. The app is also ideal for trade-in or auction house inspections of used equipment.

Trimble Inspector Pro has all the functionality of Trimble Inspector, with the added benefits of customized inspection reports to meet health and safety requirements, and comprehensive maintenance reports for service crews. Equipment managers can record equipment service issues and notify site management staff of equipment status on multiple sites within seconds of the completed inspections. Trimble Inspector Pro requires a subscription to Trimble Asset Manager office software to access the additional functionality.
Trimble Asset Manager
Trimble Asset Manager is a software as a service (SaaS) application used in the office to integrate, store and report asset condition data collected in the field by Trimble Inspector Pro. Asset information is kept in a secure, centralized online database accessible by authorized users in the company. Users can create asset records, document inspections and customize reports so managers get the data they need quickly and easily.