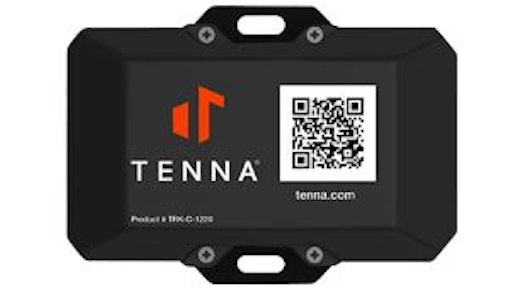 Tenna, the technology company that empowers companies to find more value across their inventory of equipment, vehicles and physical assets, has launched TennaGO, an IoT hardware tracking device representing the ongoing expansion of the Tenna product line.
Ideal for tracking heavy equipment and machines that provide power sources, the TennaGO cellular trackers provide precise GPS tracking and management for high-value heavy yellow iron machines. TennaGO cellular trackers use IoT technology to connect equipment to the Tenna App on a mobile device for autonomous real-time tracking and monitoring.
"Tenna continues to evolve the platform offering new product developments and functionality. Tenna introduced TennaGO to continue to provide customers with optimal products that meet industry standards for IoT asset tracking technology. The market for GPS trackers is strong, and Tenna is incorporating new products to
continue to meet demand. Now available for customers nationwide, TennaGO's tracker technology generates asset data from multiple sensors that feeds into Tenna's robust platform for analysis on equipment usage and location," said Austin Conti, Co-founder and Chief Executive Officer of Tenna.
Tenna has a variety of trackers that attach to equipment or plug-into vehicles, with TennaGO being the newest. These trackers not only identify the location and GPS position of an asset, but also show the frequency of use and length of operation. This helps industrial companies make informed decisions about asset management in all areas of the business.
Construction industry executives report a clear advantage by using asset tracking and monitoring software platforms to maintain visibility and control over their equipment and maximize production and efficiency. Employees can quickly search for inventory by type or site, find asset locations on a map, immediately view
asset details and maintenance status, setup alerts based on maintenance reports and geographic boundaries, and simplify allocation with pick lists.
Available in both rechargeable plug-in and long-life battery models, the TennaGO is flexible, durable, easy to install and long-lasting for reliable equipment tracking and management.
With TennaGO customers see location, asset details, use history, maintenance records and can manage assets from anywhere with Tenna's mobile web interface. This device includes multiple sensors to effectively and accurately detect and relay the asset data that managers want to see. This helps companies reduce costs, save valuable time and generate meaningful data to improve their equipment management and operations processes.
Tenna's Asset Tracking Software and integrated hardware can track, process, automate and inform customers on how to manage everything from small tools and heavy equipment to temporary materials and client stock. A complete asset tracking solution, Tenna's range of tags and asset tracking devices perfectly match a customer's variety of asset types.
With Tenna's asset tracking software, customers no longer need to spend money on multiple tracking systems. This sophisticated software platform ties multiple tracking systems together into one platform.