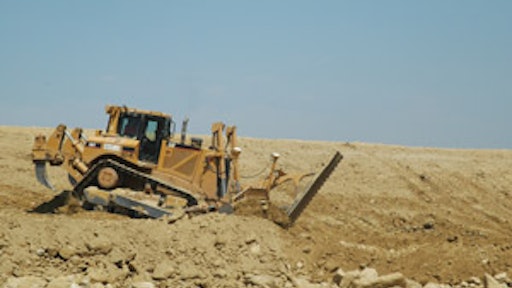 GPS grade control systems provide earthmoving contractors with a competitive advantage. Just ask Randal Van Rooyen at Van Rooyen Earthmoving.
Based in Woodstock, Ontario, Canada, this family-owned site preparation and mass earthmoving contractor operates roughly 30 pieces of earthmoving equipment. It began using GPS technology three years ago when it purchased three complete systems with base stations, and rovers for the foremen. "We typically take on three grading projects at once and we wanted to have a GPS machine on each of the sites," says Van Rooyen.
Today, in addition to automated systems installed on four dozers, the company has added GPS to a Caterpillar 345C excavator, allowing for an accuracy of +/- 2 in. "We have invested a little more than half a million Canadian," says Van Rooyen.
This investment has made Van Rooyen Earthmoving more competitive. "We probably reduced our staking 75% to 80%," says Van Rooyen. Material management has also improved. "That excavator is cutting to grade right away. The dozers take fewer passes to get to grade. There is no guesswork."
Garrett Excavation, Hot Springs, AR, has also seen productivity jump. The third-generation commercial site development contractor has over 100 pieces of equipment in its fleet. It purchased its first Topcon GPS grade control system in the Spring of 2002. "We now have four complete systems," says Grant Garrett.
Before the GPS, Garrett Excavation did its layout with a total station. "It takes two or three guys and is kind of slow compared to the GPS," says Garrett. "Once we got comfortable using the GPS, we were doing more work with the same amount of guys. We were finishing jobs quicker, and the amount of jobs we were bidding increased. So when we looked back, we did a million and a half more than we did the previous year with the same amount of people."
Garrett Excavation's first GPS job was excavation of a site for a large retail customer. "We paid for the system on that first job," says Garrett. "It takes a good finish operator and makes him a great finish operator - anywhere from 30% to 70% faster, just because he is not waiting on anybody to give him information."
Connections are the weak point
One downside with GPS grade control technology is the system is either working or it isn't. Wiring harnesses tend to be the weak point.
"The cables that connect the various components of the system are the most prone to damage in the 3-D environment," states Murray Lodge, director of sales - construction, Topcon Positioning Systems. "The best way to avoid this is to install the system according to the manufacturer's specifications."
Sukut Construction, Santa Ana, CA, has vast experience with GPS systems. Matt Eklund, GPS program manager, agrees that the biggest reliability issues stem from wiring harnesses. But, he adds, "On the new systems, like the Caterpillar AccuGrade and new Trimble systems, they have redesigned their components so they are more reliable."
Trimble, for instance, eliminated coaxial antenna cables on its newest design. "Each unit contains a GPS (or GPS+Glonass) receiver, antenna and power supply all in a single housing and connects via a CAN bus cable," says Arthur Taylor, 3-D machine control segment manager, Trimble. "This integration eliminates the potential failure point."
Despite such safeguards, problems can crop up with use. "With GPS, you can have a little problem that can intensify if it is not addressed quickly," says Eklund.
Failures can be caused by several issues. "In many grade control systems, there are three general areas prone to failure: GPS coaxial antenna cables; operator displays that are not sealed, leaving them open to water and dust; and general component and sensor survivability and longevity," says Taylor.
However, with proper care, downtime is pretty minimal. "We don't really see any downtime with the systems," says Garrett. "We have had a few instances where guys have pulled the end off a cable or hit the antenna on a building or branch and broke it. Those are more operator errors. With the Topcon system, we can pretty much run all day without any interference."
Antennas are removed to prevent theft. "I can't leave it on the equipment," says Garrett. "So we are constantly putting it on and taking it off. That is when we seem to have our problems."
"We remove the antennas every night. There is a lot of wear and tear involved with the wiring harness," Eklund agrees. "Our challenges are mainly with the connections. We stock extra parts."
Van Rooyen Earthmoving has had similar experiences. "Over 95% of our problems are with the cables that run from the dozer to the GPS antenna on the blade," says Van Rooyen. "It is wear from the cables we take on and off every day. We work 200 days a year, and those cables are connecting and disconnecting 400 times in one year."
Van Rooyen has taken proactive steps to minimize downtime. "We have learned over the past two years to stock those cables," says Van Rooyen. "So sometimes, we are not down for more than an hour."
Occasionally, the contractor has experienced failures with antennas on the blade. "If an antenna fails, we are getting one from Toromont Cat within 24 hours. That is one of the reasons we waited to install Trimble GPS systems on our equipment," Van Rooyen states. "Once Toromont Cat became the authorized dealer, we knew with Cat's parts backup history, we would have some reliability there." He stays in constant communication with Toromont to make sure it stocks parts that might fail in the future, such as spare antennas.
In addition, the systems often contain onboard diagnostics to help troubleshoot problems when they do occur. "Leica grade control systems have onboard diagnostic utilities and/or data logging to help operators and/or technicians troubleshoot the system in the event there is a problem," says Reynolds Boyd, Leica Geosystems.
Factory vs. aftermarket
Many machines now come from the factory pre-wired for grade control systems. "Equipment manufacturers realize the demand for control systems is increasing, and are offering more machines pre-wired today than ever before," says Lodge. "The advantage is the plug-and-play is preferable to the downtime needed to install hydraulic valves, brackets and cabling."
Factory installation carries both advantages and disadvantages. "Factory installation offers the advantages in the integration and consistency," notes Taylor. "However, factory installations also have drawbacks - the main one being that the components and sensors are then not portable between machines from different manufacturers."
Trimble has addressed this issue with what it calls Trimble Ready. Machines with this configuration are designed to have the integration and consistency of factory-installed systems. However, as Taylor points out, "Unlike traditional factory installs, the main components and sensors can still be easily moved between different machine types and machines from different manufacturers. Customers can now order Trimble Ready machines from Caterpillar, Deere and Volvo."
Factory installs have other limitations. "Factory installed grade control systems offer the benefit of cleaner installation," Reynolds comments. "However, they may require service from the machine manufacturer, as opposed to a third party." But in terms of serviceability, the systems are comparable. "There is virtually no difference between the reliability of a factory installed vs. an aftermarket system."
Aftermarket installations may also allow for a more customized grade control installation. "Operators can choose where they prefer to have displays mounted," says Reynolds.
Sukut Construction has utilized both factory wired and aftermarket systems. "We have two Caterpillar AccuGrade systems and around 11 or 12 Trimble systems," says Eklund. "They are generally interchangeable." But the Trimble system is not tied into the Caterpillar computer as with the AccuGrade unit. "The Caterpillar system looks for certain things, like parking brakes."
Van Rooyen Excavating has had positive experience with aftermarket systems. The contractor currently has Trimble GCS900 systems installed on its equipment. "All of our systems are aftermarket, but they were set up by Toromont Cat," says Van Rooyen. "To actually install the system on the machines, it takes about three to four days."
Garrett Excavation just purchased its first factory pre-wired unit, a John Deere dozer. "I am fairly excited about it," says Garrett. All of the equipment in the past had aftermarket wiring and valves installed. "You have to re-route around all of the OEM stuff. The valve is not integrated to the hydraulics like it would be if it came from the factory. It builds up heat, and you see a lot of hose failures and leaks as the machine gets some wear on it that you wouldn't see if it was factory."
This may not be as much of an issue with newer machines. "It is easier to install grade controls onto newer machines with electro-hydraulic controls," says Lodge. "Often, it may only require a cable to run the machine in automatic mode vs. having to install a valve package to accomplish the same thing. Install time is greatly reduced when the machine's hydraulic system supports electro-hydraulic control vs. having to install hydraulic valves, hoses and fittings."
Factory pre-wired equipment allows for plug-n-play installation. "All of the parts are done at the factory and it is nice and neat," says Garrett. "It is a good factory fit. The John Deere dozer has special places for each component, so you are isolating the components more. You are getting them out of harm's way.
"Some of the equipment we have now has cords running on the bottom of the cab and the guys are stepping on them," says Garrett. "When you disconnect them, you have ends that are flopping around. They can get slammed in the door. So there are a bunch of potential problems by doing it the old way."
Lodge admits, "Factory-installed systems are typically a little more expensive than the aftermarket systems."
But according to Garrett, any potential cost difference is not really an issue. "The uptime and the reliability will more than offset it," he states.
Sukut Optimizes Jobsite Efficiency
Sukut Construction Inc., Santa Ana, CA, is one of the most progressive construction contractors in the country. It moves over 150 million cu. yds. of earth per year with more than 250 major pieces of equipment, and is at the front of the industry in the re-power movement to clean up engine emissions. "We have one of the cleanest fleets in the industry today," says Michael Bobeczko, director of marketing.
The contractor is also finding innovative ways to implement GPS technology to maximize jobsite efficiency. Because the technology plays such an important role in every project, Sukut Construction has a department dedicated specifically to GPS.
The process starts by creating a 3-D model from 2-D civil engineering drawings. "In most of the cases, they are not drawn accurately," says Matt Eklund, GPS program manager. "So we convert that 2-D model into 3-D and create a virtual rendered model of the site."
When drawing discrepancies are identified, a request for information (RFI) is generated and sent to the engineer. "You catch many errors prior to becoming major problems," says Eklund. Prior to using modeling, errors would not be found until the surveyor staked the site and performed the calculations.
Model making can be complex. "The 3-D model making is kind of an artwork," says Eklund. "You have to understand the intent of the engineer. There are a lot of gray areas that are filled in during model making. Someone experienced in the field would make the best model maker because they are digitally making that model from field experience." For instance, Nancy Hewitt, one of Sukut Construction's GPS/CAD engineers, is a 25-year veteran who made the transition from a field grade checker to a computer modeler.
Significant time is required to convert the plans from 2-D to 3-D. "Depending upon the quality of the plan, it is very labor intensive, sometimes taking weeks," says Eklund. "Typically, we do most of the initial work here in the office and then take the model to the field. I have someone on site who then tweaks the model and responds to what the needs are on site."
To get a first-hand look at its use of GPS grade control, Equipment Today visited the Laguna Crossing project where Sukut Construction was moving 1,656,000 yds. for the Irvine Company. On this site, Kerry Callahan, GPS coordinator, who has decades of grade checker experience, was responsible for keeping the GPS-equipped equipment moving. This job was particularly difficult, as the plan was being changed from single-family homes to multi-family residences to reflect a shift in the housing market.
"The biggest challenge on a project like this with a changing plan is the equipment is moving 20,000 yds. of earth or more a day," says Eklund. "Those machines have to fill to grade. If plans are constantly changing, you have to re-grade the site. We try to keep on top of the game so you don't have to do that."
Having a GPS site coordinator allows the flexibility to make required changes in the field. "Plus, if there is a blip in the model, I look at the contours, fix it and give it back," says Callahan. This streamlines the whole process. "If I tried to fix it through the office, I would have to try to explain what the operator explained to me. This way, nothing is lost in translation and the problem gets addressed more quickly."
The company's use of GPS continues to evolve. For example, there are fewer job stakes on site, yet the foreman needs to have a picture of where he is in order to make decisions. "I would expect a trend to have GPS in the foremen's trucks," says Eklund. "That is the next generation technology."
In future, you may also see two-way data communication - each dozer with GPS will have an IP address and can be tracked via the Internet. "It is going to be a GIS world where you click on a site and see all of your equipment online," says Eklund. "You will be able to click on any piece of equipment and know everything about it."
Companies in this article