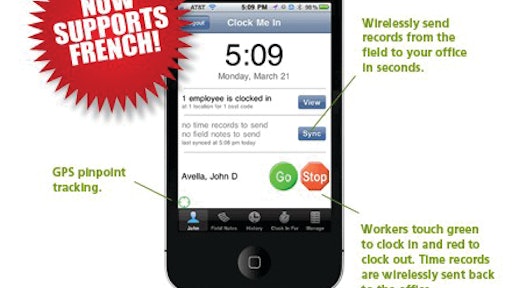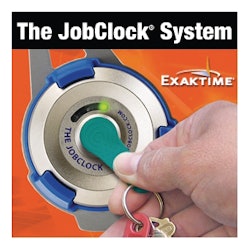 ExakTime had added biometrics, equipment tracking and French support to its PocketClock/GPS mobile time clock, transforming the software into a versatile mobile time tracking app for iPhone, iPad, Android, BlackBerry and Windows Mobile smartphones and tablets.
ExakTime's FaceFront Biometrics photo verification feature was designed for contractors and other remote crews. Using a smartphone or tablet's front-facing camera lens, FaceFront Biometrics snaps a photo of employees when they clock in and out - eliminating the risk of one employee clocking in for another. Bookkeepers can simply match employees' field photos to their masters photos stored in the office to verify ID's.
"FaceFront Biometrics was developed with contractors in mind," said Tony Pappas, ExakTime's CEO. "A traditional biometrics solution can't withstand harsh, outdoor environments contractors work in. Often, workers wear gloves or get their hands dirty, so relying on a thumb print would be impractical. Also, typical biometrics systems aren't portable or battery powered, and they don't travel with crews."
The new equipment tracking feature helps contractors maintain a history of where their field equipment has been used and allows them to capture pictures, notes and voice recordings from the field and send to their office. Contractors simply assign a piece of equipment to an employee and worksite, and the easy-to-use software tracks equipment for them in real-time with 100% accuracy and pinpoint GPS precision.
And with the addition of French communication, PocketClock/GPS software now supports three languages - English, Spanish and French - making it the first-ever multilingual mobile time tracking app for smartphones and tablets.
These three new features - combined with PocketClock/GPS' existing real-time labor tracking, GPS tracking, special management tools, field notes and wireless syncing - give contractors and maintenance crews every tool they need in a mobile time clock app, all on the smartphone or tablet they already own. No additional hardware is required.