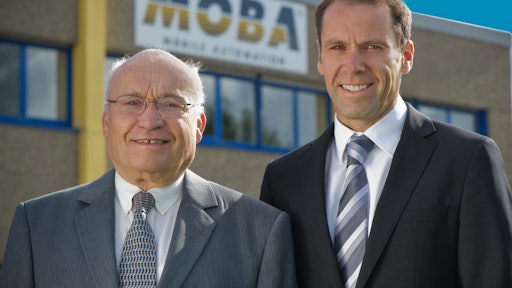 MOBA Mobile Automation AG, Limburg, Germany, is celebrating four decades of successful history in 2012. The company was founded in 1972 as a one-man business in the garage of company founder Paul Harms, who sold height and slope sensors. Today, it is an internationally recognised leader in the field of mobile automation. It offers a wide range of self-developed and manufactured products and systems for a broad spectrum of construction machines, special machines and for the waste disposal sector. It has more than 420 staff members worldwide, subsidiaries in nine countries and an international dealer network.
"Over the past 40 years, MOBA has acquired an increasingly broad range of know-how in the area of mobile automation. The product and system spectrum grew accordingly", says Paul Harms, company founder.
MOBA brought its own height and slope sensors to market for the first time in 1976. Ultrasonic sensors and complete systems followed. For example, in 1991, the MOBA-matic, was introduced; today, it is the leading leveling system for pavers. Another milestone was the introduction of the Big Sonic-Ski non-contact, ultrasonic system for pavers in 2001, which improved planarity and effectiveness in asphalt paving.
Today, MOBA is able to offer 2D and 3D control and monitoring systems in the construction sector for nearly all machines used in earthworks and road construction. With the participation in Novatron 2011, MOBA rounded out its product spectrum with excavator control systems.
For more than 10 years, MOBA has also been active in the area of safety-related technologies,  with systems for manlifts and mobile cranes. One milestone in this area was the development of the MRW in 2002, a redundant load cell that is used for overload protection on equipment such as manlifts or mobile cranes.
New Developments
With the MOBA product platform, MOBA has offered controllers, sensors and HMIs for integration in a wide range of systems and applications since 2011. The components can be flexibly used in a wide range of machines and industries. In 2012, the modular HMImc concept for control panels was awarded the coveted Red Dot design award.
In mid-2012, the MOBA Community went online, providing the first interactive online forum for mobile automation specialists and experts. Community participants can discuss new trends, exchange experiences and information and pose questions on applications, systems and products.