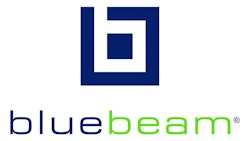 Panasonic Corporation announced the development of a new "4K Tablet" with a 20-inch 4K IPS Alpha LCD and a high precision pen. It is expected to significantly enhance the way architects, engineers and construction (AEC) professionals view and interact with digital drawings. Targeted to become available later this year, the tablet's 20-inch IPS Alpha LCD panel contains more than four times the resolution of Full High Definition. It leverages the touch capabilities of Windows 8 and includes a high precision digital pen for making notes on the panel's screen. This lightweight and less than a half-inch thick tablet is incredibly slim, portable and represents the future of design review, bid, estimation, RFI response and plan room access to drawing sets.
To help introduce this new technology to the AEC industry and demonstrate its endless possibilities, Panasonic is collaborating with Bluebeam Software, a leading developer of PDF-based collaboration solutions for the design and construction industry, for R&D, product testing and promotion.
"The upcoming 4K Panasonic tablet emulates the way design and construction professionals interact with printed drawings while giving users an incredibly high resolution view, making it simple to migrate from paper-based to digital workflows," said Bob Dobbins, vice president, Corporate Planning & Strategic Initiatives at Panasonic Corporation of North America. "The potential of this technology is magnified when combined with the power of Bluebeam's PDF-based markup and collaboration solutions for the design and construction industry."
Companies in this article