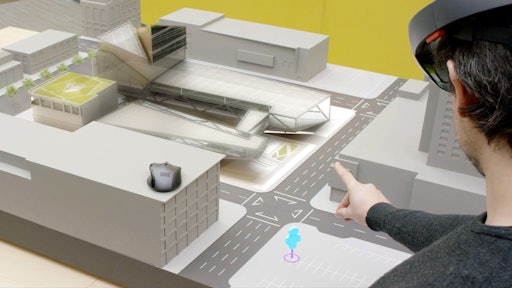 Trimble is working with Microsoft to develop a new generation of tools, integrated with the HoloLens holographic platform on Windows 10, which are intended to improve quality, collaboration and efficiency in the design, construction and operation of buildings and structures.
Microsoft HoloLens is a head-mounted, holographic computer that provides a mixed-reality experience for a range of commercial and consumer applications. When used by architecture, engineering and construction (AEC) professionals, the HoloLens device extends interaction with 3D models beyond the confines of a 2D computer screen, creating new ways for the many stakeholders of complex, multi-phase construction projects to visualize, collaborate, share ideas and manage change.  
Video: Trimble and Microsoft Creating New HoloLens Tool That Could Revolutionize Construction Industry
During Microsoft's recent Build Developer Conference keynote session, Microsoft demonstrated how the integration of HoloLens with Trimble's SketchUp 3D modeling software and the Trimble Connect collaboration platform could improve design and construction processes. Using HoloLens, architects were able to experience their SketchUp models as holograms placed in the real world — enabling them to quickly analyze various "what if" design scenarios in the context of the physical environment. The demonstration also illustrated how using Trimble Connect with HoloLens holographic technology enables remote teams to effectively review and collaborate in order to resolve constructability issues in real time.    
"We believe that HoloLens is a game-changer for design and construction teams by facilitating improved communication, and enhanced transparency," said Bryn Fosburgh, vice president responsible for Trimble's Construction Technology Divisions. "We're excited to partner with Microsoft in creating what could be a new era for technology in the AEC market."

"Microsoft HoloLens is a revolutionary tool for people and businesses enabling professionals in industries like design and construction to do more and achieve more," said Yusuf Mehdi, corporate vice president, devices & studios, at Microsoft. "Trimble's deep knowledge of design and construction processes makes it a natural partner in bringing holographic computing to this industry."  
Trimble's initial research is focused on the integration of HoloLens with three Trimble solutions:  
Trimble Connect - a collaboration environment for design, engineering and construction projects, based on Gehry Technologies' GTeam software acquired by Trimble in in 2014, Trimble Connect enables teams to access and manage project data via a cloud platform.  
SketchUp - the world's most popular 3D modeling platform, used by millions around the world to create, update and communicate designs in 3D.  
Trimble V10 Imaging Rover - an integrated camera system that precisely captures 360-degree digital panoramas for efficient visual documentation and measurement of the surrounding environment that can be transformed into data-rich geospatial deliverables.
Trimble's HoloLens-enabled solutions are currently under development. Details on availability were not disclosed at the Build Conference.