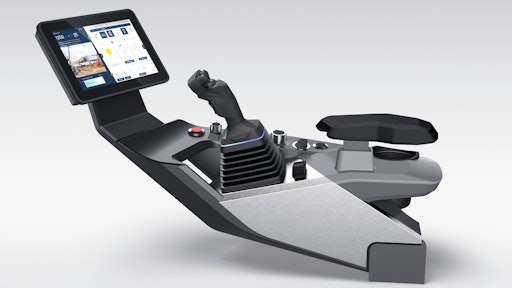 As a result of digitalization, the construction site is increasingly a logistics environment where human and machine as well as machine and machine exchange information. There is currently a shift from straightforward machine operation to communication between driver and machine. Driver assistance systems as well as functions from the networked world of Construction 4.0, are becoming more important.
Therefore, Liebherr's objective has been to provide machine operators with a future-focused machine interface with the company's characteristic transparency and clear overall logic. Going forward, the new concept will be used in all Liebherr earthmoving machines and material handlers.
INTeractive USer Interface
At bauma 2019, Liebherr will unveil INTUSI, its INTeractive USer Interface. This innovative, adaptive and intuitive operating concept will facilitate the communication between and with construction machines.
INTUSI connects Liebherr construction machinery and material handlers to the Internet of things (IoT) and is combining an intelligent operating logic with machine intelligence. The new operating concept integrates various assistance systems and automates safety functions. For example, if the machine detects that dusk is falling, the operator is automatically notified of the changing external conditions and is alerted to switch on the lights.
To enable continued safe and comfortable operation with a growing number of functions, Liebherr divides different function categories into widgets according to theme and situation, a bit like operating a smartphone. Essential and relevant operations are quickly and directly accessible to the machine operator for his or her current activity as soon as they press the master operating element on the joystick or on the console. The associated widgets can also be called up by directly selecting the corresponding function category on the tablet. In addition, the home screen always displays all feedback on the overall machine status.
Haptic operating elements are still provided in addition to the multi-touch tablet to ensure safe operation in rough terrain. A navigation cross is integrated directly in the right joystick, with an additional rotary element also provided. The operating buttons in the ergonomically designed right console can be extensively modified according to personal preference and comfort. The layout of the tablet's user interface can also be individually adjusted by operators and saved in their driver profile. Higher level functions can easily be stored for direct call-up, and all functions can be selected via a separate main menu.
Intelligent Assistance Systems for XPower Large Wheel Loaders
Liebherr will present a comprehensive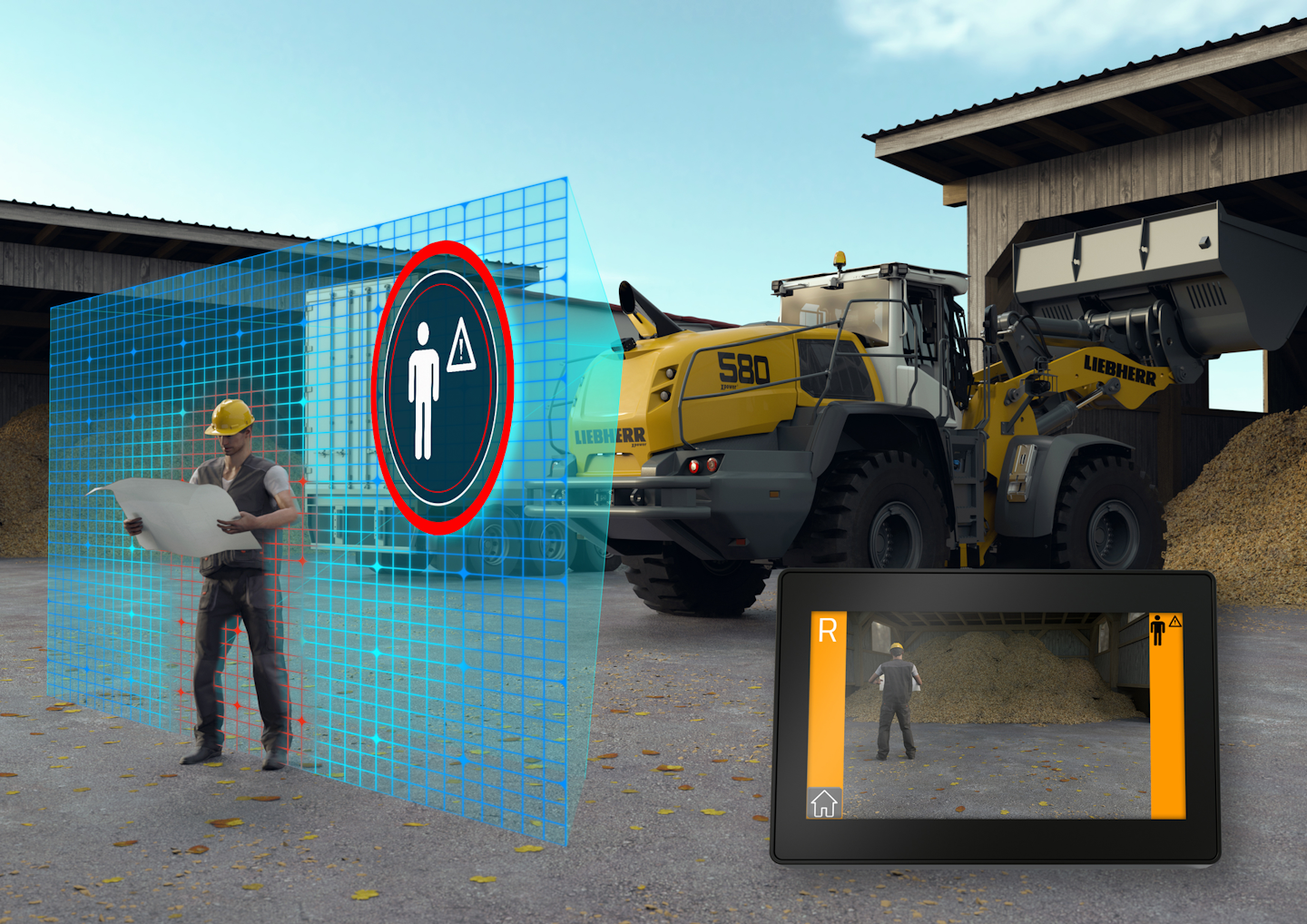 The active rear person recognition helps prevent accidents that result in personal injury. package of multiple intelligent assistance systems for its XPower large wheel loaders. These systems include the new active rear person recognition and a sensor-supported, integrated tire pressure monitoring system. With these and other assistance systems, Liebherr is able to offer integrated solutions for optimizing safety and comfort in day to day wheel loader operation. Another Liebherr wheel loader world premiere is a new intuitive steering system that will be available for all mid and large series models from bauma 2019 onward.
Latest Generation of Crawler Crane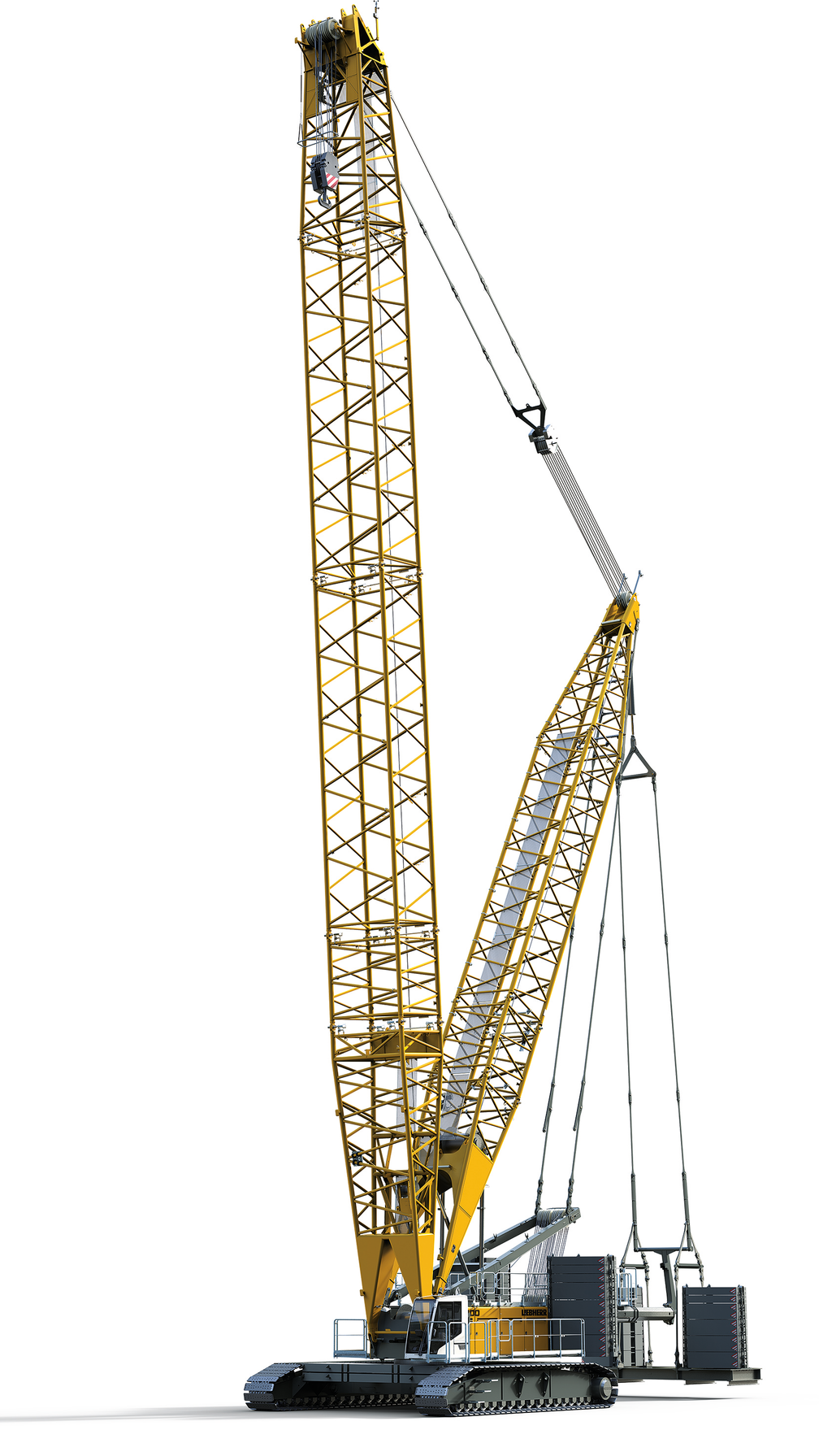 The Liebherr crawler crane LR 1300 SX includes assistance systems that increase operational safety as well as simplify handling.Liebherr Werk Nenzing GmbH presents the new generation LR 1300 SX crawler crane with many assistance systems that increase operational safety as well as simplify handling.
To miminize tipping risk, the Liebherr assistance system "Boom Up-and-Down Aid" indicates the approach to the tipping border and automatically stops operation before the operator unintentionally enters an unsafe zone. It assists the operator in leaving the danger zone without having to activate the safety bypass switch.
The Ground Pressure Visualization of the new Liebherr crawler crane LR 1300 SX calculates the current ground pressure of the machine in real time and compares it with the specified safety limits of the relevant position. The ground pressure is displayed in the operator's cab and the operator is permanently aware of whether the machine is situated in, or is approaching, a critical area. 
Crane Makes the Tough Look Easy at Florida's Hard Rock Hotel & Casino
App Provides Condition Monitoring Features at a Glance
Liebherr is also presenting the demo version of an app showcasing future Condition Monitoring possibilities for numerous components - from diesel engines to energy storage units, hydraulics, gearboxes and slewing bearings. By this means, machine manufacturers will be able to keep fleet managers, service employees and machine operators updated about the current condition of all machine components. The OEM can also use the captured data to optimize the fuel consumption and performance of the device.
Needs for maintenance and unscheduled service interventions can be detected to reduce and prevent failure of the machine. This allows Liebherr Components to act as a development partner for the machine manufacturer. Innovative sensor technologies expand the available database. A high-performance telematics unit with multiple interfaces ensures secure data transmission in demanding environmental conditions.