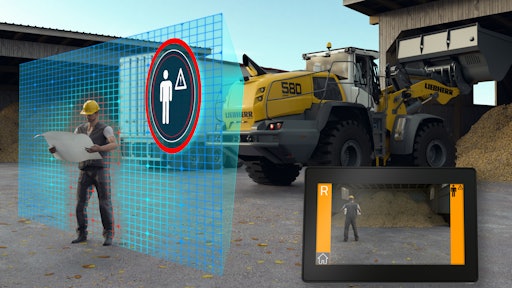 At bauma 2019, Liebherr will present for the first time a comprehensive package of multiple intelligent assistance systems for its XPower large wheel loaders. These systems include the new active rear person recognition and a sensor-supported, integrated tire pressure monitoring system.
With these and other assistance systems, Liebherr is able to offer integrated solutions for optimizing safety and comfort in day to day wheel loader operation. All systems have been developed by Liebherr and are therefore fully integrated into the machine control.
Another Liebherr wheel loader world premiere is a new intuitive steering system that will be available for all mid and large series models from bauma 2019 onwards.
Liebherr Now Offers Joystick Steering for Wheel Loaders
Liebherr will be displaying a cross section of all wheel loader size classes at bauma 2019, from the smallest wheel loader, the L 506 Compact, to the largest model, the L 586 XPower. One of each of the L 509 and an L 518 models will represent the latest series of stereo loaders. The small wheel loaders up to the L 509 Stereo and all large wheel loaders of the XPower generation will be available with Stage V emission standards compliance for the first time from April this year.
Active Rear Person Recognition
Liebherr's new assistance systems increase comfort and safety in daily operation in a range of ways. One of their advantages is that they enable machine operators to concentrate more on operating their Liebherr wheel loader by removing additional distractions. For example, the active rear person recognition automatically provides a warning on the machine display and sounds acoustic signals if there is danger in the wheel loader's rear area. A special feature of this system is that it uses sensors to automatically differentiate between people and objects with the aid of sensors.
If a person moves in the area behind the machine, the system alerts the machine operator. The active rear person recognition is activated at a greater distance than warning systems for inanimate objects such as walls or columns. The operator therefore receives a more precise warning if there is a risk of personal injury. The active rear person recognition thereby avoids an overload of warning signals, which in turn reduces the burden on the machine operator. The risk of serious accidents is reduced.
Liebherr XPower Loaders Include Roof Camera Option for Bucket View
Integrated Tire Pressure Monitoring System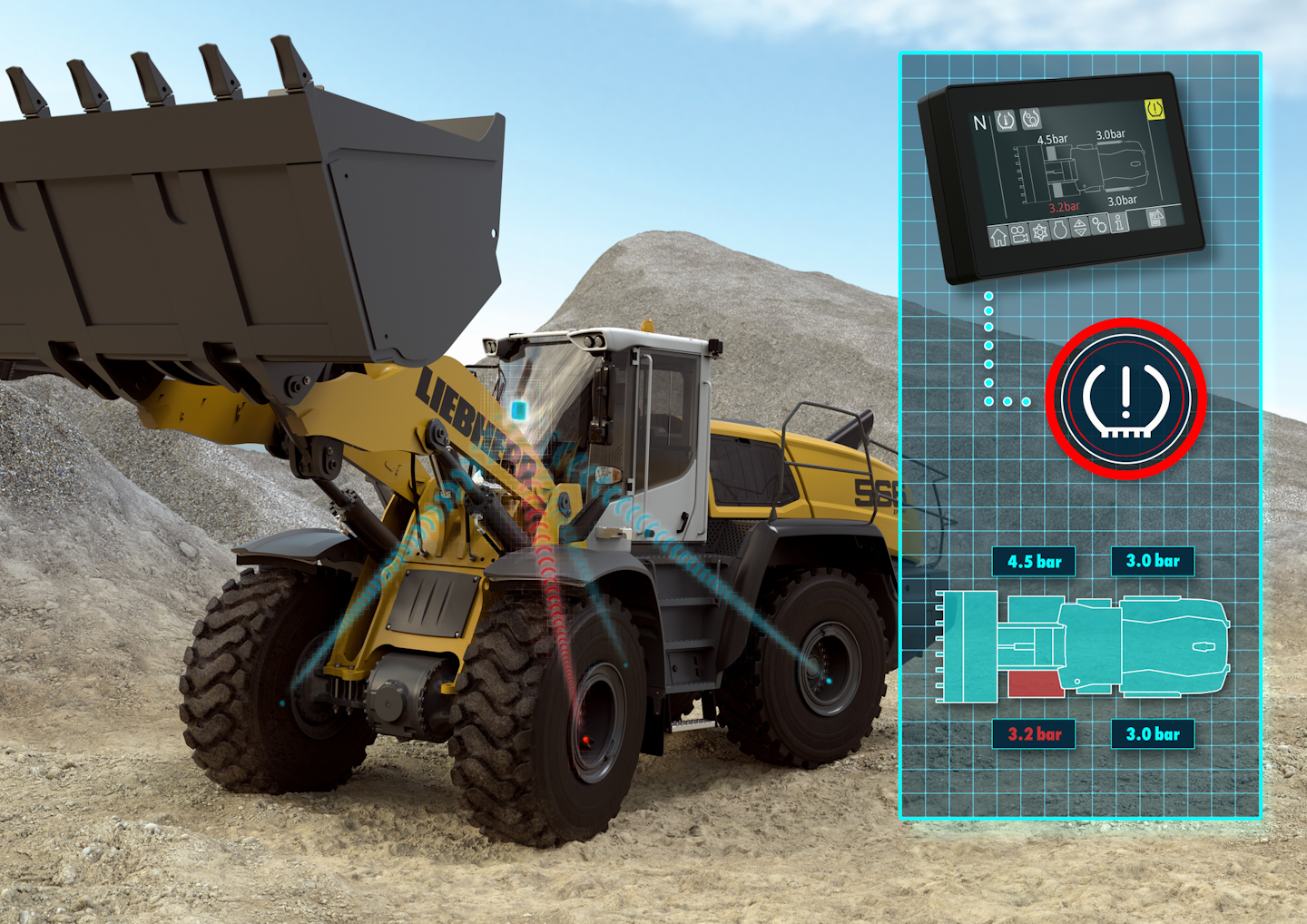 The integrated tire monitoring system helps increase the lifetime of tiresTires are among the most expensive wearing parts on a wheel loader. Incorrect tire pressure leads to increased wear and rising fuel consumption and results in high costs. Other negative consequences are stability limitations and reduced maneuverability. It is therefore important to address potential tire pressure problems in good time. Liebherr offers a new integrated tire pressure monitoring system for this purpose. It detects tire pressure deficiencies early, ensures good maneuverability and increases the lifetime of the tires.
With the aid of sensors, which are installed on the tires and protected from damage, the system records the status of the tires and indicates this on the machine display. If there are deviations from optimal tire pressure, the machine operator receives a warning notification on the display. The operator can therefore act early if there is insufficient pressure or excessive temperature levels in order to avoid safety risks and high associated costs. The integrated tire pressure monitoring system is available as standard for many wheeled earthmovers and container handling machines across the Liebherr group of companies.
On-Board Payload Weighing Available for Liebherr XPower Loaders
Stereo Loaders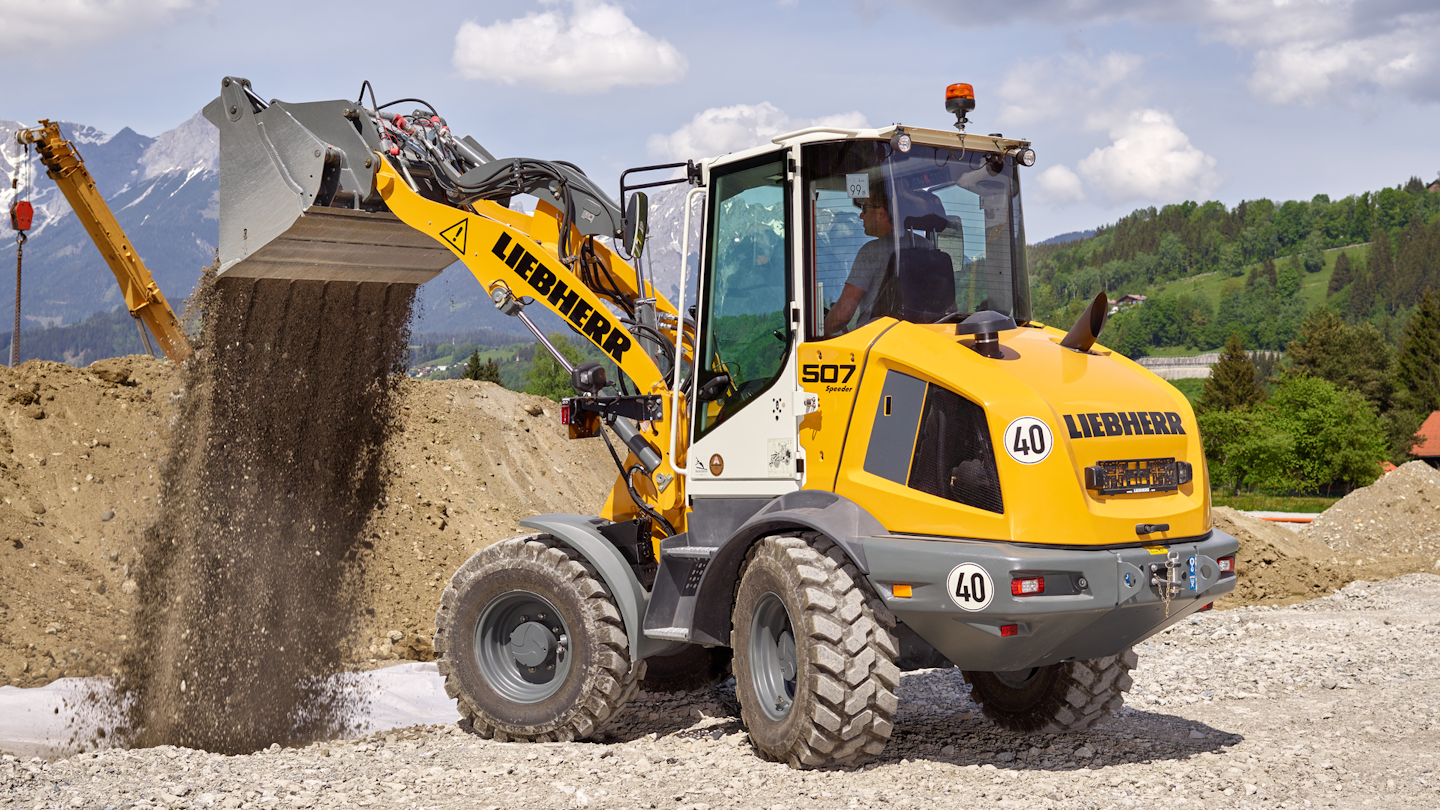 From April 2019, the new highly maneuverable Liebherr L 507 and L 509 stereo loaders will be available with Stage V emission standards compliance.With the L 509 Speeder and the L 518 Stereo, Liebherr will be showcasing two representatives of the latest stereo loaders at bauma 2019. Liebherr has recently completely reworked the latest series, which comprises a total of four models from the L 507 Stereo to the L 518 Stereo. All models are available in a Speeder version on request. In this version, stereo loaders can reach a top speed of up to 40 km/h. This helps operators save time and enables them to move their wheel loader from one operation to the next quickly.
The stereo steering developed by Liebherr is unique. It is an ideally balanced combination of articulated steering and rear axle steering. It therefore combines the advantages of conventional articulated steering with the advantages of all-wheel steering. The resulting minimal turning circle is particularly practical when space is limited. The controlled rear axle enables Liebherr engineers to reduce the articulation angle of stereo loaders to 30 degrees. As a consequence, the center of gravity remains in the center of the machine even when transporting large loads, which increases stability.