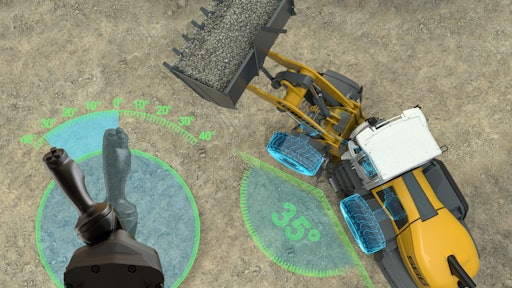 At bauma 2019, Liebherr introduced joystick steering as an option for wheel loader models from the L 526 to the L 586 XPower. The intuitive operation of the joystick enables the operator to steer accurately and without fatigue, as its position always corresponds to the wheel loader's current articulation angle.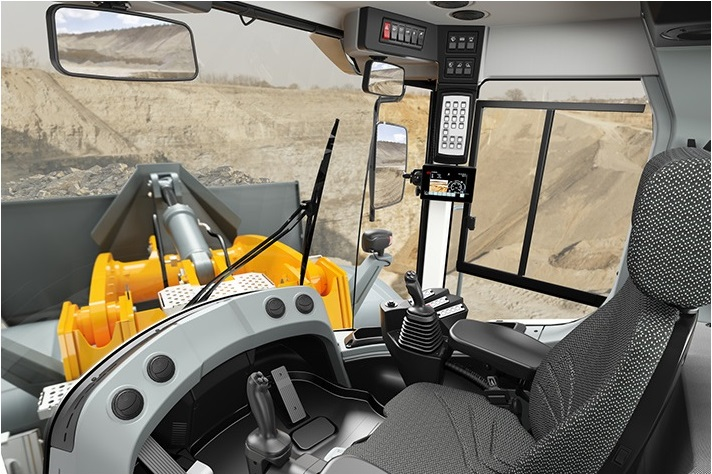 Liebherr XPower loaders with optional joystick steering eliminate the steering wheel for improved cab space and visibility.The innovative steering system enables the operator to steer comfortably with one hand. This saves energy and makes the work less physically strenuous – particularly where work involves numerous steering maneuvers - as short movements on the ergonomically shaped joystick replace cranking of the steering wheel. The left arm stays comfortably on the armrest and, because the travel direction can be changed with a switch on the control element, the left hand remains on the joystick even when changing direction.
Operation of the new joystick steering system is intuitive. One reason is that the position of the joystick always corresponds to the respective articulation angle of the wheel loader. Together with the force feedback on the joystick, the user-friendly steering provides an alternative to conventional joystick steering systems. Operation is safe and comfortable, even at high speeds and in difficult terrain.
In addition to the option of joystick steering, the L 566 XPower to L 586 XPower models are available with an operator's cab without a steering wheel and steering column. In this version, the loader's spacious cabin offers even more room for the driver along with an optimized view of the working attachment.