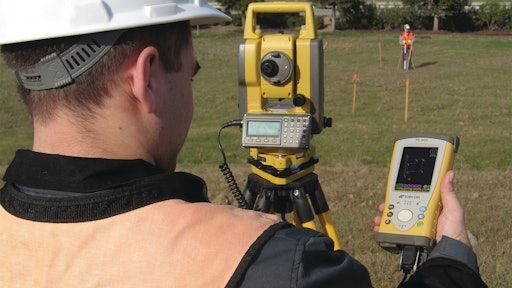 Pocket Layout construction site software system from Topcon Positioning Systems is designed to seamlessly guide contractors through staking, topo and grade control operations.
"Even those new to layout will find that Pocket Layout provides them with information, displayed simply and clearly, to guide them through the steps necessary to complete restaking, topo, grade checking and as-built chores quickly, easily and accurately," says Murray Lodge, director of sales - construction.
The easy user interface enables the user to be self-sufficient in layout and basic measurement tasks. Blueprint dimensions can be manually or electronically input in the office for later use in the field. "Re-establishment of lost or moved stakes can be made easily," Lodge adds.
The system is compatible with the Topcon FC-200 series field controllers, and interfaces with any of the company's total stations. Its simple COGO, layout, tape dimension and reference line functions store and use multiple layouts, supporting robots and traditional total stations.
Request More Information
Fill out the form below to request more information about
Pocket Layout Software