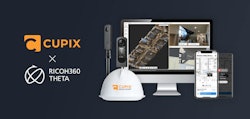 Ricoh

Ricoh has announced new capabilities for the RICOH THETA X 360-degree camera. The company has partnered with Cupix to integrate and support CupixWorks and CupixVista with the RICOH THETA X, offering 3D spatial digital twin imaging solutions for professionals.
"Since launching the world's first consumer-oriented 360-degree camera in 2013, Ricoh has led the industry in the development of 360-degree imaging technology that helps streamline and digitize workflows for a range of industries, including construction," said Akio Inaba, general manager of Smart Vision Business Center, Ricoh Futures BU, Ricoh Company, Ltd. "We are excited to partner with Cupix, a strong leader in Digital Transformation (DX) for the construction industry, to continue providing innovative solutions for this market."
By harnessing the synergies between Ricoh cameras and Cupix's hardware, software and services, enterprises can anticipate a digital twin solution, even for megaprojects.
"We're thrilled to join forces with Ricoh. This partnership is more than just an integration; Ricoh's commitment to delivering enterprise-grade B2B solutions for industries in the built-world aligns perfectly with Cupix's future vision. Utilizing the advanced features of the RICOH THETA X, including its built-in GPS, this integrated solution can provide unparalleled visual clarity, data analytics, and insights–even for large-scale infrastructure projects. This marks just the start of our collaborative achievements," said Simon Bae, CEO of Cupix.
A feature of the RICOH THETA X 360-degree camera is its integrated GPS technology, offering location and mapping capabilities. Additionally, its image quality, even in low light conditions, supports visualization. This technology has also paved the way for Cupix's next-generation 3D dollhouse point clouds.
Further updates including Premium Support are on the way.
Request More Information
Fill out the form below to request more information about
Ricoh-Cupix Partnership Offers Integration of RICOH THETA X Camera