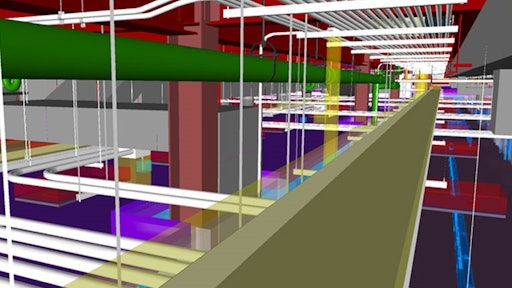 DJM
"We've seen two years' worth of digital transformation in two months," Microsoft CEO Satya Nadella wrote in an open letter to customers on April 30, 2020. Since the global pandemic started, more business leaders have analyzed how the coronavirus caused a rapid digital transformation across every industry. Businesses that want to survive must adapt to a world of "remote everything."
Construction has been affected significantly. Remote technology, which used to be a nice-to-have, is now a critical component of daily business operations. This dramatic shift caused the adoption of building information modeling (BIM) and digital construction to skyrocket. Stakeholders are now wondering if the industry has entered a new era. It has. Construction needs to transition to a digital-first world.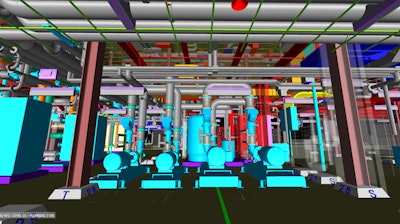 The Emergence of Modern Digital Construction
The foundation for digital construction was laid in the 1960s with the emergence of computer-aided design (CAD), which automated a lot of design grunt work and engineering calculations. Using computers to automate menial tasks multiplied the productivity of designers and draftsmen and allowed people to do more.
Then in the 1970s, the first building information modeling (BIM) software launched. BIM took digital construction a step further by adding in the collaboration of trades and simulation of the construction workflow. This brought disparate specialty data together. BIM revolutionized the industry by streamlining the project lifecycles. While the value of the software was clear, it has danced the line of becoming mainstream. There has been little urgency behind embracing the technology, until now.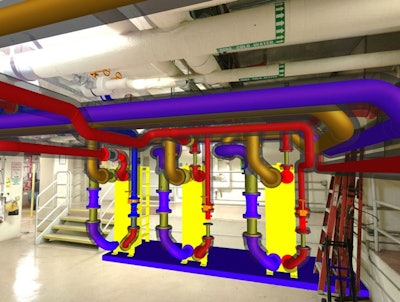 Why it's Time to Shift
During the past decade, construction stakeholders have been increasingly concerned by several issues. The first being construction's failure to keep up with global productivity levels. Data collected by McKinsey shows that from 1994-2012, productivity levels in construction plateaued while other fields, like manufacturing, skyrocketed. A resistance to emergent technology, poor organization, flawed management and inadequate communication has contributed to construction's falling productivity numbers and are costing the industry an estimated $1.6 trillion annually.
Productivity is not the only problem plaguing construction. Rework is also a big concern for many. In 2018, research collected by FMI Corp and PlanGrid demonstrated that rework is costing the industry $177 billion annually. The Navigant Construction Forum more recently investigated the cost of rework and discovered more alarming data. The survey found that the average cost of rework is 9% of the total project cost.
The problems of productivity and rework become more of an issue when considering trends caused by the pandemic. Statistics collected by IBM revealed that the pandemic placed a lot of financial pressure on executives. About 85% of today's executives are concerned about budgeting and cash flow, double what was reported last year. The pandemic has tightened budgets and caused cost to be top of mind for business executives. Today, there is considerably less room for inefficient construction practices and rework.
The pandemic has also shifted other priorities in construction. The remote work and social distancing mandates have made digitization a priority for many business leaders. A KPMG survey revealed that 74% of U.S. CEOs say that operations have been digitized due to the pandemic. Since the new global standard is decentralized digital data, construction will need to follow suit.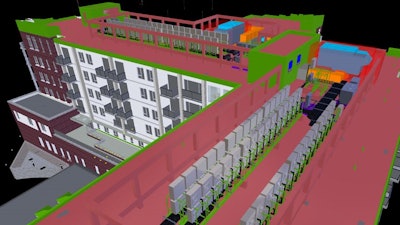 A Call for Digitalization
These four trends: plateaued productivity, costly rework, budget concerns and a call for digitalization, can be helped with the adoption of BIM. First, BIM assists with productivity by laying out an execution plan for the build. With BIM, each trade contributes to a central digital model of the project. This central model provides a clear path forward. When executed correctly, the build proceeds in a streamlined workflow and eliminates inefficient processes.
Bringing each trade together also catches conflicting plans before they make it to the field. Collaborating in this way takes care of the second issue: rework. Too often, rework is a result of poor planning and miscommunication. Having all trades involved in creating a central BIM model during preconstruction inevitably eliminates errors.
Eliminating errors and streamlining the construction workflow also satisfies budget concerns. With an efficient path forward as directed by the BIM model, executives can be confident that their budget is being used only for necessary operations.
Remote Collaboration
And finally, BIM meets today's demand for decentralized and digitalized operations. With a central 3D model, project stakeholders can plan, collaborate, and make real-time decisions regardless of location. On-site or in-person meetings are no longer required. Teams on opposite sides of the country can make decisions based on the model.
In a recent interview for Graphisoft's By Design series, Keith Kulynych of Revuelta Architects expressed that the industry is on the brink of a seismic shift.
"There is only going to be one way forward, and that is through BIM," he says. "You're going to have to adapt to BIM, or you're going to be left behind."
As one of the oldest industries, construction has gone through every industrial revolution. It is time for stakeholders to continue this tradition and adopt BIM as the way of the future to retain its resiliency as the world's digitization and decentralization continue to accelerate.