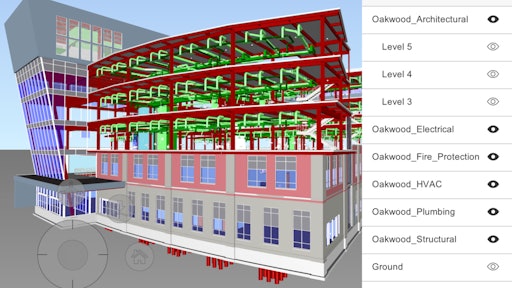 Mobile app: Autodesk BIM 360 Glue
Developer:  Autodesk, Inc.
Cost: Free to BIM 360 Glue subscribers
Available on: iPad
Autodesk BIM 360 Glue is a cloud-based Building Information Modeling (BIM) collaboration and management service that provides access to connected project information to help accelerate multi-discipline collaboration, reduce coordination review cycles and improve project efficiency. The iPad app extends BIM to the entire project team with "one-click" access. Users can use the iPad mobile app to more securely access up-to-date BIM projects and models as well as collaborate with team members. App users can interact intuitively with a BIM model on the job and experience the project both before and as it is being built.
Video: Features of Autodesk's BIM 360 Glue Mobile App
The BIM 360 Glue mobile app was developed in direct response to contractor feedback. A cloud-based service that supports over 50 different 3D model formats, BIM 360 Glue was already available on a laptop, but contractors wanted a solution they could use on a mobile device. "Our construction customers told us that they needed mobile access to the latest coordinated 3D project models – online or offline – so they can explore and understand the project details, access intelligent BIM object properties, verify model dimensions and clearances, and participate in collaborative project review workflows from anywhere," says Joan Allen senior project manager with Autodesk.
One of the biggest advantages of the BIM 360 Glue mobile app is that is can be used online or offline. Users can do markups in the field without Internet access and then when they are able to connect the app will sync up the information.
Case Study: Turner Construction Company Uses Autodesk BIM 360 Glue for Oakland International Airport Project
Another feature of the app is the ability to send a link to a specific view of a BIM model. This allows the receiver to simply click on the link and be taken directly to a specific spot in the model.
In addition to using the app to work with BIM 360 Glue projects, it can be used as a viewer for Autodesk Navisworks NWD models. NWD models can be transferred directly to the app using iTunes or the iOS "Open In" feature which lets the user open NWD files directly from Autodesk products or third party document management solutions.
App features:
Work with the latest, up-to-date models
Optimized to handle large model data
One-click to BIM access from notifications to precise model views and shared markups
Navigate through saved views and model object hierarchies to access intelligent property data
Select, hide and reveal individual discipline models and objects
Navigate using intuitive gesture-based pan, zoom and orbit
Walk through the model with gravity-assisted navigation optimized for BIM
View project model details with immersive, gyroscope-enabled look-around
Review and annotate project models and send notifications to the team
Respond to markups received from BIM 360 Glue project members
Verify measurements in the field with intuitive point-to-point tools, object snapping and automatic calculation of XYZ differences and shortest distance between objects
Access large project models and data online or offline