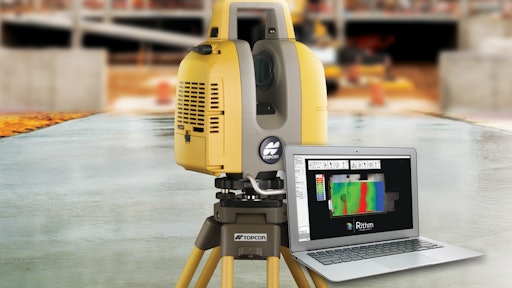 A ClearEdge3D development and sales partnership with Rithm, a leader in 3D laser scanning software for construction QA/QC, is advancing the Topcon concrete application offering with a new hardware and software bundle option. 
"By bundling this software with Topcon's GLS-2000 scanner, contractors can improve their QA workflows to reduce floor profiling costs by performing FFL (Floor Flatness and Levelness) analysis in-house in near real time," said Alok Srivastava, Topcon director of product management. "Through the integration with Navisworks, Rithm provides contractors fast, and detailed ASTM E1155-compliant FFL reports with streamlined floor flatness and levelness analysis, thereby cutting downtime on waiting for scanning analysis, increasing productivity.
"With our real-time position information constantly updating, you efficiently manage material as it's placed, delivering the highest quality in a fraction of the time," said Srivastava.
Implementing Rithm on projects for wet or dry concrete scanning is designed to allow the opportunity to perform FFL analysis directly from scan data loaded into the Autodesk Navisworks software. Operators can find floor flatness and levelness mistakes in near real time from scan to finish. The data provided allows project teams to easily visualize high and low areas with elevation and deviation heat maps and contour maps.
"The integrated workflow — including the GLS-2000, post-processing with MAGNET Collage and QA analysis with Rithm software — achieves an optimized end to end workflow from the hardware to software end deliverables," said Srivastava.
The bundle option is part of the Topcon comprehensive approach to modernize core concrete applications such as layout, quality control, and concrete screed with the latest capabilities in precise positioning technology.
Request More Information
Fill out the form below to request more information about
Partnership with Rithm Enables Topcon Concrete QA Workflow Bundle