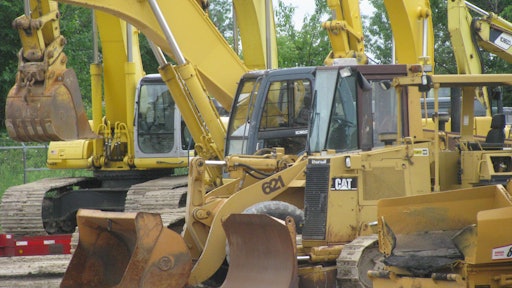 According to the Travelers Indemnity Company, construction companies are losing more than $1 billion annually to equipment theft and vandalism. While owners of equipment storage sites may not be able to stop professional thieves and crafty vandals 100% of the time, remote interactive surveillance can make it extremely difficult for the perpetrators. 
In devising a theft and vandalism prevention solution for a site, take into account the physical challenges found at most equipment yards. For example:
The odd shapes and sizes of the equipment being stored, which may include excavators, dump trucks, cranes and air compressors, make it difficult to monitor.
A lack of uniform lighting at typical equipment yards inhibits visibility.
The locations of the buildings, storage sheds, storage containers and loading docks create multiple hiding places for would-be criminals.
Any or all of these factors can restrict visibility by a security guard on patrol, or the effectiveness of a passive camera system.
Advantages of Remote Interactive Surveillance
By far the biggest advantage of a remote interactive surveillance system is that it deters theft and vandalism before it happens. A "smart" camera system that is being monitored provides the ability to protect a large site by effectively being in multiple places at one time and addressing the perpetrator in real time with a live remote security officer. To be effective, each camera is programmed with sophisticated analytics to identify and analyze noted behavior.
Conversely, a security guard can only be at one place at one time, and his or her view might be blocked by a piece of equipment or otherwise obscured by poor lighting or weather conditions. Savvy thieves and vandals are quick to figure out how to track the patrol patterns of a security guard and take advantage of when and where the guard is not looking.
A remote coverage solution that is designed using multiple camera views is going to see a much larger portion of the site. Further deterrent value is added by a surveillance system with interactive capability. When the remote security officer sees a possible intruder on camera, he or she speaks directly to the subject in question. If the individual is a threat, police are summoned immediately.
A remote interactive surveillance system is useful both for perimeter protection, for keeping people out, as well as for monitoring specific assets. While equipment storage yards are often quite large, a mobile camera solution can be positioned to watch a specific piece or pieces of equipment. At the same time, cameras can also be stationed to provide license plate capture that helps monitor site traffic.
Moreover, the operational benefits of having footage and data on what goes on during the day at an equipment storage yard can also pay significant dividends. For example, Eyewitness Surveillance secures and serves one of the largest construction companies in the Mid-Atlantic region. Not only have we been able to prevent copper theft from trucks and battery theft from heavy equipment, but we have also been able to provide the client with video footage on equipment and truck movement around the site. This footage has helped the company improve safety procedures when it comes to tying down loads. These benefits further help this client address OSHA compliance, potential workers compensation claims and employee safety concerns.
Finding the Right Partner
There is no question that having remote interactive surveillance at an equipment storage site offers a number of advantages with it comes to theft and vandalism prevention. But to find the right surveillance partner, the right questions need to be asked. Here are seven key technical questions to ask of prospective vendors:
Do you outsource your monitoring or do you own your own central station? Where is it located?
What type of monitoring do you provide? Consistent active monitoring or scheduled tours?
What are your screening, training and testing procedures for your security team?
Do you check your cameras for system integrity or is the customer responsible to contact you with issues?
Are you committed to providing service and system maintenance in my geographic area?
Will you help me review footage and find recorded events? Do you charge me if I need help? 
What services do you provide that can help my business operationally?
Probably the most important key to look for in a remote monitoring partner is industry-specific experience, e.g., the commercial construction industry or some other business that requires onsite storage of equipment. In addition, the vendor should offer a central station with remote security officers who are not only trained on the systems being used but also in the vertical industries that they service. The vendor should also be able to show that they have a comprehensive and proactive service model for responding to service issues.
In the final analysis, a remote surveillance system is going to give an equipment yard operator not only peace of mind that the business is being protected after hours, but also a wealth of information about what goes on at the yard during the day related to safety and health compliance. When it comes to optimizing safety and security in the physical storage of equipment, it pays dividends to be able to review and extract analytical data from "smart" cameras.
About the Author
Stuart Marcoon is Vice President of Sales at Eyewitness Surveillance, a provider of remote interactive monitoring solutions for commercial construction companies and other businesses that maintain outdoor equipment storage yards.