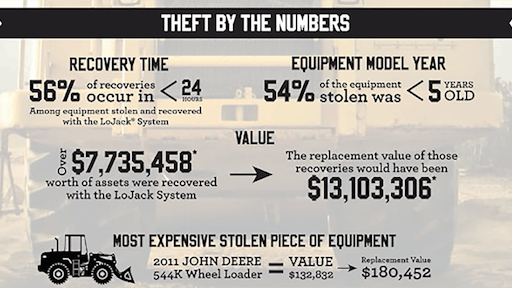 In order to reduce the risk of construction equipment theft, it's important to always focus on prevention. And while reducing your vulnerability is a crucial step, it still doesn't mean you won't fall victim to the next sophisticated thief.
Construction equipment is fairly simple for a burglar to swipe, as most equipment looks the same without any easily identifiable license plates. In addition, with its universal keys, lack of standardization of Product Identification Numbers, high resale potential, and ability to re-use equipment for a profitable side job, it's easy to see why this is such a lucrative and popular target for today's thieves, especially when no preventative security measures are taken.
The trouble with such theft brings with it a number of costly problems for construction business owners, who not only stand to lose the valuable equipment but also pay the price in loss of productivity. In fact, LoJack's Construction Equipment Theft and Recovery in the United States study found that more than $7.7 million worth of construction equipment theft occurred in 2014 alone.
According to the report, the most popular equipment to steal are those that are most common at a jobsite including backhoe, wheel and skip loaders; skid steers; and towables such as generators and air compressors.
The reality is, no construction site is exempt from the risk, and losing equipment is all too easy to do. Common events such as crew changes and simple miscommunications can result in a misplaced machine, and even a single manual equipment search can result in unsustainable cost increases due to project delays and inefficient utilization of personnel. 
Below are four simple tips to keep the jobsite, and its most valuable equipment, protected.
1. Know and monitor the jobsite
Be aware of the jobsite, especially when starting a brand new project. Have knowledge of how equipment will be stored after hours or when projects are on hold. One can significantly minimize theft by having awareness of the surrounding site. Make securing equipment and the jobsite part of the project planning process, and take steps to make sure the plan is executed. 
Additionally, spend time to monitor the jobsite on weekends and holidays, which continue to be an opportune time for thieves to capitalize and steal equipment. With greater monitoring of a jobsite — whether using techniques like video monitoring systems or hiring a private security guard — comes the ability to report theft and alert police to suspicious activity sooner.
 2. Implement proper security measures
Invest in layers of security protection, including personnel to monitor jobsites on weekends and holidays and to check-in on stagnant equipment. As an additional, but critical, security measure require proper identification for all equipment operators and rental applicants. Conduct thorough background checks on operators before assigning them to machinery.
3. Invest in tracking devices
As an added means of protection, there are various theft prevention devices that can be installed to ward-off thieves. Most telematics solutions today feature geo-fencing technology that can detect when a piece of equipment is being moved from its rightful place. Covert theft recovery devices, such as the LoJack Stolen Vehicle Recovery System, can help police locate stolen equipment quickly and without alerting the thief that they are being tailed.
In 2014, of the recovered construction equipment installed with the LoJack System, 56% were recovered in 24 hours or less after being reported to law enforcement as stolen. A quick recovery can result in minimal damage to the stolen equipment.
4. Report incidents of theft/fraud
In the event that you fall victim to equipment theft or rental fraud, always report the full details of the incident to local authorities. This information will protect you from being targeted in the future and inform any ongoing investigations that may help police catch repeat offenders.
More often than not, construction theft is a local issue, so incident reports greatly help catch the culprit if they are near. In almost 95% of the cases of stolen and recovered equipment, the stolen equipment was recovered in the same state that the theft was reported in; it was either in storage or in use on a local jobsite.
Courtney DeMilio is the National Vice President of Commercial & Fleet Sales for LoJack Corporation. LoJack has helped more than nine million people protect their vehicles in the event of theft over the past 25+ years, and today provides safety, security and protection for an ever-growing range of valuable assets and people.  
Companies in this article