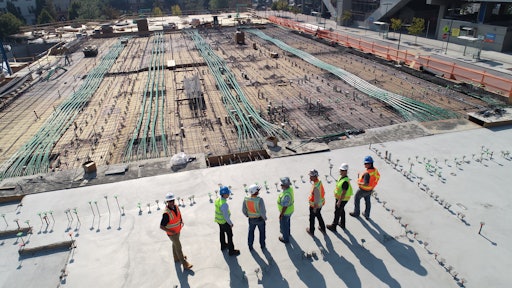 Unsplash
By Patrick Ryan, Executive Vice President, US East, Linesight
It has been several long months, but the U.S. construction industry may finally be rebounding from COVID-19. In May, the largest monthly increase in new construction jobs was recorded since the U.S. government began tracking this data. This comes as welcomed news since the first cases of the virus were noted in November 2019. The resulting pandemic has caused almost all major industries to evolve how they operate, but construction has found itself with the unique opportunity to reform and innovate.
New guidance
Throughout the pandemic, state governments across the U.S. have had to adopt strict health and safety guidelines to minimize the impact of COVID-19 to ongoing work. Public health guidelines on sites vary by state, but they tend to follow protocols of physical distancing, increased hygiene measures and the use of personal protective gear. The increased attention on health and safety on the jobsite has also given way to a renewed focus on collaboration and information sharing on best practices. During the onset of the pandemic in North America, educational materials on safety from the Associated General Contractors of America and the Associated Builders provided necessary protocols during uncertain times.
More recently, the Occupational Safety and Health Agency (OSHA) released specific guidance for construction jobsites, which outlines safety requirements to reduce the risk of spreading the coronavirus. With this official release, OSHA is also demonstrating increased enforcement activity and dependence on the "General Duty Clause", which allows the agency to cite employers who are not taking the appropriate measures to protect employees from the virus.
Steps to take now
Now, more than ever, the industry must come together to enact better processes in response to the changing landscape of construction. Collaborating with stakeholders, team members, contractors and supply chains is key to preparing a revised project program. When preparing the program, assume that there will be public health limits in place around resources and workforce capabilities. Plans must consider how to mitigate delays caused by limiting the number of on-site workers, including planning for shift and weekend work. An action plan for site kick-off that takes into consideration budget, supply chain disruptions, and workers' health and safety is also necessary. Even with government go-ahead on projects, many employees may still be concerned about contracting the virus. Make sure that sites have the proper protective equipment and hygiene resources, such as sanitizer and hand washing stations, to mitigate concerns. As sites reopen, proper hygiene products will be as important as any construction materials. Ensure that workers and management are also taking health and safety seriously. This will help get projects off the ground faster and will determine which companies come out ahead after the pandemic.
Construction post-pandemic
Although no one can say for certain what construction activity will look like once the rate of coronavirus infections have fallen, it is certain that the way the industry worked before is no longer sufficient to meet post-COVID challenges. For example, with schedules delayed, the costs of existing projects will likely increase. Construction funding due to the economic recession will also create issues with future costs. This will likely intensify demand for cost and project managers. With projects already having undergone extensive delays, having experienced managers will help ensure that there are no further delays or cost impacts as sites reopen.
The U.S. construction industry must also rethink its dependence on international supplies and workers. From steel to plumbing fixtures, nearly 30 percent of all U.S. building products are imported from China, with some American construction firms relying on China for up to 80 percent of their materials. This fact has become a serious issue for domestic supply chains, and will continue to impact the industry as borders remain reluctant to reopen. In a similar sense, the inability for international workers to re-enter the U.S. will also severely affect job productivity within the country. If the U.S. hopes to advance construction projects, sourcing supplies and hiring must occur locally. Recruiting and buying domestically are also crucial for stimulating the economy, and will be a challenge for all industries as construction moves out of this first wave of the virus.
Filling labor gaps
When it comes to skilled trade roles in the U.S., the construction industry is still facing difficulties in bridging labor gaps. This has been a continued trend in construction, with 80 percent of contractors still unable to fill positions, resulting in 44 percent of those contractors increasing their prices. COVID-19 has exacerbated this trend, with some workers not returning to projects because of concerns over the risk of infection, competing responsibilities at home and reliance on unemployment benefits from the CARES Act.
Post-Pandemic Tips for Recruiting the Construction Workforce
The long-lasting impact of project delays due to pandemic shutdowns, as well as new safety regulations that limit the number of on-site personnel, will further reduce the pool of available workers. Educating personnel on how to protect themselves on-site, as a means of assuring and encouraging workers while on the job, will become a priority for maintaining long-term productivity. Scheduling challenges will also require a more focused approach to project planning and greater collaboration across the board in achieving realistic timelines.
Ushering in the adoption of technology
With labor shortages one of the top challenges post-COVID, there will be an increased reliance on new technology. This is especially true in the implementation of artificial intelligence (AI), which has the ability to automate labor-intensive tasks. AI allows skilled workers to focus more efficiently on complex duties that require their specialized knowledge and experience. Technology is already for sale that allows AI to operate machinery autonomously. 
Beyond automation, new tech is improving workflow efficiency even further. 4D and 5D simulations are now being used to help schedule workers and shipments, while virtual tours are being conducted to provide stakeholders the enhanced ability to monitor project progress remotely. Similarly, video conferencing tools connect teams seamlessly to enable better collaboration, and on-site cameras with 360-degree views provide data to digital platforms to create "digital twins" of construction sites. All of these enhanced tools offer real-time information so that issues can be communicated and resolved quickly and remotely.
Construction Post-Coronavirus: 4 Tools to Adapt to the New Normal
The other benefit to technology is that it can help owners, contractors, site managers and workers adhere to stricter health and safety guidelines. AI sensors and wearable devices ensure physical distancing measures are being observed and that the limits to the number of on-site staff are not exceeded. In an industry that has been slow to adopt technology, the renewed focus on protecting public health will inspire the wider implementation of AI models, new software and innovative systems to increase project efficiency.
Embracing modular techniques
Enabling greater oversight and speed is also why the modular building approach will see more traction as the industry moves beyond the first wave of the pandemic. This trend has already been on the rise, with the market share of permanent modular construction in North American real estate having increased by 50 percent from 2015 to 2018. The benefits to developers are clear: when components are assembled off site in a factory, there are more opportunities to control and ensure the safety of the environment and tp enforce physical distancing measures. Modular construction techniques also allow for components to be built concurrently off site while cores and shells of buildings can progress on site. This promotes speed in completing projects and will play a more important role now, given pandemic-related delays.
Redefining construction through COVID-19
As with many other industries, there is no doubt that the coronavirus has pushed construction into uncharted territory. Though labor challenges will continue to impact productivity, they will also inspire more widespread use of technology and the adoption of improved planning and building techniques. The path forward isn't through a retrospective of setbacks caused by COVID-19. Instead, it is a renewed perspective on and attention to speed and efficiency through collaboration and innovation that will really allow the industry to emerge successfully from the pandemic.
Patrick Ryan is the Executive Vice President, US East, at Linesight, a multinational construction consultancy firm. Patrick has over 23 years of experience in the delivery of large complex construction and real estate developments across Europe, the Middle East, and the United States.