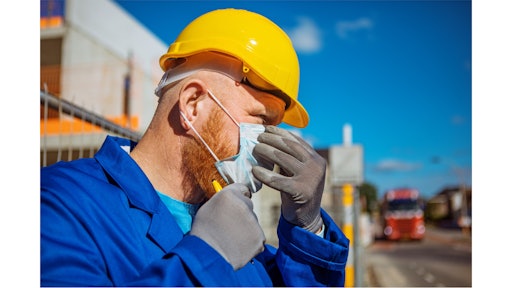 Lorado / iStock / Getty Images Plus
COVID-19 has dramatically changed the landscape of so many industries, including construction. While so many anticipate a return to normal, some things will not go back to the way they were. For now, construction companies will need to adapt to a "new normal" with these four practices:
1. Cloud collaboration and data storage
A pre-pandemic survey published by EY found that only 28% of construction and engineering companies have a successful digital strategy. As COVID-19 disrupted day-to-day office operations across the country, those that were already using cloud collaboration and data storage adapted quickly to the circumstances outside of their control.
In a post-pandemic world, the importance of cloud data storage cannot be stressed enough. For the short term and maybe even in the long term future, teams cannot rely on their physical location as a way of obtaining critical data. Information needed to keep business operations in motion cannot be tied to one place.
The forced digital transformation of construction that coincided with the pandemic brought to light the need for a larger industry-wide innovation. As construction adjusts to a new standard model of business operations, teams will need the ability to access, edit, and collaborate on project documents and company data in real-time, regardless of their location.
2. Virtual project coordination and monitoring
With some project sites limiting team numbers and further shutdowns possible, tradesmen need advanced remote work capabilities. Trade teams need to be able to coordinate project plans regardless of visiting the site. As construction adapts to a new normal, remote technologies like 3D laser scanning will become critical.
Using a non-harmful laser, scanners capture exact site measurements down to the millimeter. While scanning the area, the tool also captures high-resolution photos in 360 views. These two pieces of data are combined to create an exact 3D virtual tour that can be shared over the internet. This tour allows viewers to walk around the site, take measurements, assess if new equipment will fit, and coordinate skilled trade plans from wherever they are.
Additionally, site managers can use resources like OnsiteView or Sensera to monitor site operations live. With a 24/7 security camera, project leads can see how progress is coming along, answer team questions, and fix issues in real-time remotely.
Mandatory site shutdowns have made virtual site tours and monitoring extremely valuable. With so many variables threatening progress, trade teams can not afford to waste time on site. Technologies like 3D scanning and video monitoring can help teams plan ahead and prevent time-draining clashes. In this new era, where month-long shutdowns are possible, trade teams need these capabilities to make their time on-site count.
3. Remote meetings
After the stay at home orders went into place, video-chat software use skyrocketed. Microsoft Teams hit a new record of 2.7 billion total meeting minutes in a single day, Zoom added more users than in all of 2019, and Facebook launched a new video conferencing tool. Construction firms that were operating on a face-to-face meeting basis, began to use these services for the first time. While no one enjoys seeing their face on a screen, having remote meeting capabilities will need to be a part of every construction team's post-COVID-19 standard.
Past the logistical practicalities, staying connected and having face to face interaction with team members is important to employee job satisfaction and productivity. Extended mandatory work from home and isolation presents a new set of business risks. Team members can start to feel disconnected, leading to demotivation and a sense of discontentment. Colleagues need a way to simulate the camaraderie and team building that happens naturally in an office environment.
The reality is as states reopen there could be a second wave of the virus. If this is the case, construction teams need to be prepared to adapt once again to the mandatory work from home orders. Video chat helps employees maintain their normal office routine and promotes accountability and cohesion.
4. Social distancing and personal protective gear
As sites reopen and operations begin again social distancing guidelines will likely persist. With so much on their plate already, technologists have realized that site managers might need a helping hand from tech. Since March, new solutions have been released to help keep tradesmen safe. Using AI, Smartvid.io's Vinnie alerts managers if there is a social distancing compliance risk. Triax's Proximity Trace's hard hat adapter alerts its wearer if they are too close to another person on site. These solutions and others like them will help construction teams acclimate to the new way sites are run.
While construction teams try their best, keeping within social distancing guidelines is not always feasible as some aspects of a job may require tradesmen to work closer together. A recent COVID-19 study by The University of Texas found that mandating the use of personal safety equipment could reduce the amount of infection by 67%. A separate study featured in the New England Journal of Medicine shows a simple cotton cloth can reduce the spray of infectious particles by 99%.
This is why wearing PPE is especially important for construction teams. Face masks are an additional safety precaution that protects people from spreading COVID-19. For the foreseeable future, construction teams will likely need to continue wearing personal protective equipment.
While the world continues to deal with the repercussions of this pandemic, changes will need to be made across every industry. Construction should not expect things to go back to the way they were. Operations will need to be innovated to move forward.
Lori Moes is the co-founder and CFO of DJM CAD & Coordination, a BIM coordination firm in Schwenksville, PA. Lori got her start in construction estimating for her father who owned his own HVAC company. As she continued to work in the industry, adding project and financial management to her skills. As a female executive in a male-dominated industry, Lori is passionate about creating equal opportunities for women.