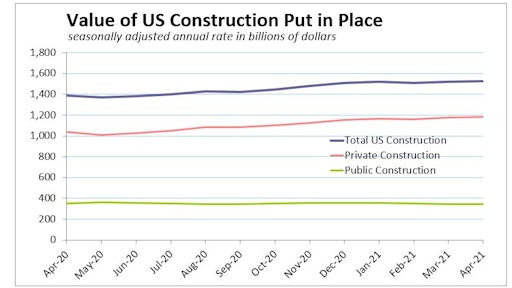 data: US Department of Commerce; graph: ForConstructionPros.com
The Commerce Department said on Tuesday that the seasonally adjusted annual rate of the value of all construction put in place in April rose just 0.2% after 1.0% growth in March. Reuters reports that economists they polled had forecast a 0.5% gain in April construction spending.
But actual construction spending, an economic line item that typically accounts for about 4% of gross domestic product, is up 5.8% year to date.
Slowing residential remains the bright spot
The residential sector once again accounted for most of the modest monthly gain in overall construction.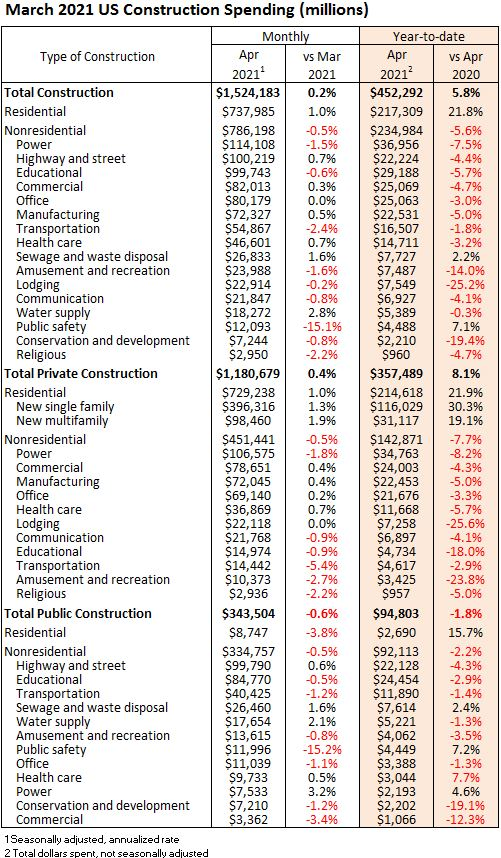 data: US Department of Commerce; graph: ForConstructionPros.com
Spending on residential projects rose 1.0% during the month, after jumping 2.6% in March. Outlays for single-family projects rose 1.3%, as builders continued pressing to meet the recent surge in home buying that has driven inventories of completed homes to historic lows. Spending on single-family residential construction is another segment whose April couldn't match March momentum, when spending jumped 2.3%. But comparing year-to-date outlays is encouraging, as home building is more than 30% above the first four months of 2020.
Spending on multifamily projects rose 1.9%. A sharp increase in leasing activity across numerous markets has developers moving forward with apartment projects that had been put on hold. Outlays for home improvements rose 0.3% and would have likely risen more if homeowners could have found contractors to do the work.
Nonresidential is not quite so bad
Nonresidential outlays slipped 0.5%, marking the category's fifth straight month of decline. The most damaging drops include a 1.5% decline in spending on power construction – currently the largest nonresidential construction segment – which is down 5.6% year to date. Another of the Big 6 nonresidential categories, educational construction, slipped 0.6% and is off 5.7% year to date.
Office and commercial outlays improved during the month, while lodging outlays were flat. That's relative improvement in these sectors, and Wells Fargo Securities' Senior Economist Mark Vitner calls it, "The latest sign that construction is beginning to rebound as consumers venture back out in the economy and businesses cement plans to bring their employees back to work."
Spending was down on a monthly basis in nine of 16 nonresidential subcategories. Both private and public nonresidential construction spending were down 0.5% for the month.
"The fact that nonresidential construction spending continues to decline is no surprise whatsoever," said Associated Builders and Contractors' Chief Economist Anirban Basu. "Many factors are at work, including the historic lag between broader economic recovery and the onset of persistent recovery in nonresidential construction. In other words, nonresidential spending levels reflect what the broader economy looked like about a year ago. A year ago, the economy was in dire shape.
"There's more," said Basu. "Conventional wisdom holds that many of the projects postponed during the earlier stages of the pandemic are set to come back to life. It is for this reason that many contractors have reported rising backlog and growing confidence in the six-month outlook for revenues, staffing levels and profits.
"But just when it seemed safe to get back into the water, a new set of challenges has emerged. Among these are input shortages, rapidly rising materials prices and ongoing issues securing sufficiently skilled workers. What all this has done is to suppress the vigor of nonresidential construction's current recovery by inducing certain project owners to further delay their projects, hoping to ultimately receive more favorable bids."
Material prices setting records
Activity continues to improve, but according to the April's Producer Price Index (PPI), prices for materials and components for construction were up 12.9% year-over-year. The sharp upturn in lumber prices has received the most attention, however prices for most basic construction materials are on the rise, notably steel, copper and plastic products. On top of that, costs for everything from HVAC systems, appliances, lighting fixtures, engineering services and freight are similarly headed higher.
Longer lead times and sharply higher prices for materials stand to be a significant obstacle moving forward. Still, there are signs that construction activity will continue to improve. Total building permits (both single-family and multifamily) reached a 1.76 million-unit pace in April. Total permits are up over 32% on a year-to-date basis, which means residential construction should continue to be robust.
Nonresidential construction's prospects continue to brighten. The Architecture Billings Index (ABI), which tracks billings, inquiries and design contracts at architecture firms, rose to 57.9 in April, the highest level since 2007. The recent upswing in the ABI means that nonresidential construction should improve considerably over the course of the next few years. Approximately 37% of firms (the largest share) reported that rising material costs were becoming a serious problem, while an additional 35% of firms said that it has been a moderate problem.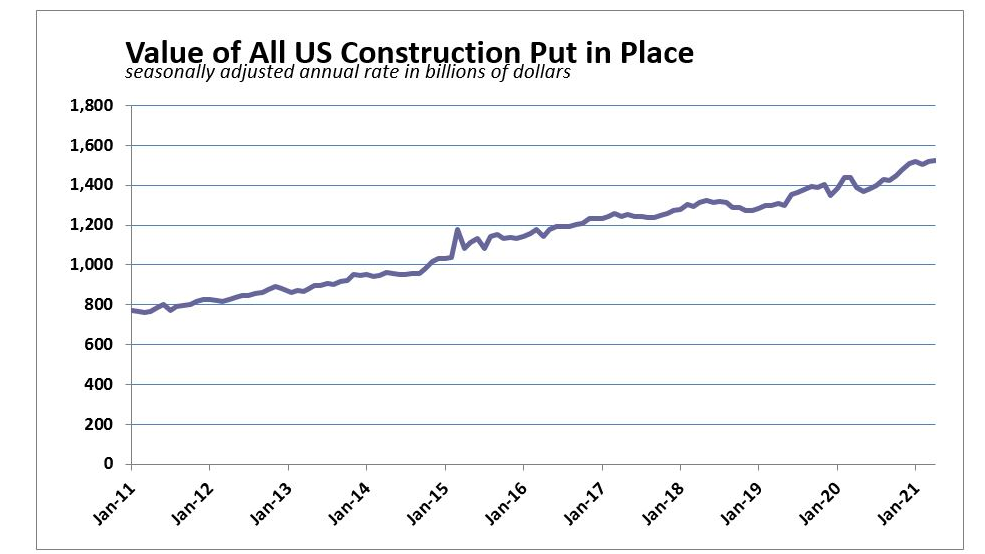 data: US Department of Commerce; graph: ForConstructionPros.com