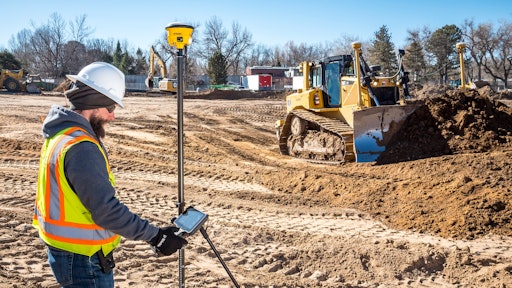 By Gregg Wartgow, Contributing Editor
GPS-based technologies help construction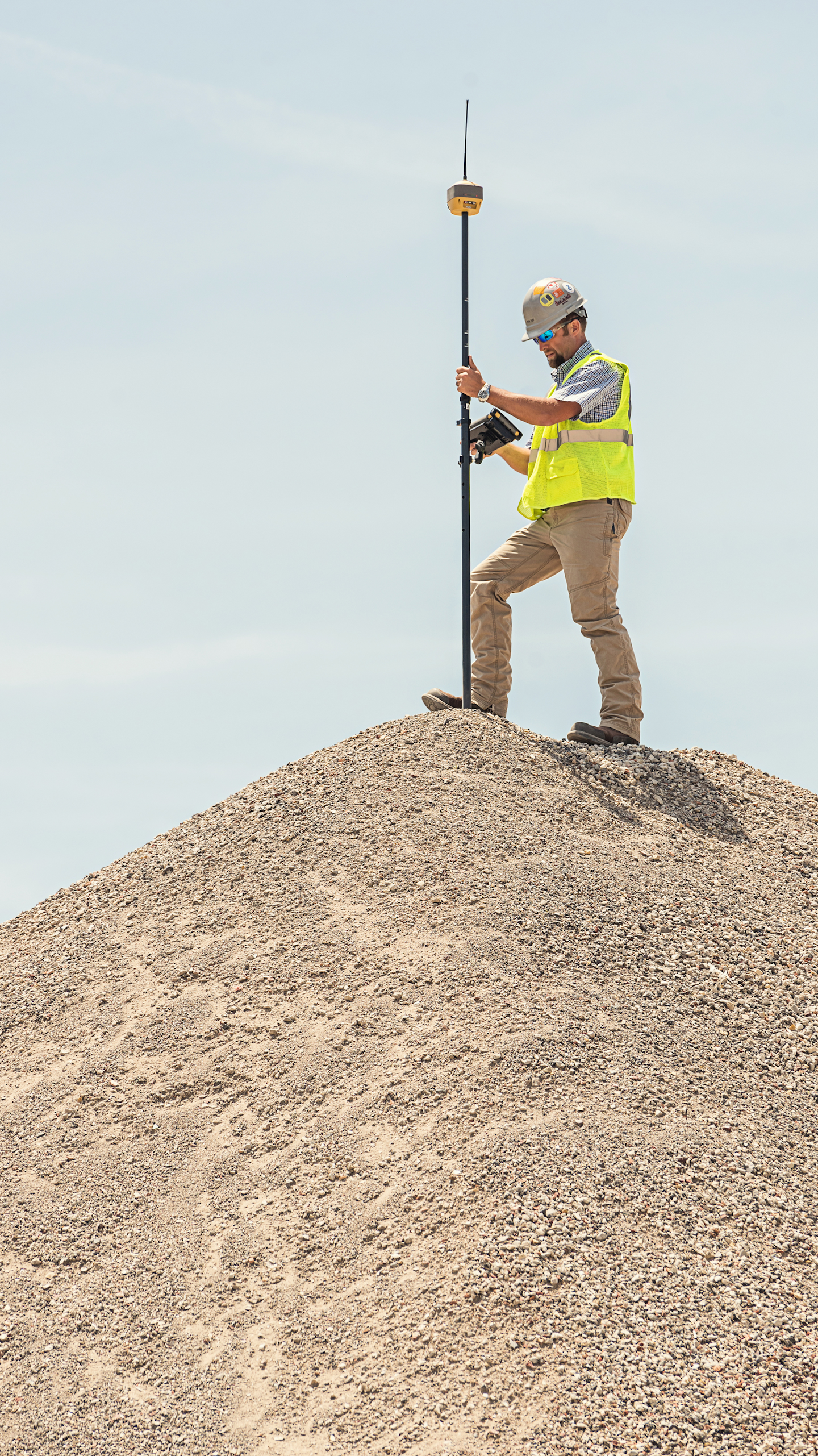 Rovers, such as this Topcon HiPer HR GNSS Receiver, can measure most features on a job site, including stockpile volumes, for gauging production and predicting resource needs. companies in a range of ways. One end of the GPS spectrum is something as simple as equipment location tracking. At the other end is automated machine control. Somewhere in between, technologically, is the use of GPS rovers to measure features on a project site with near-survey accuracy in minutes.
A rover is a small GPS receiver with data-collecting, and usually transmitting, capability. Their ability to quickly and inexpensively measure and report work in progress offers contractors unprecedented insights into their production.
Generally, a rover works in combination with a satellite base station located somewhere on or near the jobsite. That stationary base station improves the accuracy of a rover's position data.
"GPS on the typical cell phone provides accuracy in the 3- to 30-meter range," relates Casey Cyrus, business area manager for site positioning systems at Trimble, a developer of GPS positioning technologies. When grading and excavating, 3 to 30 meters is not accurate enough. "You need that base station and correction stream to really dial in the accuracy of the site positioning. With today's rovers,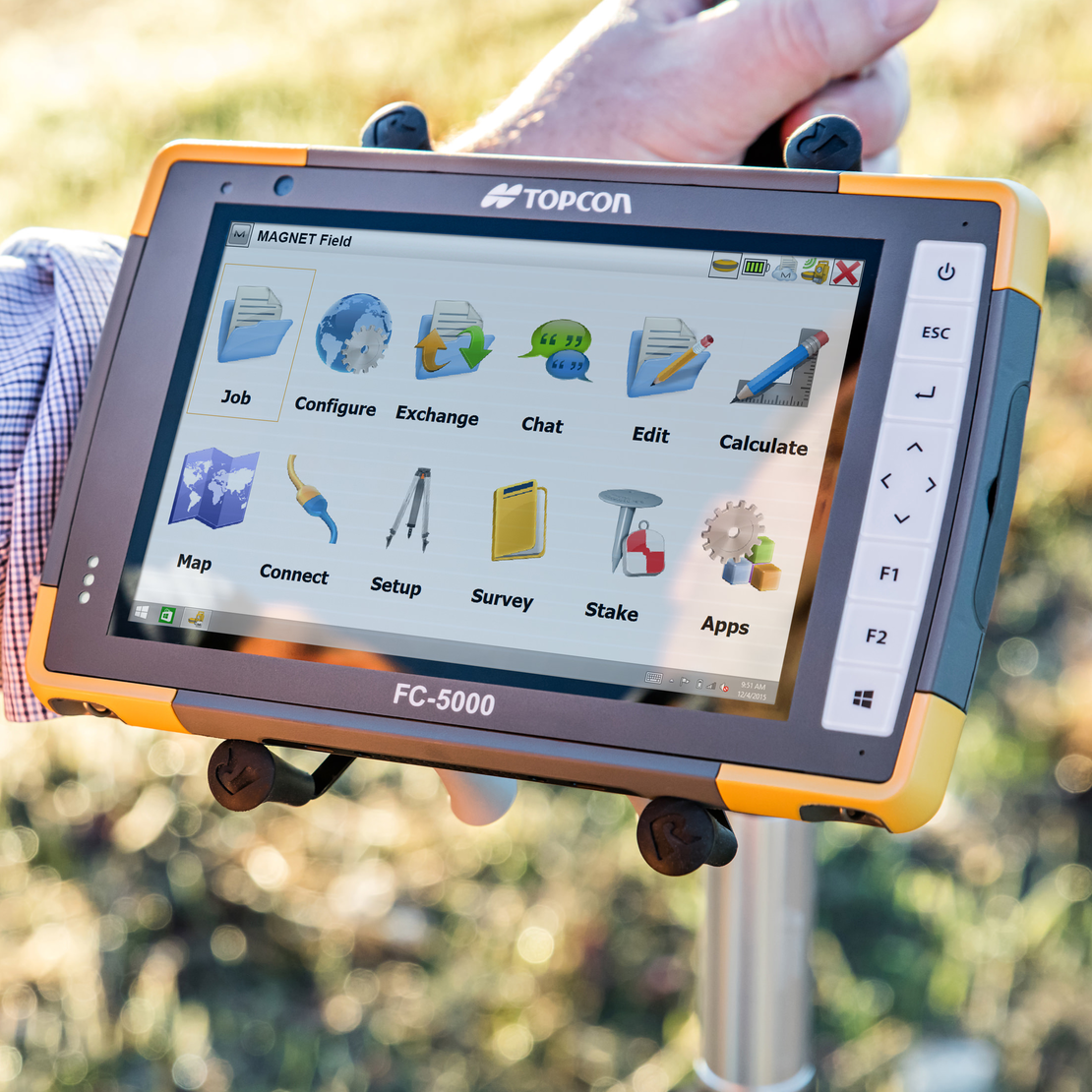 Topcon's FC-5000 Field Controller runs Windows 10 on fast processors for calculating volumes and making comparisons on a sunlight-readable 7-in. display. we're talking about less than an inch horizontal and slightly more than an inch vertical – about the size of a golf ball."
In some instances, a base station may no longer be necessary. "With strong cellphone signals available in more areas today, you can sometimes walk anywhere with a rover and connect to the internet without needing a base station," says Javier Ramirez, Professional Services lead at Topcon Positioning Group, which designs, manufactures and distributes precision measurement and workflow solutions for construction and geospatial markets. "One option is using a network like our TopNET. And sometimes a municipality might offer CORS stations (continuously operating reference stations). This can be a good thing for a construction crew that doesn't want to have to set up that base station in the morning."
Base station or not, the golf ball-size accuracy relates not only to latitude and longitude position, but also elevation. Civil construction tends to focus on creating elevations that ensure controlled water drainage. "If we can do that to within an inch, in most cases, that is accurate enough for preparing driveways, road surfaces, and really all types of construction projects," Cyrus points out.
The ability to measure a site to golf ball-size accuracy in a very short time can also be used to monitor project progress with unprecedented accuracy. Using rovers to measure work in progress gives project managers a better understanding of material use and, as importantly, material, labor and equipment needs.
More satellites, more reliability
When choosing a rover system, Cyrus says constellation support is a crucial feature. The common term 'GPS' only tells part of the story. Today's rovers also pull positioning data from other satellite constellations. GNSS stands for Global Navigation Satellite System – a system that includes not only GPS satellites, but also GLONASS, Galileo, BeiDou and others.
"The more satellites [your rover] can see, the stronger your positioning data will be," Cyrus explains. "Also, if you ever lose connection with one satellite, you can keep on going. And if you're ever working in a heavily wooded area, you might not have as great a line of sight to the sky. Working off of multiple satellite systems helps."
"The good thing about GNSS rover technology is that it is proven," Ramirez adds. "Productivity has been a huge factor in the adoption of this technology and hardware."
How rovers are used in construction
A common rover application is to measure grade. Instead of walking around with a tape measure, level and can of spray paint, a single grade checker with a rover can walk a site, capturing elevation measurements at any point.
"Everything on the display screen tells them exactly what needs to be done," Ramirez says. "The jobsite becomes a digital representation in their field controller device. They can see where they are at any given moment. They can also see important information like cuts or fills to finish grade or subgrade. A rover does all of this in one simple step."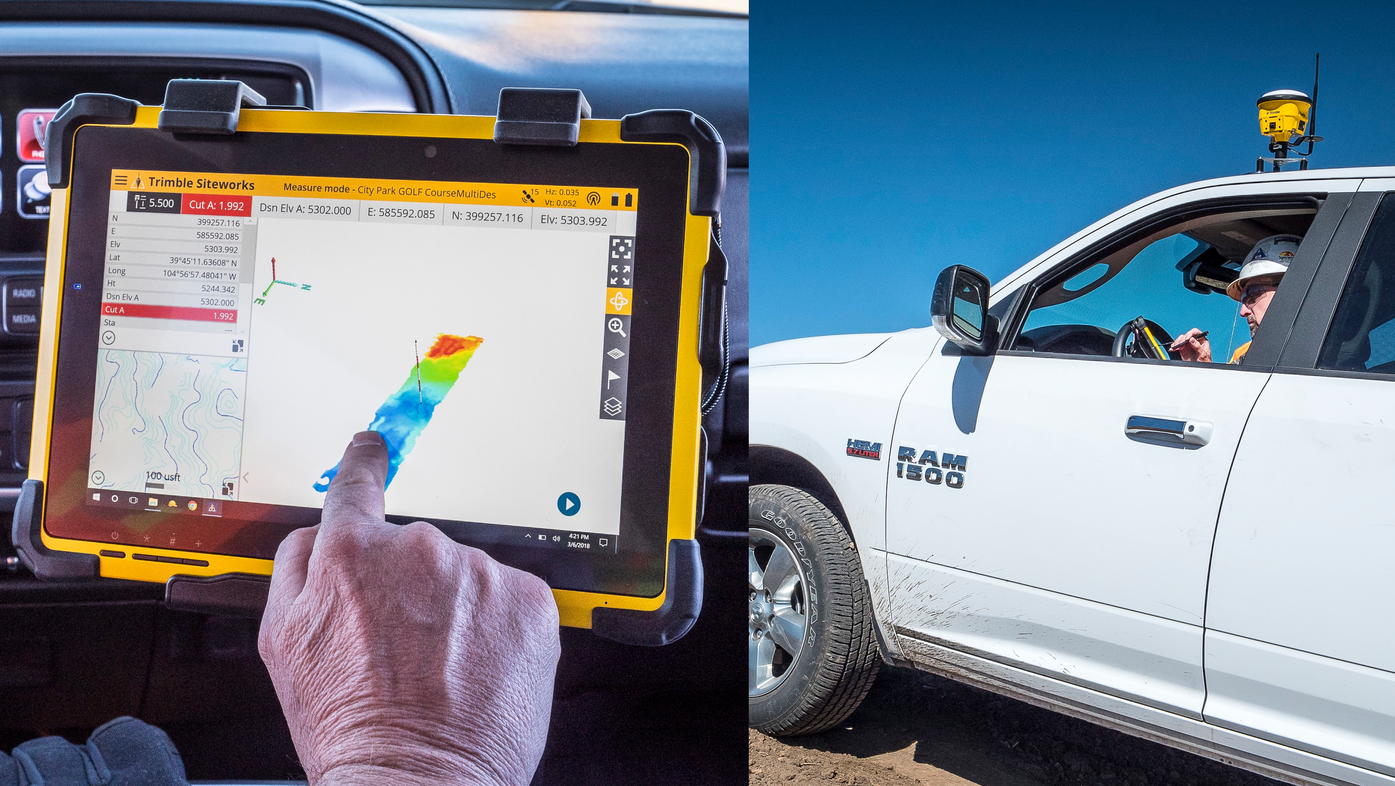 Rovers can be deployed in various ways, including mounted on vehicles to cover more area faster. Trimble's T10 tablet collects and views site data using the Windows 10 Enterprise operating system, with fast processing and a 10-in. screen for viewing maps and designs, preparing and sharing progress reports.
Tony Dalla is an estimator with T&R Concrete Excavation in Parker, Colo. Dalla helped spearhead the company's adoption of Trimble's rover technology and satellite-guided machine control over the past year. Working for an 11-year-old company in growth mode, Dalla says the T&R team has yet to put actual pen to paper to calculate the ROI. That said, the positive impact on both productivity and profitability has been obvious.
"Once we have the project model set up on the computer, we can check grade at any point," Dalla relates. "We are not surveyors, but we can get a lot of work done before they show up; then they just need to confirm that we did it correctly. We're confident that we'll always be within spec on final grade. Sometimes it's a tiny bit of touch-up work here or there, but the process is really sped up thanks to the rovers."
Increase profitability and efficiency with your fleet now with a free fleet management system demo >>
Dalla shares a story of how rovers helped complete a rework project the company was recently awarded. "A client was having some issues with drainage, and wanted us to get it right for them. We went to the site with our rover. We saw that the perimeter was correct, but the interior wasn't. Maybe the previous contractor wanted to lose some fill in there, who knows. Regardless, we used the rover to capture data on the perimeter. From there we created a design for what the final surface should be, which allowed us to determine how much fill we would have to dispose of to get the final grade right. In relatively short time, we had a fairly detailed number on how much work it would take to do this project."
Measuring stockpiles is another common rover application. A person can simply take a rover and walk around the perimeter of the stockpile to capture its size. Then the person can walk up the slope to take shots of both sides to determine its height. Software accompanying the rover can then calculate the volume of material in that stockpile. "A report can be created based on that data," Ramirez says. "There are also cloud solutions that allow the data to go from the field to a web service to be shared from there."
Dalla says T&R Concrete Excavation uses its rovers to measure stockpiles. "This is very helpful if we're the second contractor on a project," Dalla explains. "When someone has already done the overlot and needs someone to haul off whatever the spoils are going to be, we can predict that to a pretty solid degree of certainty."
On the topic of stockpiles, construction firms can also utilize rovers to measure the amount of material being moved around a jobsite. "You could put rovers on trucks to count the haul trips," Ramirez explains. "You can even have sensors on equipment to count the cuts and fills over the course of a day."
Locating jobsite features is another practical rover application. A digital model of the project identifies things like sewer line, edges of buildings, curbs and medians. The rover helps pinpoint those locations so they can be staked out in much quicker fashion. A user simply views the digital project plan on their mobile device, and then follows their satellite position until they reach the desired feature.
How rovers are deployed
Trimble's Cyrus says one method is to carry the rover around in a backpack. The challenge here is that the height of the rover above ground is not a constant; it varies every time the person carrying it takes a step. "This method is OK if all that is needed is a rough grade," Cyrus says. "This method can also be used for bulk earthmoving and measuring stockpiles."
Another way to use rovers is to mount them on a pole. One advantage is that a pole-mounted rover provides more of a constant HI, height of instrument.
"In Trimble's case, we have a 2-meter pole below the rover," Cyrus explains. "That pole sets on the ground to provide the most accuracy. We know that the rover provides golf ball-size accuracy, and that 2 meters below the rover is the surface. We can take a measurement, take a few steps and take another measurement, and continue that to cover the entire surface in a grid. From there we can create a surface model so we can do volume calculations day by day. Then we can see how far we still need to go to the design surface. Then we can say we need X amount of material brought in, or perhaps X amount taken out. You can also decide which equipment is best suited to whatever needs to be done."
Another method of using GPS rovers is mounting them on vehicles. Like with pole-mounted rovers, there is a constant HI. The vehicle-mounted method is also faster than walking, making it ideal for measuring larger sections of a construction site or locating jobsite features. The challenge is a proneness to error on sloped surfaces.
That's where a newer rover method comes into play: vehicular-mounted with IMU (inertial measurement unit) which helps to identify a vehicle's angular rate. "We've recently launched this type of technology with dynamic tilt functionality," Cyrus says. "We've taken the rover that was mounted to a truck, but can now measure down at the angle of the vehicle's tilt to project straight down to the wheels and surface below the vehicle to build the surface from that. In this scenario, we get better accuracy on sloped surfaces."
Cyrus offers the following example to explain the benefits of IMU technology. On a 20-degree slope at 2 meters high, there would be an error of roughly 13 cm using a vehicle-mounted rover without IMU. With IMU, that error is reduced to 13 mm. "This allows you to drive a large section of property and accurately create the original ground," Cyrus says. "From that you can compare the original ground surface to the proposed design, and get volume calculations."
Topcon also offers rovers with integrated IMU sensors. Ramirez says integration with IMU is an important step forward for rover applicability. So is integration with total stations, which is also starting to happen. "When rover data integrates with total station data, that typical half-inch error of a rover is basically eliminated," Ramirez points out.
Other site-measuring technologies
Speaking of total stations, there are other types of technology available to help construction companies to measure and manage projects. Like with any technology, each has its pluses and minuses.
In the case of a total station, Cyrus says you can get to an accuracy level of 1/8th inch. "A robotic total station follows a pole with a prism on it, or the machine with the cutting edge on it, which helps get down to that really smooth surface for concrete paving and checking concrete surfaces," Cyrus explains. "So when looking for the smoothest ride possible, go with a total station. The big drawback is that you need to maintain line of sight to the total station. With a rover, all you need is line of sight to the sky, which most construction sites have."
Drones have also been increasingly popular in construction, though their accuracy varies. "When using proper techniques, you can achieve that golf ball-size accuracy with respect to elevation," Cyrus says. "You can also get more data faster than walking or driving a surface; you can get data for about every inch as opposed to the typical 10-foot grid. That helps capture all of those surface undulations that might get missed. The big drawback with drones is that you need good weather in order to fly them and capture your datapoints."
Cyrus says rovers can actually go to the extreme of gridding a property at an inch. However, there is rarely an instance where somebody would want that level of detail. "There's a balance there," Cyrus says. "What is the data you're really after? Is a drone-based surface model too much? Many times, it is; the data has to be thinned down to that 1- to 10-meter grid, depending on the total size of the surface, so today's computers can process the data."
One other site-measuring method is photogrammetry, which is using photos to create points and measure distances. This method is not as accurate, though. But as Cyrus points out, it all depends on what you're after. "If you're simply looking to replace stockpile measurements and don't want to walk the stockpiles, photogrammetry could be an option."
Getting rover data to decision makers
The data a rover collects is only useful if it is readily available to the project managers who need it. Cyrus says there are multiple ways of disseminating rover data.
"A rover isn't just a GPS head," Cyrus points out. "Trimble is using Windows 10 Professional data collectors. We're using 7- and 10-in. tablets with high processing power, 7-in. survey controllers with a full keyboard, as well as hand devices similar to a cell phone. In other words, the user has choices."
Regardless of which choice the user makes, datapoints are collected – and the software performs volume calculations and comparisons right there on the spot.
"If you want to send that information to the office, cloud-based software allows you to," Cyrus points out. "People in the office can stitch reports together based on data sets from several surveyors, or even conduct further analytics such as mass haul. For example, the crew has a lot of cut in this area and a lot of fill down road. How much cut from this section will they need to haul to that other zone, and what's the surplus or deficit? Do I need to source more material? You could even determine how many haul trucks you are going to need."
Topcon's field controller is also a Windows 10 device. Various apps and software allow field workers and office staff to share files back and forth. For instance, office staff can share jobsite design files with field workers. Field workers can capture site measurement data throughout the project and share that data with office staff, general contractors or whomever else desires it.
The larger point is that the data is real-time, and it's accurate – helping construction companies improve productivity, quality and cost control.
Companies in this article