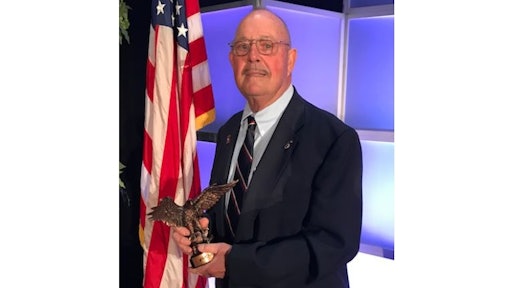 The Association of Equipment Management Professionals inducted Dale Warner, CEM, to the AEMP Hall of Fame during a special awards luncheon and "celebrity roast." The event was held in conjunction with the association's Annual Meeting in Orlando in March, 2018.
Rudy Tigani, digital operators supervisor for Caterpillar began the ceremony, saying, "The AEMP Hall of Fame honors equipment managers among AEMP's membership who exemplify excellence in equipment management, and to advancing the art and science of the profession. Today we're honored to recognize an industry giant, Dale Warner."
Todd Perrine, CEM, VP of product support with Leslie Equipment says, "Dale has positively impacted the equipment management profession and all sides of the Equipment Triangle. He's truly been a game-changer. He served at AEMP Chairman of the Board in 2001, helped found AEMP's professional certifications program (the Certified Equipment Manager (CEM) and Certified Equipment Support Professional (CESP) credentials). Many sections of AEMP's textbook the Career Equipment Fleet Manager manual still have Dale's mark on them. He pushed the Equipment Triangle philosophy tirelessly, often speaking to dealer groups about the wants, needs, and expectations of the end user. He frequently traveled on his own dime to work with product support folks in dealerships.  He consulted frequently to the OEMs.  It could be said Dale created the equipment triangle concept."
Stan Orr, FASAE, CAE, chief executive officer of AEMP adds, "I often refer to Dale as the father of today's modern leadership team. Dale was always committed to lifelong learning.  This was demonstrated by his willingness to share his knowledge and wisdom.  He spoke many times in sessions at conferences, always pushing the envelope on innovation. I was in my first years with the organization when Dale was in leadership and he helped me understand what equipment managers do, why they are so important to the success of fleet intensive organizations. I am honored to call him a mentor."
Warner enlisted in the U.S. Army the day he graduated from high school in 1958. He left active service for the Army Reserves and worked 22 years as field service mechanic for a Caterpillar dealer.
He credits Army leadership training with nurturing his skills, and in 1980 he was hired as equipment manager for Baltimore-headquartered steel-mill contractor C.J. Langenfelder. In 1992 the company promoted Warner to corporate equipment manager.
The Army called Reservist Warner to active duty three times before he retired in 1992 with the rank command sergeant major.