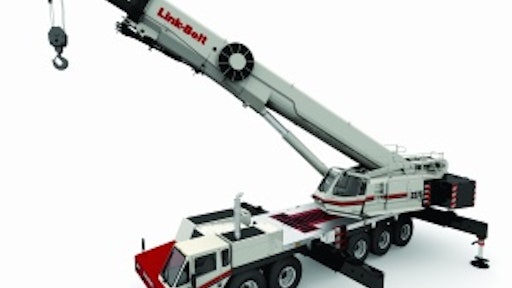 Link-Belt plans to unveil the all-new, 275-ton ATC-3275 all-terrain crane, designed to meet the toughest transport laws in North America, while also meeting Tier IV Interim and EPA 2010 on-highway requirements.
A modular counterweight system is specifically targeted to ensure transportability. None of the weights is more than 22,000 lbs., allowing them to be grouped together or with other components on transport trucks to maximize the loads. The entire unit with maximum counterweight, rigging, matting and fly extensions can move with just four truckloads.
A Cummins EPA 2010-compliant engine provides ample power to enable the crane to achieve top highway speeds. Anti-lock disc brakes, an intarder and true engine compression brake enable the ATC-3275 to meet SAE braking codes. Emergency steering, cruise control and traction control are standard, along with extra steering cylinders for maneuvering in difficult terrain. The traction control has a mud and snow setting to allow more slip when needed.
Also available is inter-axle and cross-axle differential locking. Military-grade, two-piece aluminum wheels require no special tools to service in the field. Comfort is maintained via a Hydrogas suspension system.
The seven-section boom is fabricated from ultra-high-strength steel in Link-Belt's own facility. The two-plate design of each section has multiple longitudinal bends for added strength. Teflon inserts keep the boom lubed and are universal for all boom sections. Eight boom modes maximize capacities by varying the extension of the sections.
The upper engine mounts transversely to allow maximum space for the stowable fly. A 12-ft heavy-lift fly has lift procedures for two load lines, making it suited for tilt-up work. An optional three-piece bi-fold fly hydraulically offsets from 2° to 45°. A manual, four-position offset is also available. Managing lifting functions (rated capacity limiter, boom telescope, etc.) will be a newly developed control system that will debut at the show.
Companies in this article