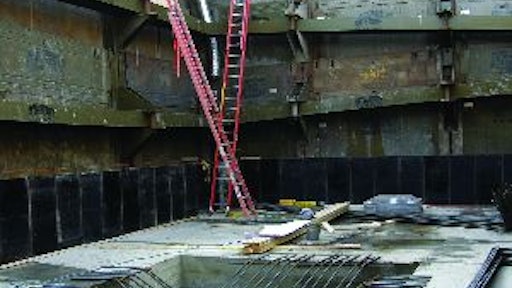 The Dow Chemical Company, the nation's largest chemical firm, needed to install a 25' x 55' x 30' lift station at its Midland, MI, facility, which will hold surface run-off water collected through an existing 54-in. storm sewer line. The water will then be pumped through a new 36-in. line to a recently built 10 million-gal. above-ground water storage tank for future treatment.
To tap into the existing storm sewer line, the new concrete structure was to be poured-in-place 35 ft. deep in the ground. The working pit dimensions to accommodate the lift station needed to be over 60 ft. long and 35 ft. wide. It also had to stay open and be properly shored for more than three months.
The project was awarded to Midland-based Johnston Contracting. Currently owned and operated by Lee Johnston, the firm was founded by Lee's father, Dean Johnston, in 1965. It specializes in underground utility and chemical plant construction, and has many years of experience working with Dow inside and outside of its main facility.
The biggest safety challenge to the Midland project was properly shoring the large and deep working pit that would be open for such a long period of time.
"There were two other contractors looking at this job, and they believed it would be a sheet piling job," says Johnston. "The folks on the project from Dow believed it would be sheet piling, and that was my initial thought."
He then received a visit from a specialist at Efficiency Production, Inc., who suggested slide rail as a more cost-effective alternative. Incorporating the slide rail alternative, Johnston's bid proved much lower than any other bidding contractor.
QUICK INSTALLATION
Efficiency's Universal Slide Rail is a component shoring system comprised of steel panels (similar to trench shield sidewalls) and vertical steel posts. The system can be used in a variety of configurations. In addition to the obstruction-free ClearSpan configuration, the Universal Slide Rail can be configured into small four-sided pits, in a Multi-Bay configuration to install large tanks and structures or in lengths of pipe over 40 ft.
Slide rail is installed by sliding the panels into integrated rails on the posts. Either double or triple rails are used, depending on the needed depth. The panels and posts are then pushed incrementally down to grade as the pit is dug -- a process commonly referred to as a "dig and push" system. This allows the system to be installed simultaneously as the pit or trench is excavated to grade.
To excavate the pit and install the slide rail components, Johnston used a 7.8-ton Komatsu mini-excavator, Koehring 866E excavator with a 3-yd. bucket, Terex 330 crane and Link-belt 108 crane with lead and drop hammer to install opposite side posts and panels.
Johnston installed the entire system in 13 days, rather than the 30 days it would have taken to install an alternate shoring system such as tight sheeting. "If we had used sheeting, we would have to have double walers and cross braces," he notes. "That would leave us with 12 penetrations to pour the concrete through, and would take an extra month to finish."
THE APPEAL OF OPEN ACCESS
The completed tank sits on a 3-ft. poured concrete footing. The 2-ft.-thick walls are formed 3 ft. in from the edge of the footing on all sides. The new structure stands 30 ft. tall and provides the capacity to hold more than 100,000 gal. of storm water.
Three Rivers Corp., also located in Midland and boasting Dow credentials, is the subcontractor that installed the poured-in-place concrete tank. Project superintendent Brian Barber appreciated the easy access provided by the ClearSpan configuration.
"The open workspace is what I liked," he says. "We [were] able to form up the structure without having to deal with anything crossing the workspace."