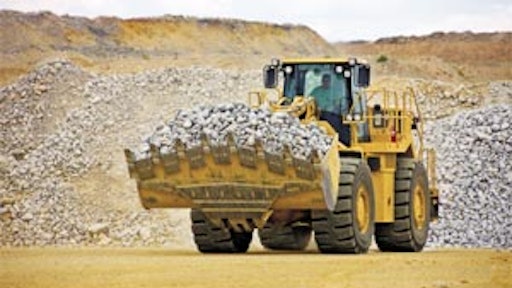 Despite the cloud of volcanic ash hovering overhead, bauma 2010 - the 29th International Trade Fair for Construction Machinery, Building Material Machines, Mining Machines, Construction Vehicles and Construction Equipment - hosted over 415,000 visitors from more than 200 countries. This truly global industry event, which took place in April in Munich, Germany, also featured more innovations than ever, with a particular focus on sustainability and environmental and human protection.
Following is just a sampling of the exciting new and updated products displayed at this triennial event.
Caterpillar
Caterpillar and Zeppelin Baumaschinen GmbH, its German dealer, featured close to 60 machines in their exhibit, ranging from compact excavators up to 134-tonne wheel loaders. New products on display included the 336E and 374D L hydraulic excavators, the D7E track-type tractor, 434E and 432E backhoe-loaders, TH417 telehandler, AP555E asphalt paver, DEM50 demolition excavator, updated 988H large wheel loader and several work tools. Many were displayed for the first time to the European, African, Middle Eastern and Commonwealth of Independent States markets.
Here are a few highlights:
The 336E hydraulic excavator, which replaces the 336D, is among the first Caterpillar machines to meet European Stage IIIB and Environmental Protection Agency Tier 4 Interim emissions standards. It features a 317-hp C9 engine with an 18% power increase for greater digging and lifting performance, an enhanced operator environment, serviceability improvements and new styling.
The 160,000-lb. 374D hydraulic excavator, which replaces the model 365C, is equipped with a 476-hp C15 ACERT engine that produces 18% more power. New buckets and a greater operating weight boost trenching, loading and lifting capabilities. Complementing these design basics are undercarriage improvements, new operator convenience features, safety enhancements and serviceability improvements.
The updated 988H provides up to 10% greater fuel efficiency and new features that boost production, lower costs, enhance the operator's environment and advance durability and reliability. The new Positive Flow Control (PFC) implement hydraulic system is designed to boost loading performance and save fuel. Updates have been made to the Fuel Management System (FMS), Auto Idle Kickdown (AIK) and Idle Shutdown programmable fuel-saving features. And the optional Payload Control System has increased accuracy, is more robust in design and easier to calibrate.
Cummins
Cummins Inc. revealed the latest generation of QSB3.3 and QSB4.5 four-cylinder engines offering a simplified Tier IV installation across a broad 75- to 160-hp power range. With an air-intake-to-exhaust aftertreatment system specifically designed for flexible machine integration, the 3.3- and 4.5-liter engines will lead the way for compact equipment to more easily meet low-emissions regulations in 2012.
The engines incorporate the Cummins Compact Catalyst exhaust aftertreatment, which removes Particulate Matter (PM) by simple flow-through passive oxidation. It can be installed in space-constrained equipment, with the added flexibility of mounting separately from the exhaust muffler or as part of a combined catalyst-and-muffler unit.
Cleaner, more fuel-efficient combustion is achieved with a cooled exhaust gas recirculation (EGR) system that reduces Oxides of Nitrogen (NOx) emissions. The previous wastegate turbocharger is upgraded to a more efficient variable-flow turbocharger to drive the EGR system and optimize boost across a wider engine speed.
LiuGong
With more than five decades of manufacturing experience, LiuGong Machinery Corp. built China's first wheel loader more than 40 years ago. The company also manufactures a full line of machines, including excavators, backhoes, skid steers, truck-mounted cranes, bulldozers, forklifts, pavers, rollers and cold planers.
LiuGong had four wheel loader models on display at bauma, from the relatively compact 816G to the mid- and larger-sized 856III and 888III. The 888III is the largest wheel loader LiuGong currently exports. Later in 2010, the company expects to begin shipping its largest model, the 899III.
The 856III has a 4.6-cu.-yd. (3.5 cu. m) bucket capacity, a rated load of 11,023 lbs. (5,000 kg), dump height of 112.5 in. (2,858 mm) and a breakout force of 35,070 lbf. (156 kN). Its operating weight is 39,683 lbs. (18,000 kg). It comes equipped with a Cummins engine rated at 219.9 hp (164 kW) at 2,200 rpm.
The 888III is designed to handle the toughest working conditions and heavy loads under very long and severe duty cycles. It features a Cummins engine and rated at 335.3 hp (250 kW), peak torque of 14,816 lbf. (1,674 N·m) at 1,400 rpm and a breakout force of 58,450 lbf. (260 kN), and can handle buckets from 5.0 to 7.8 cu. yds. (3.8 to 6.0 cu. m).
Terex
Terex highlighted its new PT-100G and PT-100G Forestry compact track loaders, the largest in its lineup. They deliver a 14.6% increase in tractive effort in low gear for more pushing power, a 32% increase in horsepower to the attachment, a redesigned loader arm to achieve greater reach and 13% more bucket breakout force.
The units have an operating weight of 11,400 lbs., a tipping load of 8,000 lbs. (4,000 lbs. at 50% tipping load capacity) and a lift height of 125 in. The Posi-Track undercarriage technology and suspension includes 48 contact points on the ground, compared to 42 on the previous models. This results in a low 4.0-psi ground pressure and increased traction.
The models also boast a 99.9-hp engine and 310 lb.-ft. of torque. The cooling fan blades automatically adjust to provide optimum airflow, while minimizing engine hp consumption. A load-sensing, high-flow auxiliary hydraulic system offers 43 gpm at 3,800 psi.
Other standard features include load-sensing, infinitely variable, low-flow auxiliary hydraulics from 0-20 gpm, a two-speed transmission up to 10 mph, auto-idle, creep mode, selectable pattern changer from ISO to "H" pattern and adjustable loader/bucket sensitivity.
Trimble
Trimble introduced the Web-based VisionLink solution, its next-generation fleet and asset management solution. Using VisionLink, owners of mixed fleets can monitor equipment health and fleet utilization with near real-time speed, and are able to consolidate fleet management efforts.
The VisionLink fleet and asset management solution features user-friendly management tools combined with GPS-based positioning and cellular technology to provide near real-time information, including machine fault codes, location, hours, events and user-defined alerts, to provide an overview of machine health, fuel management and working utilization. It extends the Trimble Construction Manager solution, which offers contractors a range of tools to monitor machine utilization and site productivity.
VisionLink was developed by VirtualSite Solutions, a Trimble and Caterpillar joint venture company, and is an integral part of the Cat Product Link fleet-management solution. The solution is expected to be available in the second quarter of 2010 through the Trimble Heavy and Highway Construction distribution and SITEC dealer networks.
John Deere Power Systems
John Deere Power Systems (JDPS) displayed its entire Interim Tier IV/Stage III B diesel engine lineup and announced engine models and power ratings.
For engines 75 hp and above, John Deere will start with its PowerTech Plus Tier III/Stage III A in-line, four- and six-cylinder engine platform with cooled exhaust gas recirculation (EGR) and an exhaust filter for reducing PM. These engines will feature full-authority electronic controls, a four-valve cylinder head, a high-pressure fuel system, turbocharging and an air-to-air aftercooling system.
Engines between 75 and 173 hp will be available in 4.5L and 6.8L displacements and will be equipped with either a wastegate or variable geometry turbocharger, depending upon the size of the engine. These models will feature smaller exhaust filters that can be engine-mounted or remote-mounted for increased flexibility. Engines in this power range will use an in-cylinder dosing system, while 174-hp and above engines use an external dosing system. These models include the 6.8L, 9.0L and 13.5L displacements.