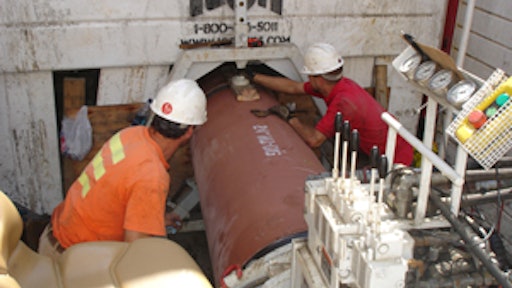 Sedro-Woolley, a small quaint logging town in Washington State has recently begun increasing their trenchless pipe installation program due its proven success. Trenchless pipe installation minimizes disruptions and costs, while proving to be an effective way to install pipe.
Trenchless Construction Services L.L.C. a trenchless pipe installation and replacement construction company was the general contractor for the $3.5 million dollar Sedro-Wooley SR9 Township trenchless sanitary sewer improvement project. Trenchless was responsible for installing 14 manholes and 3,400 lineal feet of 15 inch diameter and 24 inch diameter gravity sewer pipes at a .16% grade. Trenchless methods were required for this project because the pipe was to be placed under and adjacent to State Highway Route 20 and State Highway Route 9.
"These methods were used because of a lack of detour options to maintain traffic flow," says John Gustafson, Owner/ Manager of Trenchless Construction Services L.L.C. "The soil conditions, as well as the accuracy of pilot tube micro-tunneling, also made it the preferred method for the 15 inch and 24 inch portions of the project."
Pilot tube micro-tunneling, also referred to as guided auger boring, was introduced in the 1990s for the installation of small diameter sewer pipes and water lines. Guided auger boring systems are similar to micro-tunneling systems with the addition of a guidance system. This accurate guidance system consists of a camera-mounted theodolite to ensure a high accuracy of the line and grade. "We choose the Bohrtec guided auger machine because we knew it would give us bullet like accuracy," says Gustafson.
Prior to construction, Trenchless sponsored a meeting with engineers, sub-contractors and Trenchless employees in order to get everyone on the same page. ICON, the New Jersey-based slide rail system manufacturer and Bohrtec pilot tube distributor and Mission Clay, the No Dig clay pipe manufacturer both made presentations of their products. "Our goal was to make sure all parties had a clear view of the project scope as well as the products we were going to use," says Gustafson. "This was very beneficial as everyone was able to ask questions and get direct answers from the manufacturers."
This project would require a total of six jacking pits in which Trenchless would place the pilot tube boring machine to jack the sewer pipe between manholes. These jacking pits were dug using a hydraulic excavator weighing 54,000 lbs.
Trenchless used ICON's slide rail system to shore the six jacking pits, which were 11 feet wide by 20 feet long by 14 feet deep. This slide rail system is designed and built to withstand the jacking forces of the Bohrtec BM 400LS pilot tube machine.
"ICON's slide rail system is very easy to install, which saved us a tremendous amount of time," says Gustafson. "The slide rail system reduces setup time and is substantial enough to withstand the forces of the BM 400LS."
This slide rail system also features temporary sheeting, which allows the contractor to extract small sheeting panels rather than large shoring panels to create an opening for the pipe installation.
The Bohrtec BM 400LS, with a jacking force of 150 tons and 75 tons of pull back force, can perform guided drillings in one, two or three phase procedures such as pilot drilling, reamer drilling with steel protective piping; alternative reamer drilling with pushing of product pipes at the same time and drilling with welded steel pipes.
Trenchless first performed the three-phase guided drilling installation with the 24 inch diameter clay pipe. The three-phase procedure consists of installing the pilot tube to secure an accurate line and grade. When the pilot tube reaches the receiving shaft, a 16 inch casing with an auger inside is connected to the last section of pilot tube in the jacking pit. The 16 inch casing with auger is jacked into place as the soil is extracted, following the pilot tubes. Once the casings and augers reach the receiving pit, a reamer is attached to the 16 inch casings. This reamer enlarges the bore hole to that required for the 24 inch clay pipe. The 24 inch clay pipe is then jacked to the receiving pit, following the 16 inch casings and reamer.
Trenchless then moved on to the next phase of the project, which was installing the 15 inch diameter pipe. Trenchless would only use the two- phase procedure for this installation. "We were able to jack the clay pipe after the initial pilot tube drilling with the casings because of the smaller pipe diameter," says Gustafson.
Trenchless purchased the 15 inch pipe auger and casings for the project and rented the larger auger and casings for the 24 inch pipe from ICON. "ICON was instrumental in securing the tooling and special equipment required for the specific pipe sizes on the project," continues Gustafson. "ICON's personnel were always available for consultation and visited the project during construction to assure us that we were using the recommended procedures."
Trenchless was able to complete this first-of-a-kind project for Washington State within the allotted time and avoided equipment malfunction delays. "ICON is a very customer focused, professional and knowledgeable company," says Gustafson. "Their support and service is top notch. I look forward to a continued relationship with ICON in the future."
Since 1999, Trenchless Construction Services, L.L.C. has grown to 20 employees and offers horizontal directional drilling, micro-tunneling, pipe ramming and a number of trenchless pipe replacement processes such as pipe reaming, pipe bursting and slip lining. Trenchless is licensed in Washington, Oregon, Idaho, Montana and Alaska.
Companies in this article