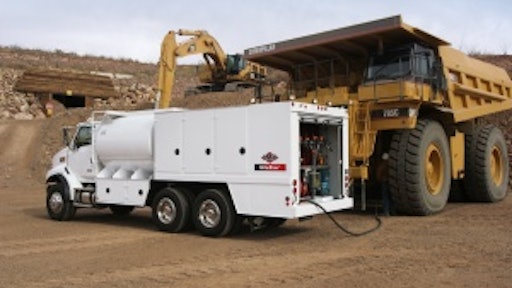 Construction equipment needs regular maintenance. There's no getting around it. It minimizes breakdowns and extends the life of your equipment, which, given the current economic situation, has become more important than ever. Many equipment owners have found owning a dedicated lube truck to be the easiest, most cost-effective method of ensuring their machines are properly maintained. The tricky part, however, is choosing the right truck to fit their needs.
There's no denying that these trucks can play an important role in keeping equipment running smoothly, which is the main reason end users should give as much or more consideration to purchasing a lube truck as they give to purchasing the equipment it serves. Because fleets come in all different sizes and are scattered across diverse geographic locations, spec'ing a lube truck to meet those needs is an important process. Some lube truck manufacturers allow you to design the truck to fit your specific needs, but the lead time on this engineered-to-order approach is much longer. Other manufacturers have pre-engineered tank systems that give you hundreds of options, and this method usually means you can have your truck much more quickly.
There are several components customers must evaluate when building their lube trucks, says Tim Worman, product manager of commercial vehicles for Iowa Mold Tooling Co. Inc. (IMT), the company that manufactures the SiteStar® lube truck line. From the chassis and body to the dispensing systems and electrical components, the goal is to get a lubrication vehicle properly proportioned to meet service requests. Too many times, Worman says, customers end up purchasing a vehicle that is either too small or too large for their maintenance needs because they didn't truly understand what their fleets require. This results in either inefficiencies or wasted money.
To help prevent this, IMT designed a Lubrication Vehicle Needs Analysis program that dealers walk through with customers interested in purchasing a SiteStar unit. The software analysis, which dealers administer, asks prospective buyers a comprehensive list of questions to quantify their needs. At the end of the analysis, Worman says customers are provided with refill capacity and service interval recommendations to help them make an informed decision on the size of lube truck they should purchase. In addition to providing customers with a recommended truck size, the program also recommends a chassis size.
"Customers are happy and often surprised with the results, and they view the software as a very useful tool," Worman says. "We've seen customers who thought they needed a large truck, and the analysis program helped them realize that they would only use a small percentage of the truck's capacity. They actually needed a much smaller truck, and the program saved them tens of thousands of dollars on the truck purchase."
The program asks the customer for information such as equipment type and weight class, fleet size and service intervals. Then, based on that information, the needs analysis software will recommend the most appropriate combination of vehicle and tank size to fit the customer's specific needs.
When selecting a chassis, it is important that you specify the location of the exhaust system, fuel tanks, air brake reservoirs, battery boxes, air dryers, etc. Moving these items incurs additional time and expense and could restrict the amount of usable space on the body. It is recommended that you purchase a chassis with high ratings for frame section modulus and resistance to bending moment (RBM). Truck suspensions should also have a sufficient gross vehicle weight (GVW) rating to scale legally when all product tanks are completely filled.
An important aspect of preparing vehicle specifications is the proper weight distribution calculation. Worman says customers should consider the weight of the truck chassis, the lubrication body and all product tanks. "When calculating the weight of the filled product tanks, it is important to account for the weight per gallon of the liquids stored in each individual tank," he says.
Lubrication vehicles are subjected to constantly changing stresses and loads created by the fluctuating payloads inherent to off-road operation. Completely loaded product tanks are concentrated and relatively stable. The movement of liquids in partially filled tanks will surge forward and backward when the truck is in motion. This, in turn, mandates heavier suspension ratings to maintain vehicle stability while driving.
Open lubrication bodies provide ready access to all pumping equipment and product tanks, while enclosed units help keep product warm, provide protection from weather and offer security. A
roll-up door at the rear of either body allows full access to the reels and pumps.
Body structure should not be compromised because of load characteristics, Worman advises. Customers should consider structural-steel long sills, structural-channel cross members on
12-inch centers, rub rails to protect the outside of the body, and steel decking rather than wood. The mounting system should be shear plate in the rear and anti-shift spring-mounted in the front to allow the body to flex independently from the chassis frame. Recommended body options are a used-filter drain drawer, rollout toolbox trays and adequate filter storage compartments.
All product tanks on IMT SiteStar lube trucks are polyethylene instead of steel. This allows not only an 80 percent reduction in tank weight, but also allows for cleaner fluid storage and easier contamination control. Foreign materials, such as rust, are common in steel tanks. And, because polyethylene tanks have no welded joints, stress points that lead to leaks are eliminated. A 5-inch vented fill cap aids easy product loading and is secured via a locking mechanism. A large, 1-inch bottom drain ensures easy tank cleanout. The tanks also use a filtered vent to equalize atmospheric pressure.
Hydraulic-driven dispensing systems utilize a closed-center, pressure-compensated hydraulic pump to power solenoid-activated gear-type pumps. The system uses hydraulic delivery pumps for all oil products. Hydraulic systems have considerable advantages over the traditional air-driven systems by providing quieter operation, faster delivery speeds, fewer moving parts, and the elimination of pump freeze-up in cold temperatures. Although there are many advantages to hydraulically driven pumping systems, IMT also offers air-driven pumping systems. IMT's anti-freeze and salvage tanks are typically run on an air-diaphragm pump system, and the grease tanks are run on air-piston pumps.
Dispensing systems are available with fluid metering devices and/or preset metering nozzles to measure the amount of product dispensed. A variety of hose reels are available with air-, spring- or electric-powered rewind. "Because of the high level of usage and the typical mounting location, a dual-arm, high-quality hose reel should be specified," Worman says.
Lighting should provide complete visibility to the work area and storage compartments and within the enclosed lube body, he says. The wiring system should include an automotive-type and weatherproof wiring harness, LED readout to each pumping circuit, and a sealed control box to house all switches.
The air system can be a hydraulic-drive, direct-drive, gasoline-driven or diesel-driven compressor. Worman says minimum air delivery should be based on the air requirements for the vehicle. In most cases, the minimum air delivery is about 35 cfm.
Companies in this article