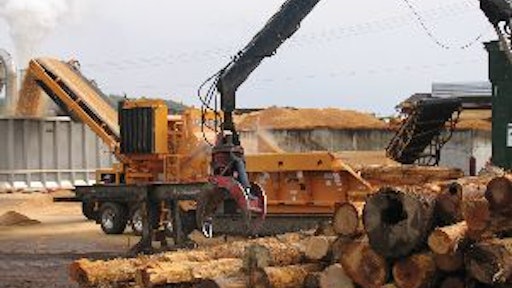 An increased demand for wood pellets and decreased supply of raw material from sawmills has led to some recent challenges in the renewable energy marketplace. To meet the growing demand for miniscule wood fiber, Bandit Industries, Inc. developed new technology that allows a 1/4-in. minus sawdust-type material, known as bio-sawdust, to be produced from debarked round wood in a single pass. Benefits of this new system include greater fuel efficiency, higher production levels in pellet mills, and the potential for expansion into biofuel and bioelectricity production.
Less energy required
Because the process used to produce bio-sawdust is a cutting action, as opposed to the beating action used in hogs and hammermills, less energy is consumed in producing the fine material. When using a diesel-powered Beast, up to three tons of material can be produced per gallon of diesel fuel.
In addition, the wood fibers are cut, not fractured. This type of material packs much more efficiently into the pellet dies, yielding greater production. Pellet operations in British Columbia receiving material from the Beast are reporting a 10% to 12% increase in production at the pellet mills compared to other grinders. In another application, a stationary unit with electric power is regrinding all of the material that comes to the pelleting operation before it goes to the hog. By using the cutting system in the Beast, the amount of energy required to size the material is also reduced.
The chipping application is ideal when the material is relatively clean and free of stone and dirt. Producing fine material is also possible when processing dirtier materials, such as the material found in raked slash piles. Carbide cutting teeth and/or splitting teeth are used for these applications. The material produced is more uniform in size and finer in consistency, but larger than the bio-sawdust chip.
Secret revealed
The secret to producing bio-sawdust is in the unique, patented design of the cutterbody in the Beast Recyclers. The cutterbody is shaped like a sawtooth on a chain saw, which enables the chipping system to make a precise, regulated cut.
The material entering the machine is also controlled by the infeed system, which forwards material to the cutting system at the exact speed required to produce the desired chip length. The standard screening system keeps end-cuts and slivers inside the chamber until the material is properly sized.
When producing bio-sawdust, the chipping operation generally yields better than 95% acceptable material (1/4-in. minus) in one pass. Similar results are achieved in regrind applications when processing chips and hogged material.
Bio-sawdust uses
Uses for bio-sawdust will likely expand as more applications are tested. Possibilities include woodchip-fired boilers and home chip-heating systems. Fine material is more volatile and should be more desirable for suspension boilers.
Bio-sawdust will also likely find its way into biofuel production. Given its unique size and shape, bio-sawdust will break down faster than other feedstocks in the production of cellulosic ethanol, and carbon-based biofuel plants will also benefit from bio-sawdust's ability to break down rapidly, thus speeding up the gasification process.
Those producing premium fuel pellets often use debarked material to limit the ash content. For pellet operations looking for a bark-free material, ring and drum debarkers seem to hold the greatest potential in supplying debarked material to produce bio-sawdust.
Companies in this article