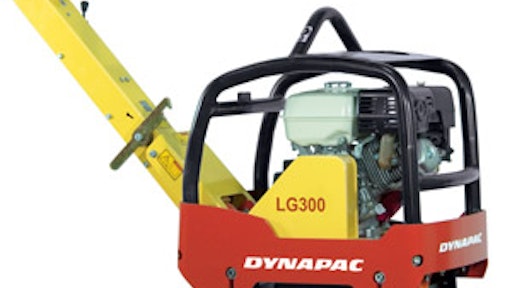 The bauma 2007 28th International Trade Fair for Construction Machinery, Building Materials Machinery, Mining Machines, Construction Vehicles and Construction Equipment proved to be the most successful edition in the exhibition's history.
Held this past April in Munich, Germany, the show outstripped the 2004 event in terms of exhibition space and exhibitor and visitor numbers. It hosted a record 500,000 attendees, representing a roughly 20% increase. The proportion of international visitors reached 160,000, or approximately 30% of the total.
The event also featured 3,041 exhibitors covering 180,000 sq. meters of hall space and 360,000 sq. meters of outdoor exhibition space.
Following is just a small sampling of products presented at bauma 2007. For more information on any of these products, just turn to the reader service card following page 12.
Dynapac LG300 Plate Compactor
The LG300 forward and reversible plate compactor is suited for soil applications, road repair, maintenance work and general compaction tasks. Speed and compaction depth are regulated via hydraulic servo control technology of the electric element. This ensures plate motion maintains a consistent level of smoothness. The design includes a strong, shock-resistant steel cover to protect vital components.
The unit comes with a 7.9-hp Honda gas or 5.6-hp Hatz diesel engine. It delivers 4,200-vpm frequency, an amplitude of .07 in. and up to 9,000 lbs. of centrifugal force. It can work at speeds up to 82 fpm.
Trimble Construction Manager
The Trimble Construction Manager version 1.9 is a fully integrated solution for managing construction equipment and operations. This version introduces charts and a dashboard view designed for users to visualize critical operational information for their construction fleet.
The program's new functionality is designed to enable simple identification of under-utilized equipment or bottlenecks in construction operations. Some examples include bar charts displaying equipment utilization, work time compared to idle time and a timeline of equipment activity through the day.
The new version also includes a detailed utilization report and maintenance alerts.
Komatsu PC138USLC-8 Excavator
The PC138USLC-8 short tailswing excavator has an operating weight of 31,107 to 32,568 lbs., and is powered by a 92-net-hp Komatsu SAA4D95LE-5 common rail injection, Tier III-ready engine. The unit provides increased lift capacity compared to the PC120LC-6 conventional-type excavator, while reducing the tailswing radius by 27%.
Improvements to the hydraulic system enhance productivity and efficiency. A single pump, double-flow system and pump flow merge divide valve improve swing acceleration and steering performance.
The operator station features an easy-to-view, 7-in. multi-function monitor incorporating five work modes. In addition, fingertip command of two different breaker and attachment flow selections provides a total of four flow settings.
The EMMS (Equipment Management Monitoring System) and Komtrax fleet monitoring system are standard equipment.
Vermeer HG200 Horizontal Grinder
The 5,500-lb. HG200 compact horizontal grinder processes brush and sizes the end product in one pass. It shares the same platform as the BC1000XL brush chipper, and is powered by an 85-hp Cummins turbocharged diesel engine.
The hammermill drum is able to process light contaminants such as nails, small gravel/stone aggregates, bolts, glass fragments and plastics. The SmartFeed feed-sensing control system automatically stops or reverses the feed rollers and infeed conveyor according to engine rpm drop. The clutchless PTO system combines the throttle and clutch engagement mechanisms to prevent the drum from being engaged at a high rpm.
An optional 2-ft. extension is available for the 17-in.-wide, 4-ft.-long infeed conveyor belt.
Liebherr Mid-sized Wheel Loaders
Liebherr is replacing its L 524, L 534 and L 538 loaders with the L 524 2plus1, L 528 2plus1, L 538 2plus1 and L 542 2plus1 models. The new units retain the Liebherr drive system, with the addition of 2plus1 technology. The result is a higher final speed of up to 25 mph and even greater reduction in fuel consumption.
All four models come with either a Z-shaped or parallel lifting frame. Operating weights range from 22,818 to 28,748 lbs. with bucket capacities from 2.62 to 3.53 cu. yds. Tipping loads span from 16,094 to 21,517 lbs.
The two larger models feature a new generation of 141-bhp Liebherr Tier III engines. The two smaller units have 115-bhp John Deere Tier III engines. Larger cooling surfaces provide higher cooling performance. An additional fuel cooler has been included in the two larger machines.
Redesigned cabs include an operating control layout based on the larger 6th generation wheel loaders.
Roadtec SB-2500D Shuttle Buggy
The SB-2500D Shuttle Buggy material transfer vehicle (MTV) can store and transfer hot-mix asphalt material from a truck to a paver for continuous paving. Its anti-segregation auger remixes materials just before they are delivered to the paver. A 25-ton surge capacity allows trucks to unload material immediately and return to the asphalt plant.
The unit is powered by a 300-hp Caterpillar C9 six-cylinder, Tier III diesel engine. All-hydrostatic ground drive allows for continuously variable speed control with two speed ranges. The unit has a truck unloading capacity of 900 tph and can load a paver at up to 550 tph.
Features include dual operator positions with a pivoting control panel for use from either station; 55° conveyor swing to either side of center; and an optional windrow pickup head.
HAMM HCQ Asphalt Navigator
The HCQ Asphalt Navigator is a new analysis and documentation system for the compaction of asphalt layers. Its network function enables continuous exchange of data between several rollers compacting the same layer. This enables roller drivers and site managers to see and assess the current state of compaction at any time across the entire site.
The system determines the number of passes, asphalt temperature and machine-related factors, such as model, speed and compaction method (including frequency and amplitude), and takes into account asphalt parameters such as asphalt type and rigidity. These values are linked to the position data from a DGPS receiver on the roller to produce color-scaled temperature, pass and compaction maps.
The system can be integrated into all road rollers at the factory or retrofit to existing models.
Genie GS-3232 Scissor Lift
The self-propelled GS-3232 lifts up to 500 lbs. and has a 38-ft. maximum working height. With its compact footprint of 7 ft. 11 in. long and 2 ft. 8 in. wide, it can easily fit through standard doorways. Dual front-wheel drive and a zero inside turn radius ensure maneuverability in restrictive work environments. A 3-ft. extension deck also allows workers and tools to utilize the maximum amount of platform work space.
The lift comes with an automatic leveling hydraulic outrigger system that is able to level on slopes of up to 5° side-to-side and 3° front-to-back. Also standard is a four-wheel braking system and advanced electronic control system.
Topcon SiteLINK
The SiteLINK wireless communications mapping, data logging, reporting and asset management system for off-road equipment provides the ability to work with any make, model or type of equipment on site, regardless of manufacturer and age. The technology is based on utilization of Mesh Radio Networks built on a standard Wi-Fi environment. The system can also pinpoint via GPS any make of equipment on a jobsite, serving as a built-in theft protection program by adding easy to configure geo-fencing functions.
In addition to monitoring fuel levels, oil pressure, temperature and hours of use, data that can be collected, stored and processed for individual machines include productivity, geometry files, real-time machine position and history with optional GNSS+ receiver hardware and percent of selected jobs completed. The data can be accessed anywhere you have Internet hookup or cell phone connection.
Volvo L350F Loader
The L350F is the largest wheel loader Volvo has ever produced. It weighs from 110,250 to 119,050 lbs., and is available with bucket capacities from 8.1 to 16.6 cu. yds. It achieves up to 106,290 lbf. of breakout force.
The 528-bhp Volvo D16E engine with V-ACT (Volvo Advanced Combustion Technology) system exceeds Tier III requirements. The HTE400 transmission has automatic lock-up in third and fourth gears to prevent losses in the torque converter when it's not needed. An automatic power shifting system offers a selection of gear shifting programs to suit the task and operator work style.
Load-sensing hydraulics feature variable-displacement pumps and load-sensing steering.
Hitachi Zaxis 160LC-3 Excavator
Even though it generates 10% more horsepower than the Zaxis 160LC, the 121-hp ZX160LC-3 uses less fuel thanks to new E, P and H/P modes. The E mode can save fuel consumption up to 13% compared to the P mode on the previous model.The unit also delivers 38,030 lbs. of drawbar pull (a nearly 13% increase) and 22,697 lbs. of bucket digging force. Maximum digging depth is 21 ft. 4 in.
The HIOS III hydraulic system balances engine performance and hydraulic flow for fast, smooth operations. Swing torque has been increased about 6%. Regenerative hydraulics and more hydraulic flow allow for faster arm roll-in and boom lower/arm movement.
Other key features include a stronger undercarriage, X-beam, side frames, idler brackets and front attachment. The larger Dash-3 CRES II cab comes with a wider seatback, more leg room and 47% more glass on the right-hand side.
Companies in this article