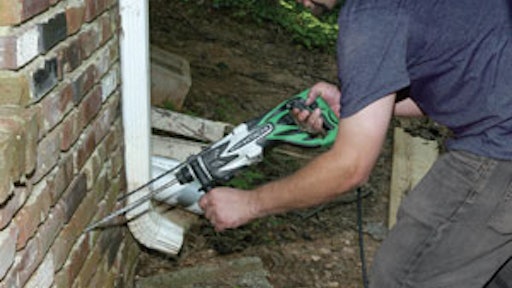 Hitachi Power Tools recently introduced its 15/16-inch SDS Plus rotary hammer, the DH24PF3, designed for the professional who demands speed and reliability from a tool.
Engineered to outperform other rotary hammers in its class, the DH24PF3 boasts a 7-amp motor that produces a best-in-class 2.5-ft./lbs. of impact energy, a no-load speed of zero to 1,150 RPM and an impact rate of zero to 4,600 IPM. These combine to give the DH24PF3 a best-in-class drilling speed.
The DH24PF3 delivers three modes of operation: drilling only, hammering only and hammer drilling, controlled by an easy-to-use mode selector dial located under the body. The three modes tackle a multitude of jobs from drilling anchor holes in concrete to groove digging and light chiseling. Its solid and dependable chuck accepts SDS Plus bits by simply clicking the bit into the retainer. For removal, the retainer slides back and the bit is released. The reverse feature is push-button style, situated above the oversized trigger, making it easy to change the rotation and back out bits.
Sealed to prevent grease leakage and protect the motor from dust and debris, the DH24PF3 exhibits prolonged tool life and durability. When using a cold chisel or spade bit, the variable lock mechanism (available in hammer mode only) allows the user to select between 36 different tool angles to match the application. A lock-on speed button allows for continuous operation, reducing end-user fatigue. An adjustable 360-degree side handle provides better control and can be removed when working in tight spaces for better maneuverability. The side handle also includes a depth gauge for consistent drilling depths.
At 5.3 pounds and 16 inches in length, the DH24PF3 is one of the lightest and most compact rotary hammers in its class. This increases maneuverability and reduces fatigue during use. The elastomer-coated D-handle helps to absorb vibration and provides a comfortable and secure grip.
According to information from Hitachi, the DH24PF3 rotary hammer reflects the aggressive new ergonomic design being implemented by Hitachi Power Tools.
"Hitachi is pioneering yet another new trend in the industry — tools that incorporate the latest technology with ergonomic design — a look that will modernize the traditional shop or jobsite," reports say.
The Hitachi DH24PF3 is designed for plumbing and conduit installation, HVAC and pest control installation, electrical installation, construction and repair work and other civil engineering applications. The tool comes complete with a depth gauge, side handle and carrying case.