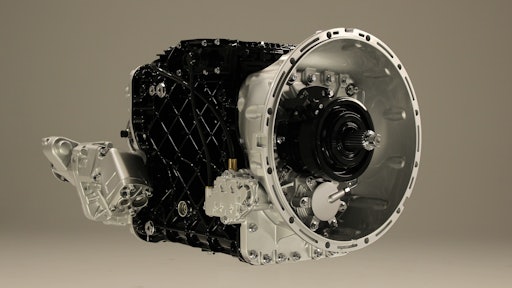 During World of Concrete 2015 Mack Trucks unveiled a heavy-duty version of its Mack mDRIVE automated manual transmission which will be available as standard equipment on orders as of March in the Mack Granite model, offering improved performance for demanding on- and off-road applications.

"Our construction customers told us they wanted a heavy-duty version of the mDRIVE designed specifically to handle rough jobs in tough conditions," said Stephen Roy, president of Mack Trucks North American Sales and Marketing. "We listened to them and developed a reinforced rugged transmission that will help our customers deliver power, performance, enhanced durability and improved driver satisfaction in a time when the industry is experiencing a driver shortage."
Video: Mack Introduces Heavy-duty mDRIVE for Granite Trucks

The mDRIVE HD is designed and engineered to work exclusively with Mack MP7 and Mack MP8 engines. The 12-speed mDRIVE HD has an automated clutch, so no clutch pedal is required. Operation of the transmission is controlled through a dash-mounted shift pad by selecting drive, neutral or reverse. For more demanding maneuvers, the premium shift pad can be operated manually to hold a gear, downshift or upshift.
Available in overdrive and direct drive, the mDRIVE HD continuously monitors changes in grade (both up and down), vehicle speed, throttle position, acceleration, torque demand and gross vehicle weight. It automatically chooses the best gear for the road condition, allowing drivers to focus on the terrain rather than shifting gears, increasing safety on worksites.

Key features of the mDRIVE HD include:
Lightweight design. Including transmission oil, the mDRIVE HD is up to 237 lbs. lighter than other transmission offerings, enabling customers to haul even more payload.
Reinforced internal components. With stronger gears and synchros, the mDRIVE HD is built to withstand more frequent shifting that is often needed in construction applications.
Transmission-mounted oil cooler. The mDRIVE HD's oil cooler helps maintain an optimal operating temperature, despite repeated, heat-generating shifts common on a jobsite.
Unique software packages, specific to the customer application, are available with the mDRIVE HD. The "Enhanced Construction" package provides optimal on/off-road capability and gives the driver full control over any terrain. "EZ Shift" delivers smoother shifts for sensitive payloads like livestock or bulk liquids.
Rock Free feature. Should the vehicle become stuck, this feature allows the driver to rock the truck back and forth simply by pumping the accelerator.
Grade Gripper. Working with the truck's ABS system, Grade Gripper allows the vehicle to momentarily hold a hill, giving the driver time to move their foot from the brake to the accelerator pedal without rolling backward.
The mDRIVE HD will be available for order in March.