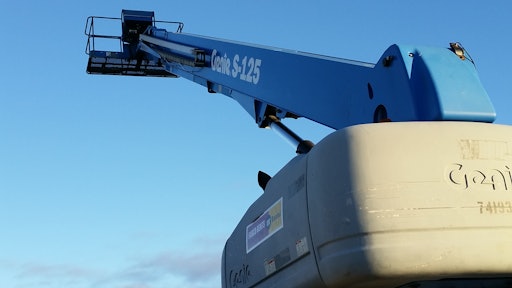 Courtesy of Genie Industries
In March 2020, new American National Standards Institute (ANSI) standards will go into effect for mobile elevating work platforms (MEWPs). During a special six-part series on the Digging Deeper podcast, some of the equipment industry's foremost experts sat down with Rental magazine to detail specific facets of the standards, explain how they will impact equipment owners and users and offer advice on how equipment owners can be ready for them.  
Part 1: New ANSI MEWP Standards Defined
In the first part of the "ANSI Experts Explain" podcast series, Tony Groat, manager, IPAF North America, provided an overview of the new standards and explained their importance.
As Groat indicates, the ANSI standards ensure that manufacturers of the same type of item follow specific codes and processes so those items function in a reliable and safe way. So, if you purchase an electric plug from Manufacturer A, it will operate in a similar fashion to an electric plug purchased from Manufacturer B. They will both be made to fit standard electrical outlets and will be created using the same safety procedures.
"In other words, the standards allow North American businesses to be competitive in the world marketplace," says Groat. "And they oversee the development of those processes in a consensus manner so that everyone has a voice in the creation of those standards."
Groat says that the new ANSI standards for MEWPS were published in December 2018, with a 12-month "grace period" to go into effect (extended to March 2020). He explains that the former standards were more all-encompassing, while the new standards are more comprehensive, detailed and targeted. They include specific:
Design standards
Safety standards
Training standards
So, rather than having one standard that covers all groups of equipment, manufacturers and users now have standards that are specific to each equipment type (like self-propelled booms and scissor lifts, for example).
Listen to the first podcast here to learn more about the new standards going into effect and their importance to both manufacturers and users.
Part 2: MEWP Training Standards
As mentioned, the new ANSI guidelines include detailed training standards for MEWPs. In episode two of "ANSI Experts Explain," IPAF's Tony Groat discusses them further.
Groat says, "I am happy to say that our industry has officially developed a training standard. In the past, we used to [just] have a training requirement within the overall standards, but now we have a very specific standard that defines the requirements for the application, inspection, training, maintenance, repairs and safe operation of the mobile elevating work platform.
"When you're looking at that change, that training that takes place is going to be much more thorough and standardized," he continues. "So, we shouldn't have people out there saying, 'I'm training to be compliant with the standard,' [with] one person doing it in 20 minutes, and one person doing in two hours and one person doing it in a day. How can you be delivering standardized training with those variables?" The new requirements are well-defined in an effort to bring standardization to the compliance training process.
Groat also shares that training isn't just for equipment operators. The standards also define processes for testing, supervisory and occupancy training.
Listen to the full interview here.
Part 3: MEWP Safe Use Plan Requirements
For the third part of this series, Scott Owyen, Genie senior training manager, talks about the new ANSI standards safe use plan requirements.
Owyen explains that the ANSI standards' safe use plan requirements ensure that proper protocols are being followed to assess risk and ensure safe equipment and site practices. "The safe use plan, I think, is one of the more important aspects of the new ANSI standards," he says. "ANSI is really focusing on the employer more than anything else. [The standards are] putting a lot of additional responsibilities on the employer to ensure that their operators are not only properly trained, but they have [supervisors] watching what they're doing and evaluating them and documenting those evaluations."
The ANSI safe use plan requirements ensure that employers are performing a proper site risk assessment, Owyens says. "If it's a detailed risk assessment, then it even includes what's under the ground before they move the machine to that area. I think we're working with the leading causes of fatalities, unfortunately, in our industry," he states. "A lot of people when they go out and do a site risk assessment, they're not even considering what's underneath the ground they're standing on. And obviously on new construction, there are a lot of things under there that could cave in."
The new standards also focus on factors such as rescue plans, which are of paramount importance in the equipment industry.
Check out the full audio here.
Part 4: Performing a Jobsite Risk Assessment
In part four of the "ANSI Experts Explain" podcast series, Bal Guererro, director, United Academy at United Rentals discusses the thought process behind performing a jobsite risk assessment.
Guerrero explains that risk assessments have always been a component to standards, but that they are being defined more clearly in the new ANSI MEWP standards. He says, "Risk assessment can be as simple as understanding 'What are we going to do? What are things that can actually create a [negative] impact to me or the people around me and what am I going to do to make sure that those events don't take place?'
 "Risk is a combination between hazard and activity. So, basically, everything around us can be a hazard by definition," he continues. "But the way that we interact with those hazards creates a level of risk. And it's all about understanding [how to] prevent this risk." In other words, if you have to do an activity that has a medium or high level of risk, it's planning ahead to mitigate the consequences.
Click here to listen to the full podcast.
Part 5: How Virtual Reality Is Changing MEWP Training
As technology advances, it inevitably affects standards and training. In part five of this series, Jim Colvin, president and CEO, Serious Labs, shares insight on how virtual reality is changing MEWP training.
Serious Labs is a workforce training solutions company that leverages innovative technology and applies it to the workforce. Colvin notes that virtual reality (VR) headsets weren't just developed for gaming. They are also quite useful for work site and equipment training purposes.
"If situations are very complex or expensive to create, or dangerous to put someone in, virtual reality can actually recreate all of that in a safe environment," Colvin explains. "You can put somebody in a dangerous situation [and] train them in that situation without putting them in actual harm's way."
With MEWP training, VR users experience a work site in which they have to complete a series of tasks in predetermined scenarios, with tasks ranging from simple to complex. "In addition to the headset enabling them to look in all directions, [it will also] project what they would be seeing in the real world if they were looking in that direction," says Colvin. "We also place them in a basket [just] like a mobile elevated work platform with a fully functional, real-world control set. And we have actuators in the base of a simulator that drive the motion of it and give the forced feedback to ensure that the person seeing the images is also feeling the actual feedback… as if they were in an actual machine."
Listen to the full version of this episode here.
Part 6: Training Requirements for Mast Climbing Work Platforms
In our final "ANSI Experts Explain" podcast episode, Kevin O'Shea, director of safety and training, AGF Access Group, discusses training requirements for mast climbing work platforms. While the new ANSI standards for MEWPs do not include specific training regulations for mast climbing work platforms, the equipment is frequently used in the masonry industry and should only be operated by comprehensively trained personnel.
According to O'Shea, "mast climbing work platform" is the industry term on for what OSHA would call a mechanized form of supported scaffolding. "Basically, it's not unlike a hoist that you would see on a jobsite. [However], it's not for the transportation of personnel into and out of a building; it's to deliver them to an elevated point where they can do some work, maybe like for windows, for stucco work, for brick and for block work, etc.," he explains.
O'Shea says mast climbing work platforms are quite a bit more complicated than scissor lifts or like equipment. "The challenge that we have with mast climbing work platforms is that they really weren't in use in the U.S. when the OSHA Act was signed by Richard Nixon on the 29th of December 1970," he points out. The OSHA Act has a general section which applies to all supported scaffolding but does not cover mast climbing work platforms specifically.
Consequently, proper training on the use of this equipment is critical. "I think it's fair to look at what one may achieve by getting trained or by getting your staff trained," O'Shea says. "If you don't know a lot about the equipment, what you're aiming to do when you complete training is you would like to be qualified. [In order to] have qualified staff under the OSHA legal definition, you have someone who by either qualification, degree, experiential equivalent or otherwise has proven that he or she is capable of undertaking the task at hand. A qualified person understands the risks and is educated for compliance."
You can find the full version of the final podcast in this series here.
To learn more about the new ANSI standards for MEWPs, listen to our full "ANSI Experts Explain" podcast series: