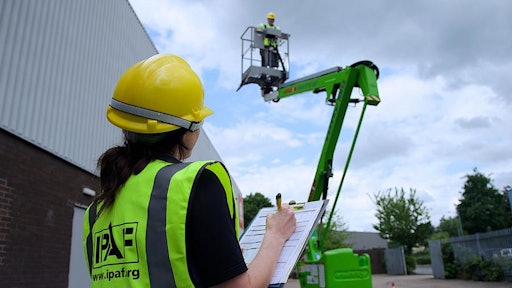 IPAF website
No one needs a recap on COVID-19 and the global impact of a pandemic, but like the experience of going through a business Chapter 11, it is a great learning experience if you survive it. And there were lots of learning opportunities during 2020. 
It was reaffirmed to all that the equipment rental industry IS an essential business, a reality that speaks to the value and necessity of our industry. And 2020 proved that we as a work force are ready to serve the needs of our customers, and our businesses can adapt as needed to face the changing demands around us. 
We also learned that not all of our customers were essential businesses, so there are many things beyond our control and planning. There were also some business segments that were unaffected and grew. But overall, the majority of the industry weathered 2020, reducing cost, slashing capital spending, and holding on to only a slight drop in rates. Most saw sales, particularly used equipment, be strong – a sign that users saw the future needs in the market.  
Most learned that remote technologies are viable tools for meetings and working from home can be an effective option for workers. Zoom, Microsoft Teams, Skype, and others became widely used platforms that are easy to use and widely accepted, cost-effective, and limit the amount of time spent commuting or in meetings. 
Working from home has also been found to be more productive in cases without distractions of others around you. Do we need all the facilities we currently use? Are our workers happier and equally productive from home? Is there a possibility for partial work/home schedules? The experiences of 2020 will have a long-lasting impact on how we do things long after the pandemic.  
2021

 Outlook

 
Hindsight is 20-20. Being a few months into 2021 has brought a bit more comfort for a positive forecast for the coming year. With the growing availability of vaccines and other key pandemic indicators heading in the right direction, it's safe to assume that the worst might be behind us. However, most recalled feeling positive as 2020 progressed too, so no one will be rushing to Vegas to place a bet on 2021! 
Most also agree that the business forecast is positive, but not exceptional. A lot of sources say that Q2 will be an improvement over Q2-2020 with moderate growth in the last two quarters.  
Rental rates are projected to be stable, which is a nice way of saying 'stagnant.' All believe there will be pent up demand for both new projects, a push for delayed work, and typical renovations and maintenance. However, many added that there will be delays in lead times for equipment attributed to component shortages and delays with equipment coming from overseas.  
One council member quoted Sir Winston Churchill who said, "A pessimist is a person that sees difficulties in any opportunity, and an optimist is a person that sees opportunities in any difficulty." All agreed that there will be opportunities. 
One such opportunity is the use of virtual communication platforms that started to be more widely used last year. They are here to stay, but how should they be used when we can again meet face-to-face? These methods will become an efficient and integrated part of the new normal, and, when used selectively, they can generate positive energy, inclusivity, and remain a great platform for communicating. Internal routine meetings, a supplement to product training, and follow-up meetings with customers are examples of suggested use. 
One thing that COVID-19 has proven is the need for in-person meetings and how important industry gatherings like trade shows and conferences are. Having unstructured time during industry meetings, on a personal and business level, increase networking – and new opportunities. All agree that this industry is as much about personal relationships as it is about quality equipment. 
As our industry is reliant on forecasts and budgets, most also believe things will return gradually to normal, even a new normal. Some expect that for the remainder of 2021, in-person travel will be extremely limited. Even if the pandemic concerns are low by summer, budgets, approved travel, etc. have already all been established. Further, some companies are going to be hesitant to lift restrictions due to liability concerns or forcing employees to travel who are not yet ready. 
MEWP 

E

quipment 

T

rends

 
Let's talk about some aerial equipment trends now. One change with MEWPs is compliance with the June 2020 A92.20 design standards. Some manufacturers began compliance prior to the effective date, and every company has to be compliant with any machines manufactured on or after that date. Platform load sensing, folding guard rails on small scissor lifts, and dual zone-control to allow for different operations depending on indoor vs. outdoor are all here to stay. 
Moving forward, larger equipment will see more technology advances involving telematic, controls, and electric drives. Electric and hybrid MEWPs will continue to be more popular as customers realize the benefits and the costs of related components continue to decrease. We have already achieved a significant milestone with the elimination of all hydraulics, but currently, the hurdle is the high cost of electric actuators. However, as demand grows, prices will come down. 
As innovation is a key driver for manufacturers, a push for both smaller and taller MEWPs will continue. Concerns about safety and a look at alternatives to ladders will continue a demand for MEWPs FIRST and ladders last. Being easy to move, guard rails, and eliminating climbing improve productivity and safety – all benefits of low access MEWPs.  
Another note: Self-propelled booms over 200 feet and vehicle-mounted over 320-feet are making MEWPs the primary choice of equipment for more work sites. This trend will continue.  
We will continue to see an increase in manufacturers from around the globe as MEWP design standards become more harmonized, allowing compliance with many other countries and their standards.  
New ANSI Standards

 
Talking about standards, published in December 2018 and in effect June 2020, the Design, Safe Use, and Training standards are in place and providing the most effective equipment and safe use planning guidance to ensure a safer workplace. Also, like I mentioned earlier, all MEWP manufacturers are manufacturing machines to conform to the new standards today. 
With COVID-19 in the backdrop of the June 2020 effective date, too many MEWP users are still unaware of the changes or fully understand their responsibilities. For that reason, the IPAF North America Council has set a goal to support MEWP users in order to meet their responsibilities for a safe MEWP operation.  
A series of free webinars will be offered and recorded for ongoing use. Visit www.ipaf.org/events to register for the next webinar or to watch any already delivered: (1) "ANSI MEWP User Responsibilities," (2) "Developing MEWP Specific Safe Use Plan," (3) "Providing Standardized Compliant/Reliable Training," (4) "Developing MEWP RA Safe Work Procedures," and (5) "How to Conduct MEWP Operator Evaluations."