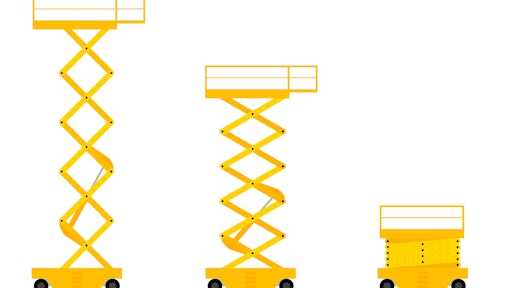 dzm1try @ adobe.stock.com
Last month, my Editor's Note was Star Wars-themed, complete with humorous puns and quotes. Unfortunately, I don't have another clever movie tie-in to share with you, but I do have an important topic to discuss: the aerial lift industry.  
After a bleak 2020, the industry is once again on the rise (okay, I had to have one pun in here). The newly published Global Powered Access Rental Market Report 2020 from the International Powered Access Federation (IPAF), produced by DuckerFrontier, shows optimism that the U.S. MEWP rental market will recover strongly after the pandemic.  
The IPAF report predicts the market will continue to grow and mature, as the clearer political outlook and renewed focus on controlling COVID-19 can lay the groundwork for a relatively rapid bounce-back in 2021 and beyond. 
With that renewed sense of optimism, the focus throughout the aerial lift market has jumped to OEM technological advances and safety. In our story, ANSI Standards and Equipment Trends: A 2021 Outlook for the MEWP Industry, on page 28, Tony Groat of IPAF discusses some of the latest equipment trends the industry will see moving forward, as well as provides an update on the ANSI standards that took the industry by storm in 2020.  
Those updates are examined even further in Addressing the Updates to MEWP Requirements from a Legal Perspective on page 14, where rental industry expert James Waite, Esq., explains how MEWPs are one of the safest means of working at height, but there are still risks. Now, there are new legal practices rental business owners should consider to keep themselves and their customers safe.  
And speaking of staying safe, the aerial industry has met the requirements of the new ANSI standards with numerous innovations that increase jobsite efficiency, minimize the risks of accidents, and dictate new levels of productivity. For example, load sensing technology on scissor lifts that monitor the machine's load, telematics systems for machine diagnostics and theft prevention, tilt-sensing for slopes, lighting, QR codes, and mobile phone apps. Read more about these and other safety innovations on page 18.  
The aerial lift industry has certainly transformed over the years, and though COVID might have slowed it down, there's no stopping it from reaching new levels (What? You thought I was going to stop at one pun?) of innovation, safety, and efficiency.  
What are your thoughts? What do you see being the next big thing in the access industry? What safety initiatives are you most impressed with? Let me know at abrumm@acbusinessmedia.com.