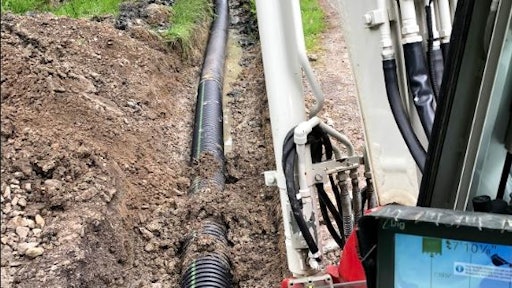 iDig
By Richard Rybka, Technology Applications Journalist
Ron Sergeant found a grading technology that allows him to continue a legacy written three generations before him. He operates his business according to principals his family has stood by for over 70 years. As stated on the company's website, he maintains a "…core belief system that honesty, integrity, and good old-fashioned hard work are the key to a successful, happy life."
Sergeant & Sons Septic and Excavating is located in Southington, Ohio, just south of Lake Erie. It's one of the coldest spots in the region. If you take a look at the company's Facebook page, you'll see photos of snow on worksites and mention of 14-degree workdays.
Sergeant & Sons has met a lot of challenges over 70 years, building a framework of tools, equipment, methods and workflows that has kept the company successful. Ron Sergeant's constant quest for a better way has recently led him to add grade technology to that framework.
Hurdles to overcome
Finding and keeping competent labor is one hurdle that Sergeant faces year-in and year-out.
"One of the most challenging things is trying to find people to help you," Sergeant explained. "Not a lot of people want to play in septic."
The climate of northern Ohio limits Sergeant's productive season to about eight months, from March to November. During this period of favorable weather, he runs a crew of five to six people. Over winter, his team may drop down to two people, and they keep working as they can.
Laying workers off for the winter means the possibility of losing them. Sometimes it isn't easy to get a full crew back on the payroll when the weather improves.
A new technology tool
Sergeant found out about the iDig system through Josh Isham, sales consultant for GeoShack in Columbus, Ohio.
"We demoed the system, we put it on a machine, and we were pretty pleased with the results," Sergeant explained. "It was pretty amazing, being able to go from two to three guys digging a hole down to basically one guy, and the other guy was over laying pipe. They were doing something productive rather than just holding a laser rod.
"It was really neat trying the system – being able to know where my bucket was, my teeth were, and being able to do percentages and fall. It was all I really needed for what I did, just basically dig some basements and installing septic systems."
Even though Sergeant is experiencing great success with iDig technology, he is adamant that his employees learn tried-and-true conventional excavating methods as well. "My take on the new technologies is if you need to embrace them, the technology will make you more productive and more profitable, once understood."
Sergeant is concerned that total dependence on technology may create a knowledge gap in his work crews.
"You also, as an owner, still need to insist that employees understand the old ways of problem-solving and completing tasks," he said. "Technology can and will break, and you need a backup plan."
Features of iDig
iDig is an accurate grade checking system. A touch screen display mounted in the cab enables an operator to see the bucket of his machine in relation to surrounding surfaces. A light bar with red, orange, and green LEDs shows the operator when the bucket teeth are on grade.
Three external sensors mount to the bucket, boom, and dipper. A fourth sensor is located inside the cab to account for chassis pitch and roll. These sensors are powered by solar-charged batteries, eliminating the need to plug into a 120V AC outlet for charging.
The sensors communicate wirelessly by radio, so there are no cables to break or connectors to foul.
Grading minimal slopes
An integral part of septic system design is ensuring flow through the system. Conventional trenching is typically done using a tripod-mounted level and grade rod. As earth is removed, a worker enters the ditch while another person reads the level.
The iDig system eliminates the need for grade checkers. These workers can now perform other tasks required for septic installation.
One project Sergeant completed recently involved installing 500 ft. of 4-in. SDR 35 solid pipe. This pipe was needed to carry water collected in an interceptor drain to an outfall. The slope of the drain had to be 1%. That meant removing only a small fraction of an inch of earth for each foot of trench.
This drain pipe was the first project on which Sergeant used his new iDig system. After setting up a laser transit, the process was simple. He set the iDig system for the 1% slope and began excavating.
"I was able to stay digging, and my laborer was able to just keep laying pipe," Sergeant explained.
On this first excavation with iDig, he had the worker check grade occasionally to confirm the shallow slope was accurate. It proved one of the most significant advantages of the iDig system. Labor previously dedicated to grade checking can now be set to other tasks. Productivity improves.
Sergeant summed it up: "The iDig system worked as it should, and we saved a lot of time."
Finishing jobs faster is essential to improving profitability working in a limited season subject to variable weather. Reducing labor costs by eliminating a grade checker also dramatically changes the profit calculation.
Swapping between excavators
Typically, grade checking systems that are machine-mounted require a complete set of components permanently installed on each machine. Sergeant owns three excavators: a Cat 312, a Hyundai 160, and a Takeuchi TB 290. The iDig system brings new value in this situation.
iDig is designed for portability and ease-of-use. One iDig system can be deployed on any number of excavators. Quick-connect cradles for components reduce the amount of setup time. Once the system is installed and calibrated on a particular model machine, that configuration is stored in system memory for future use. Swaps can be made quickly and do not require technical personnel.
Sergeant attests that moving iDig from one machine to another is straightforward and economical. Each machine does need to have a dedicated set of sensor brackets installed. This is the only additional cost after the initial system purchase. Once the brackets are installed at bucket, boom, stick, and chassis locations on a particular machine, it's a simple matter to clip the sensors in place. A single initial setup calibration is performed for that specific machine and then saved in the display computer.
"Mount the display and light bar with the suction cups and plug the system into a 12v power source (cigarette lighter). Select the machine and bucket combo and start digging," Sergeant says. "The process takes less than five minutes.
"I can just pop it off, throw it on another machine, and start digging. I can save a bunch of money."
Long journey with miles to go
Carrying a family reputation into the future doesn't always follow a clearly defined path. Sergeant's not straying from family legacy to jump on the new technology bandwagon, but integrating established practices with emerging innovations that significantly improve his profitability.
Holding to his family's principles has carried the company through 70 years, and there is no reason why they will not continue to do so.
More information about the iDig system can be found at https://inteqdistributors.com/idig/, and at iDig's CONEXPO booth No. BL446