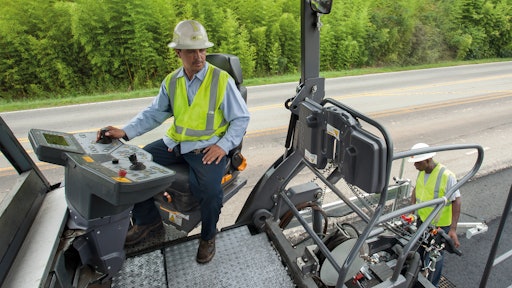 Wirtgen Group / Vogele
Paving equipment has come a long way in the past decade as manufacturers continue to improve their products' features and capabilities in order to ensure optimal production speed and pavement quality. But changes have also targeted the paver operator and operation.
"The ease of operation and the ability to train up operators continues to be a focus as finding a qualified labor force remains a challenge," says Darick Franzen, vice president of business development - North America, Miller Formless. "Certainly, establishing easier operation and creating a comfortable work environment help in retaining and recruiting.
"In terms of productivity and performance, a comfortable operator will stay more focused and efficient when operation and controllability become easier," he continues. "This in turn will create higher productivity and performance."
"Improvements to the operator's station and controls make for a happier, more satisfied employee," says Kevin Klein, vice president of engineering/research & development, GOMACO Corp. "Studies have proven happy employees have a tendency to stay longer at their jobs, which ultimately cuts down on training costs and employee turnover."
Cool Operator
As with other equipment, operator comfort goes a long way in keeping paver operators content.
To this end, the Wirtgen Group has taken advantage of the synergy of providing a full line of equipment in both the concrete and asphalt (Vögele) market spaces. According to Tim Nash, director of the Concrete Division, Wirtgen America, innovation is "at the core of Wirtgen Group design principles," with comfort, visibility and safety part of the key focuses driving machine design.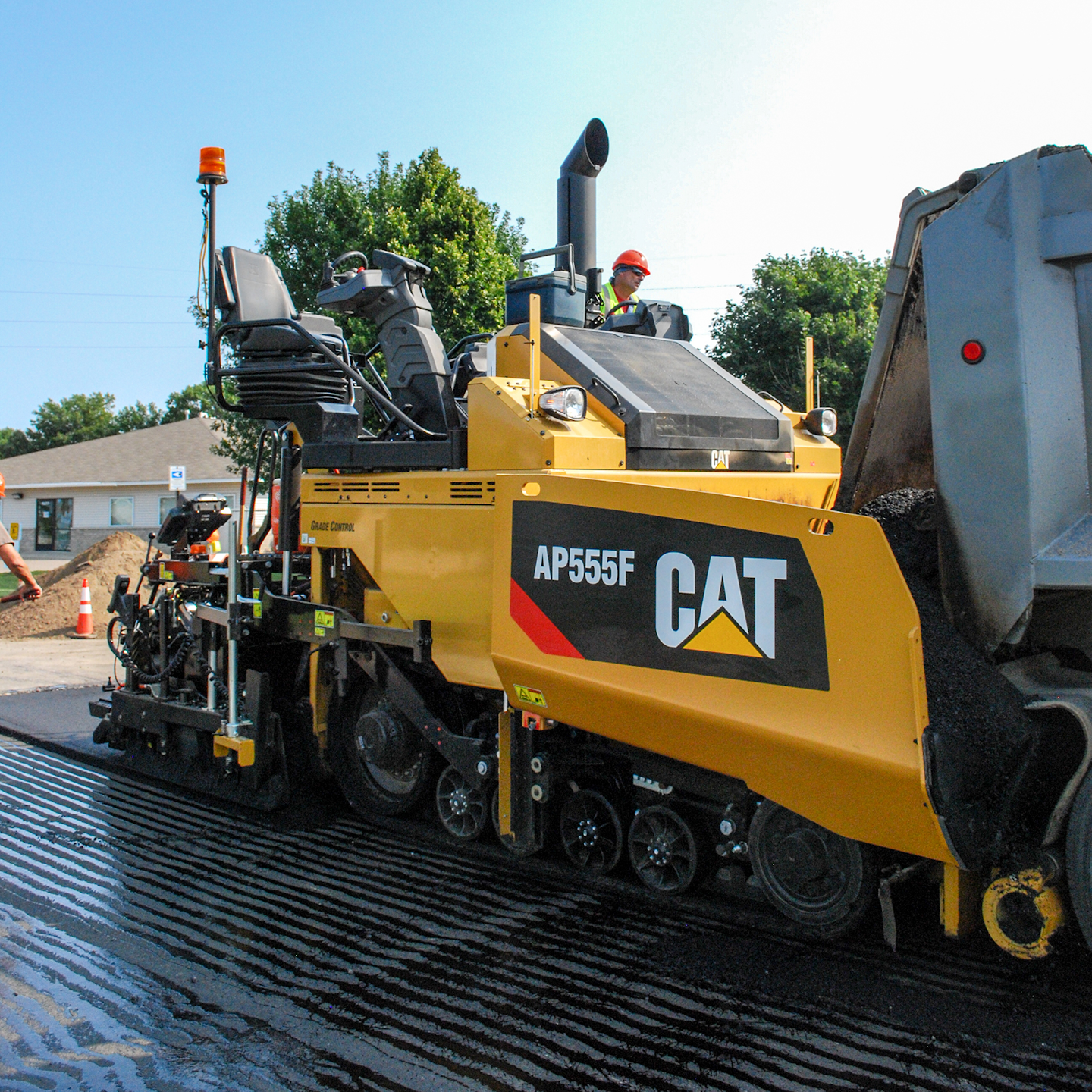 Caterpillar's top deck, front-mounted cooling system helps keep the operating environment cooler by redirecting exhaust air away from the operator and crew."With regard to comfort and visibility as it relates to the frame design, Wirtgen has long offered standard features such as vibration-reducing rubber isolators between the power unit and the operator's stand, an overhead canopy and the ability to mount the control panel on either side of the machine for left-hand or right-hand paving for better operator visibility," says Nash. "Having one of the quietest engine packages on our equipment for the last 10 years even further reduces operator fatigue and makes it more convenient for crew members to be able to communicate around the pavers."
Operator comfort is equally important on the company's asphalt pavers, which include ergonomically efficient operator stations. "This keeps the operator in a comfortable position so they are more alert and productive," says Jim Holland, vice president of Vögele. "It was important for us, as well, to prevent the paver operator from sitting over the tunnel where the heat of the asphalt can cause more fatigue. In addition, our swing-out dual operator seat has glass shields protecting the operator from elements of wind, heat and noise, providing the most comfortable workspace in the industry."
"Comfort and simplification have been big drivers in the highway-class paver development," says Jon Anderson, asphalt paver sales support consultant, Caterpillar. "Long days and high employee turnover have led to the development of cooler operating environments, fumes ventilation systems and enhanced visibility. Also, automated machine functions and interactive operating displays have evolved to help limit operator fatigue and enhance efficiency."
"Air flow, temperature control, comfort features, ergonomics and visibility all will advance performance in a long day of paving," Franzen agrees. Advances in operator station and control system design also have "the ability to assist operator focus and create a more professional atmosphere and environment."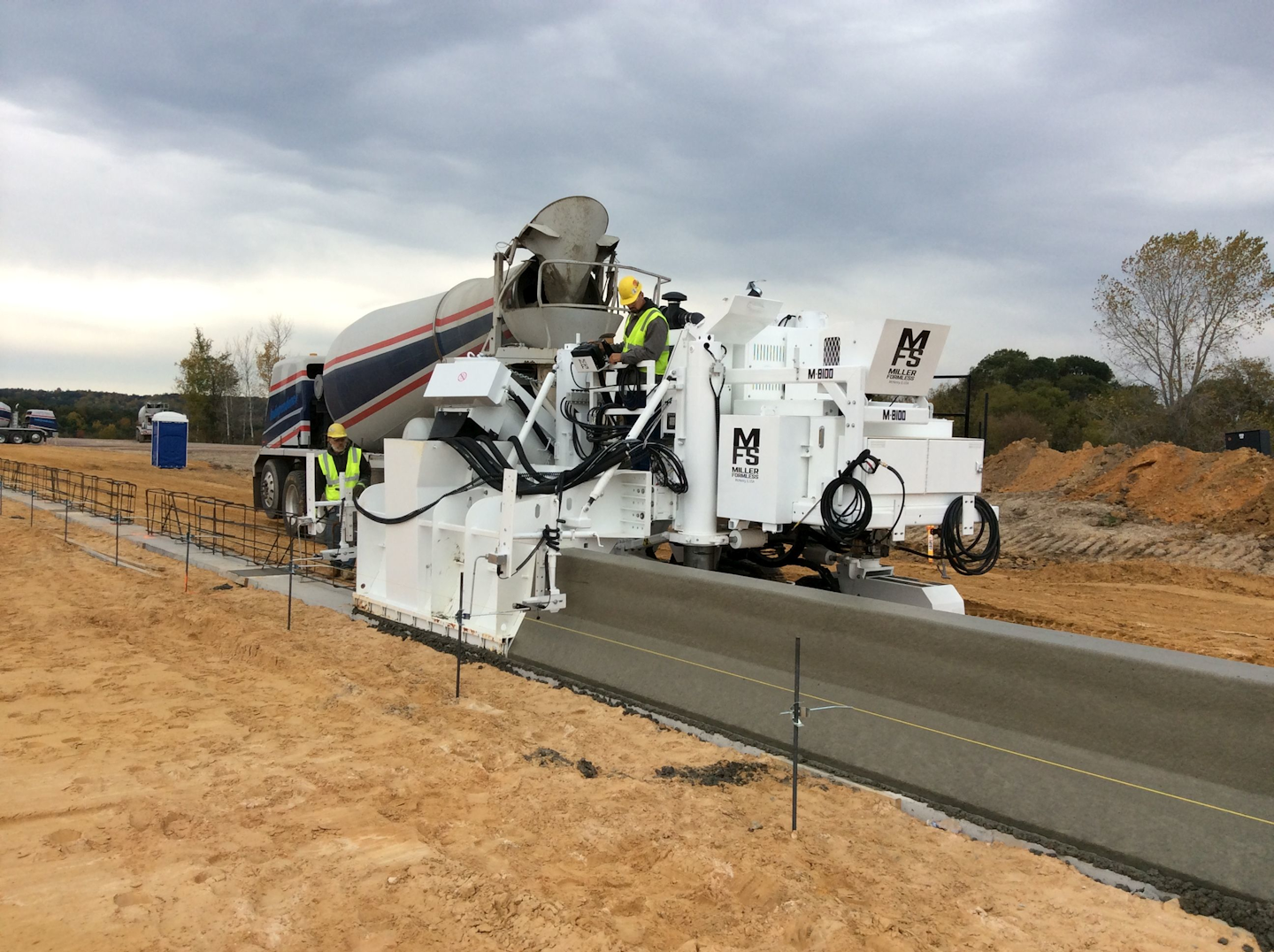 Advances in operator station and control system design have the ability to assist operator focus and create a more professional atmosphere and environment.Miller FormlessConsider features such as Caterpillar's top deck, front-mounted cooling system, which can help keep the operating environment cooler by redirecting exhaust air away from the operator and crew. "Cooler operating stations and fumes mitigation help operators stay more attentive," says Anderson. "Cat highway-class pavers are equipped with a ventilation system that collects fumes from the auger chamber and redirects them with the engine and cooling system exhaust out over the hopper, away from the crew for a more user-friendly operating environment."
Power Curbers has also implemented improvements to its concrete slipform pavers to enhance cooling, including more thoroughly enclosing and insulating the engine to reduce ambient noise and heat, and adding a cold air gap between the engine enclosure and operator's console to prevent heat transfer. The company has even expanded its sun protection options with a larger, collapsible canopy.
Cooling isn't the only benefit of such design enhancements. "The top deck cooling system combined with the integrated generator have dramatically reduced the sound levels around the [Cat asphalt] paver, helping to improve crew communication and efficiency," says Anderson.
The G+ digital control system on GOMACO's slipform concrete pavers is not only an advanced machine control system, it makes it possible to reduce ambient noise as well as vibration. "It has the ability to control the cooling fan based on temperature inputs from the engine and hydraulic oil. Based on these inputs, the cooling fan can run at a slower speed and produce less noise," Klein explains. "GOMACO pavers have an isolated platform which reduces the machine vibration that operators would normally feel and makes a full day of paving more comfortable. Several operators have commented they no longer have that 'fuzzy feeling' in their legs anymore after working a full day."
High-vis Design
According to Franzen, improved visibility is perhaps the single most important change in paver operator stations. "All manufacturers have worked hard and done a good job in seeing to it that visibility has become a top priority for the safety of others and to the jobsite itself," he states. "The ability to see all sides of an operational machine becomes very important in the safety of others."
Greater visibility also aids in monitoring the work being performed. Caterpillar asphalt pavers utilize dual independent operating stations that swing out beyond the machine frame to provide enhanced visibility to curbs, longitudinal joints and truck exchanges. "The stations are equipped with color touchscreen operating displays, 12-volt power receptacles and heated seat options with pneumatic suspension that help provide day-long comfort," says Anderson. "Low-profile cooling systems and enhanced auger chamber visibility help operators monitor material flow in order to provide smooth flow to the screed for better pavement quality."
Increased visibility of the slipformed concrete gives the operator more information to make rapid, accurate adjustments to ensure a quality product.Power Curbers CompaniesPower Curbers' four-track, frame-over concrete pavers feature a large operator's platform that provides a complete view of the front and rear of the machine and below the platform into the vibration chamber. The operator can also move the control panel around the platform to best suit the paving configuration.
"Visibility and safety have been the driving forces for the design of our operators' stations," says Fred Bryan, vice president of sales, Power Curbers Companies. "Seeing the entire ground crew and being able to react quickly is essential for a concrete slipform operator. A better view of the slipformed concrete gives the operator more information to make rapid, accurate adjustments to ensure quality production."
The company's other models offer the same advantages. "Two-track Power Pavers equipment has a raised, centralized station offering a clear view of the entire process," says Bryan. "The Power Curber 5700-D's operator station lets you see the whole process from the controls."
Simplification Aids Controllability
The ability to easily perform and monitor paver operations has been another key focus.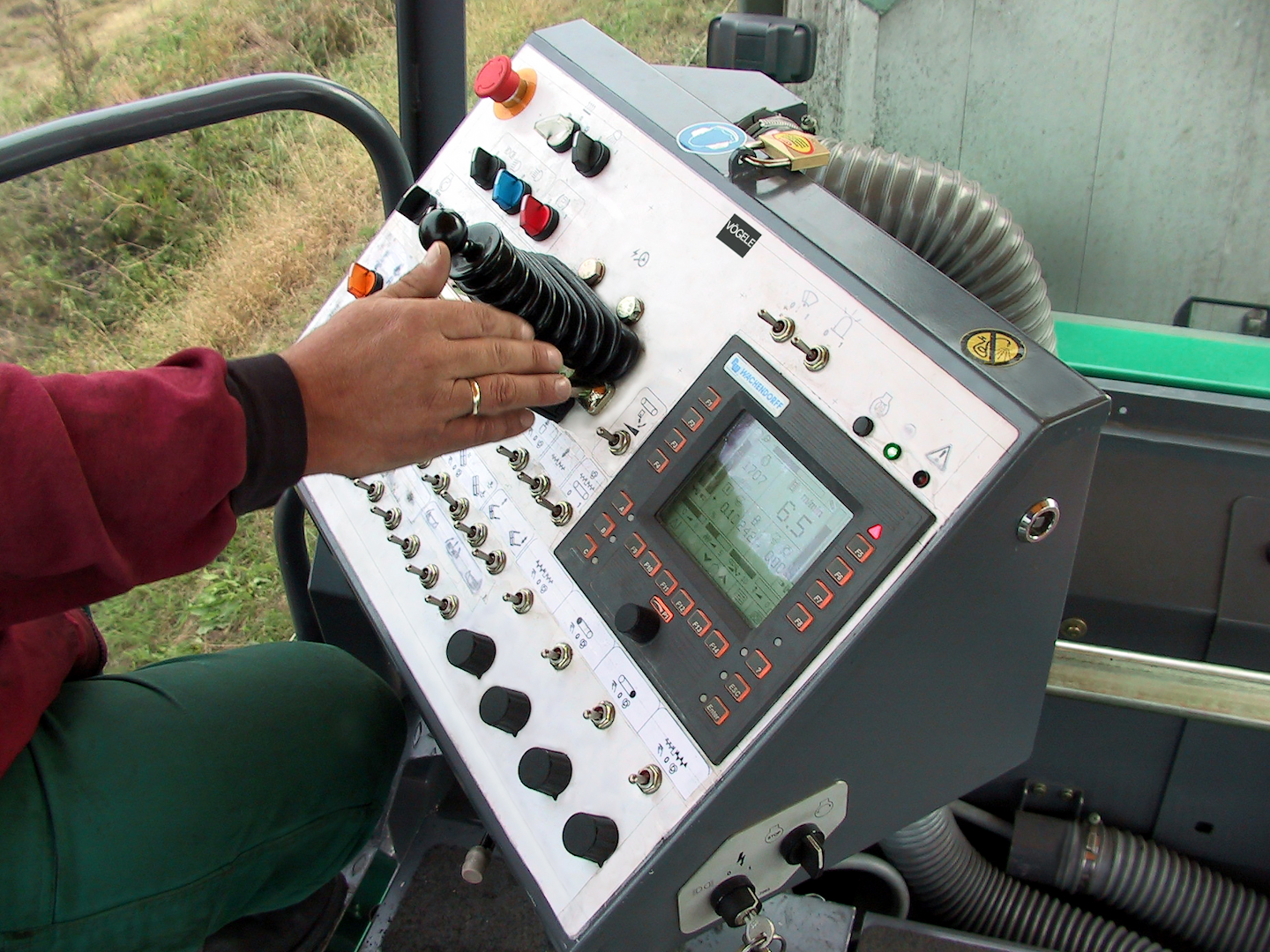 Paver control systems have come a long way over the past decade. Shown is a past generation operating concept on a Vogele asphalt paver.Wirtgen Group"Operator control systems on highway class pavers have been evolving very rapidly in the past decade and the primary reason behind this is adaptation of advanced technology by the paving crews," says Vijay Palanisamy, director of product marketing & communications, Dynapac North America LLC. "They are looking for ways to improve efficiency and also working conditions. Technology advancement in this area not only helps tremendously in operators' efficiency, it also helps in getting real-time feedback about the paving process."
Controllability is critical given the broad range of skill levels among today's workforce. "The operator stations have become more intuitive to control and monitor the functions of a paver," says Holland. "The Vögele paver can be placed into Pave Mode with the press of a single button. All settings for that job, including auger speed, conveyor speed, grade settings and paving speed, automatically resume to the previous settings. This allows for the operator to be more productive and maintain positive control of the performance of the paver. With the simplified controls, it allows the operators to be more conscious of safe practices and productivity."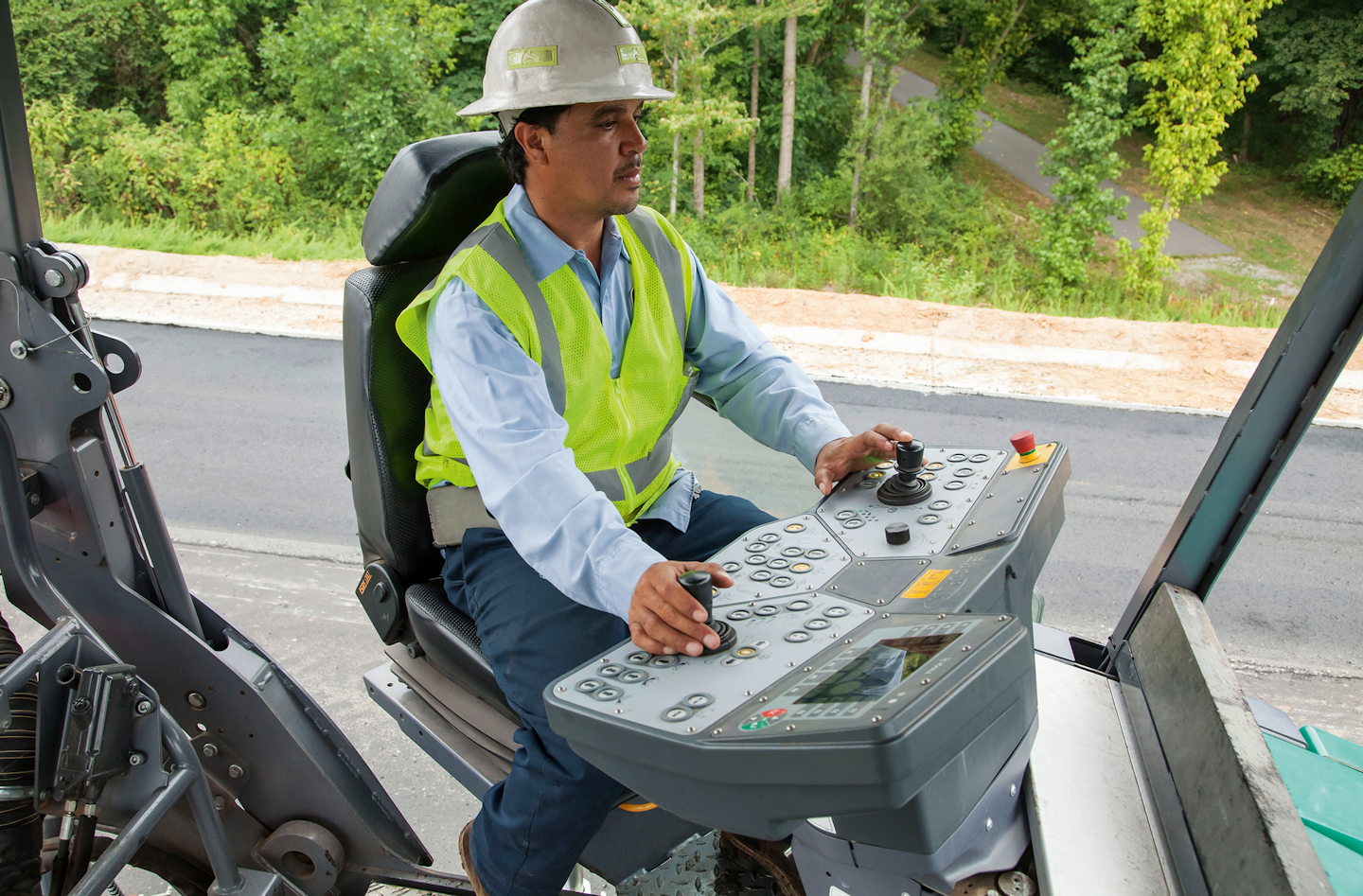 "The goal of equipment manufacturers is to use technology to enhance the performance of the equipment, make the operators more productive and make the equipment operate more efficiently," he adds, noting that Vögele's operations concept is centered around ease of use. "This provides the best platform for a new operator to learn from and the experienced operator to better their productivity."
Operator stations now include carefully positioned switches/buttons based on frequency of use, says Palanisamy, making them easy to remember with minimal training. "Also, most manufacturers are going with symbols so that regardless of the operator region/language preferences, the operator can easily understand the functions," he points out.
"By consolidating these functions, it is easier on the operator to locate and monitor the performance of the asphalt paver," Holland comments. "In addition, this enhances the ability to train new operators since it takes fewer steps to put the machine into the paving mode.
"Control of the paver is much more accurate with the use of sensors, which give feedback to the operator, as well. This will enhance our ability to allow the use of 3D control systems, as the use of these in paving applications is expanding," he adds.
Switches/buttons with lights for activated function on the control panel make it even easier to monitor paver operation at a glance.
"Simplified controls with interactive operating displays help operators visualize machine conditions and simplify setup for more efficient performance," says Anderson. "Being able to optimize machine functions not only helps reduce fatigue, it also helps crews produce better asphalt mats."
Advances in Automation
A number of manufacturers have invested in "smart" control systems designed to enhance and/or automate key functions.
"Easy and reliable operation is one of the main focuses of control system advancements. Another area is capturing and showing in real time the key paving parameters so the paving crew consistently knows the mat they are putting down is within specification," says Palanisamy.
Such capabilities are referred to as operator assist functions on Dynapac Highway Class SD asphalt pavers. One example is Set Assist, which enables the paver to "memorize" the paving parameters of different layers of the job — paving width, thickness, head of material, etc. — and replicate those parameters consistently across different areas and days during a paving project. Another is Paving Manager, which controls all functions and displays real-time paving parameters, such as paving width and thickness and material throughput, so the jobsite foreman can monitor production in real time. Other assist functions include Truck Assist, Mat Tracker and more.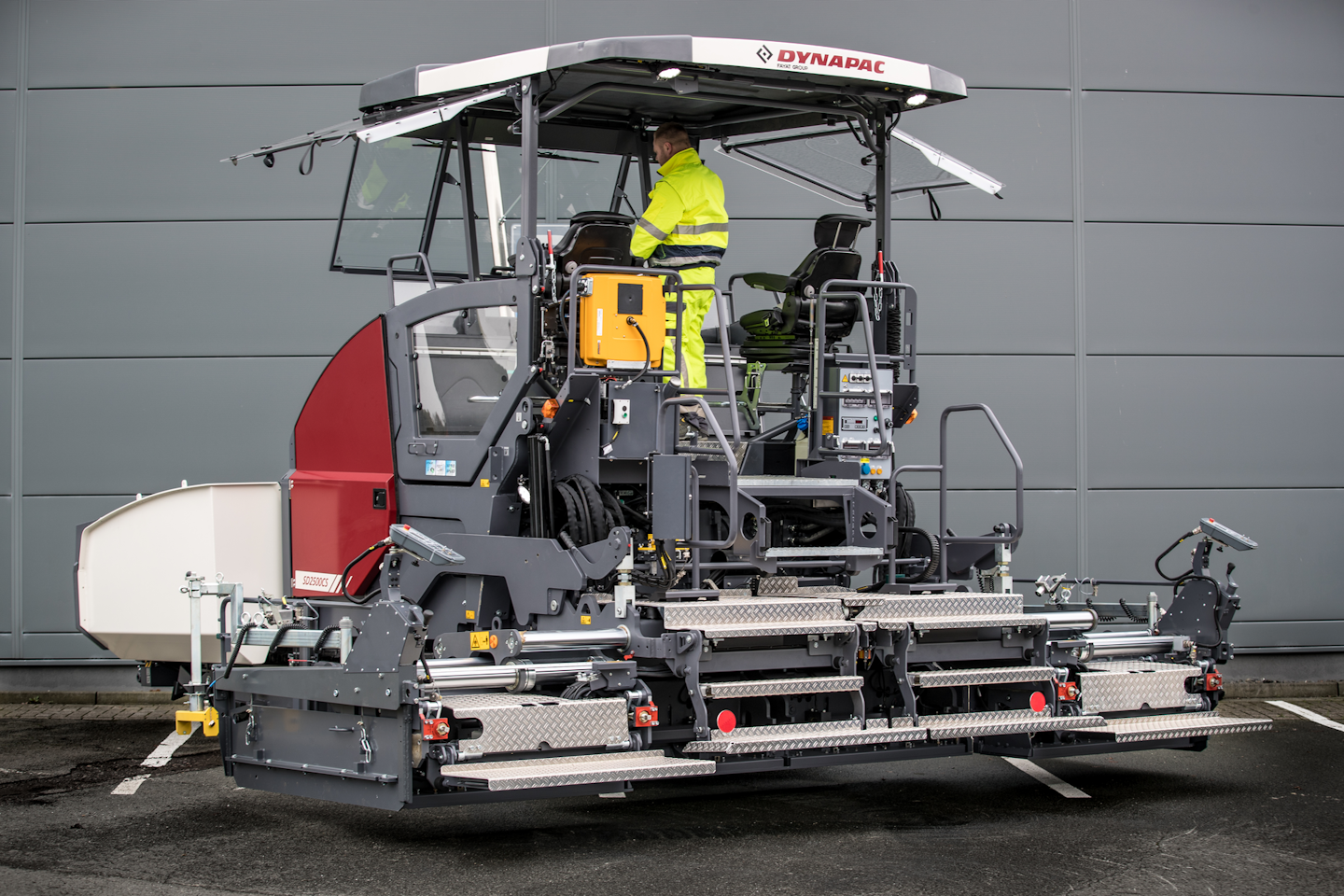 Operator are benefiting from increased automation, which enables them to get the job done accurately with repeatable results.Dynapac
"These advancements help the paver operators quickly set the paver for the particular job and start paving rather than waiting for time-consuming setups and trials before full production can begin," says Palanisamy. "Another area where the operator is benefiting is the level of automation, which makes their life very easy and gets the job done accurately [with] repeatability of results."
Automated functions simplify and speed operation from setup to cleanup. "Cat F-Series [asphalt] pavers are equipped with auto-fill that helps simplify paving starts by filling the auger chamber until the mix reaches the material feed sensor set point," says Anderson. "A single-touch material delivery function automatically activates the augers and conveyors with the touch of a button. One-touch hopper control allows the hopper wings and the optional front hydraulic apron to be folded with a single touch and release.
"Cleanout/warmup mode activates the augers, conveyors and tamper bars (if equipped) in slow speed, allowing for the application of release agents to prevent material buildup," he continues. "Machine-integrated grade controls help provide paving accuracy and ensure that the system always stays with the machine." These features enable the operator to focus on other critical tasks, such as haul truck management and crew safety.
Concrete paver manufacturers have developed their own equivalent of smart control solutions.
"Our new SlipSmart Control Solution has elevated the capabilities of our equipment," says Bryan. Capabilities of the Power Curbers Companies' system include:
simplified communication with 3D control systems;
improvements to all aspects of slope controls;
individual crawler steering with improved angle control;
a new all-up jog switch that raises or lowers all posts simultaneously;
a master vibrator control knob that increases or decreases hydraulic flow to all vibrators at once while maintaining individual vibrator adjustments;
remote hydraulic controls;
and a simple steering mode selector to easily swap between various steering modes.
"These changes give the operator more precise, smooth control of the machine, which results in a higher quality slipformed product," Bryan states. "The additional tools allow the operator to set up for pours faster and get offline and cleaned up quicker at the end of the day. It is more efficient to navigate jobsites and load and transport our equipment from one job to the next."
GOMACO first introduced its proprietary G+ digital control system in 2011, ensuring a more versatile, user-friendly control system with more onboard diagnostics and multiple language options for the global market. "The control screen featured a display with a machine 'run' screen and control loop deviation meters, giving the operator fine-tune grade and steer performance using a high-definition, multi-colored bar graph meter which indicates machine deviations," Klein explains. "Machine setup is easier than ever before with single-person, push-button calibration for steering and grade."
The company has since expanded upon these features. "Our G+ control system makes so many things possible on GOMACO pavers," says Klein. For example, leg positioning with rotary-sensored slew drives on four-track pavers provide the system with information on the pivot arm position and work together with track rotation sensors to maintain tracks in a straight-ahead steering line.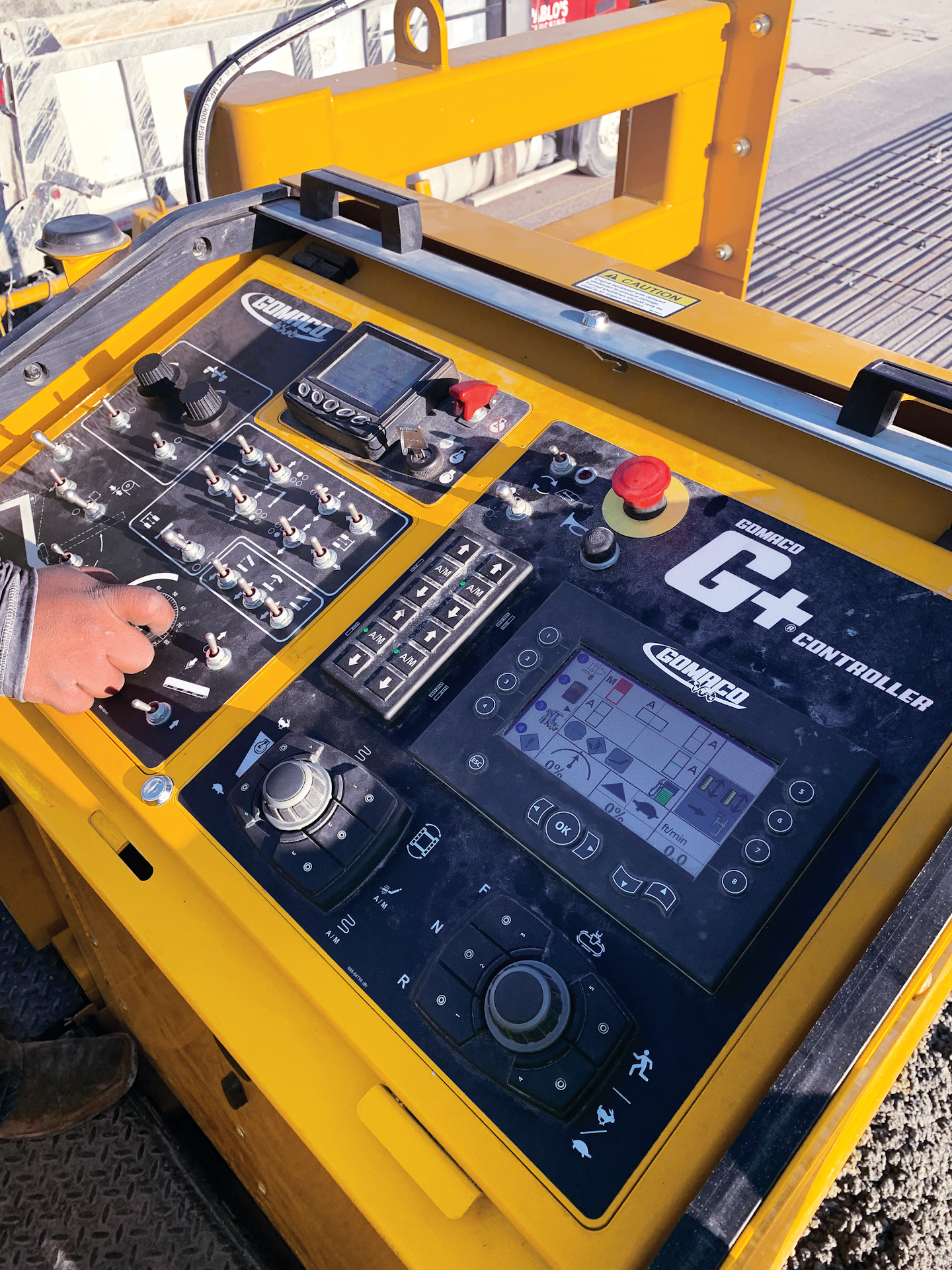 GOMACO's G+ is a versatile, user-friendly, digital control system that makes setup of the company's concrete slipform pavers easier with features such as single-person, push-button calibration for steering and grade.G+ can also be combined with the Navigator software and touchscreen display — which can be mounted anywhere on the paver — to enable ground personnel to fine tune paver performance and configure settings for paving accessories. "If there's a GSI onboard — a GOMACO Smoothness Indicator to read the smoothness profile of the new pavement — Navigator also manages it," says Klein. "It logs the paver's speed and makes it possible to relate the machine speed with smoothness and automatically track the paver's start and stop events. Instant smoothness results allow changes to be made right away in the paving process for better ride numbers overall."
On Wirtgen concrete pavers, much effort has been focused on striking a balance between user-friendliness and sophistication that can deliver lower operating costs, more uptime and improved smoothness, Nash indicates. "Multi-lingual display capability utilizing pictographic images throughout the operator's console offers more intuitive control and understanding, while features such as the Eco Mode allow for on-demand engine rpm sophistication as a standard on all machines to lower fuel consumption and emissions," he points out.
"Some unique features on the mainline pavers include a ground-level handheld remote that allows convenient machine setup by one person," he continues, "and an auto-lift function that mitigates stop/start roughness, therefore optimizing smoothness ability to achieve pre-grinding ride bonuses."
Impact on Pavement Quality
While designed to aid the operator, these and other advancements ultimately improve overall paving operations.
"These enhancements accomplish three things: safer operation, greater efficiency and a higher quality product," says Bryan. "A well-designed [concrete slipform paver] with a simple operator interface, combined with easier 3D/stringless machine control integration, quicker movement around the jobsite and faster setup, cleanup and transportation all make the machine more efficient.
"More accurate, smooth and responsive speed, slope, steering and elevation controls contribute to a higher quality slipformed product," he adds. "Better visibility and a more responsive machine make it a safer piece of equipment to work on and around."
Anderson agrees, noting, "Ease of use, comfort and machine automation all play an important role in producing quality pavements. Simplified machine functions that operators easily understand can help operators monitor other jobsite functions. Comfort features help alleviate operator fatigue and can lead to a continuation of proper paving techniques. Machine automation can help ensure consistent asphalt placement, leading to better quality surfaces and longer lasting roads."
Such end results make not just paver operators but all parties, particularly project owners, much happier at the end of the day and at the end of a project.
Companies in this article