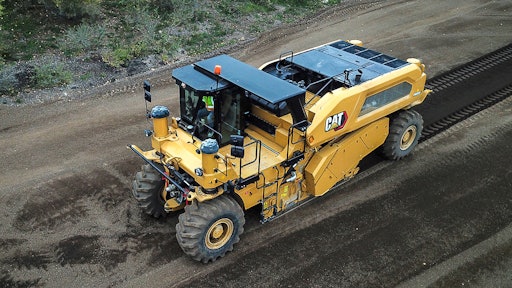 Caterpillar
During a virtual press event on May 3, 2023, Caterpillar announced the new Cat RM600 and RM800 reclaimer/stabilizers. These machines compete at the high end of the reclaimer/stabilizer size class with an adjustable height design capable of cross-slope cutting. They operate using the Cat C18 engine, giving the RM600 up to 17% more power than the RM500B. The RM800 delivers up to 42% more power than the RM500B and up to 23% more power than the RM600.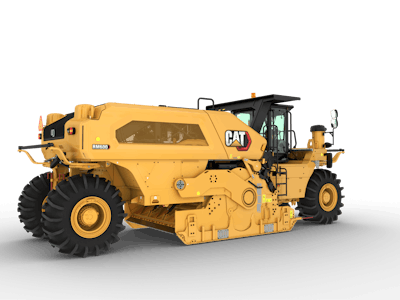 The Rotor System
The RM600 and RM800 models adopt system components from Cat cold planers for dependable cutting and mixing. Featuring a belt-driven rotor drive system, the machines are capable of flush-cutting on the right side.
The rotor drive features a hydraulically actuated, heavy-duty clutch that does not require adjustment. The versatile rotor can be configured with bolt-on paddle toolholder protection for full-depth reclamation applications or wedge protection to reduce drag for soil stabilization.
The new System K rotor uses the same cold planer fastener-free, dual-taper toolholder and base block components to deliver superior material quality on a range of projects. Exit and return-to-cut features simplify operation, save time and ensure the machine maintains a consistent depth of cut. Abrasion-resistant, high-strength alloys of the System K rotor can withstand tough, high-power applications, and the cutting tools are strategically placed to deliver ideal material sizing and homogeneous mixing results. The ease of access of the rotor system simplifies service and replacing rotor bits.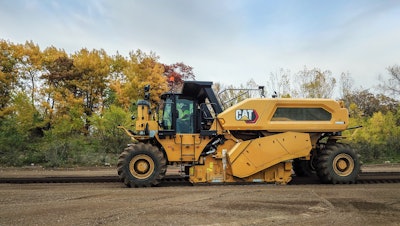 Efficient Power, High Mix Quality
Two configurations are available for the Cat C18 engine to meet regional emissions requirements. Its cooling system uses cool air intake to maximize fuel efficiency and reduce emissions. Allowing the system to cool more efficiently to extend cleaning and maintenance intervals, automatic cooling fans periodically cycle in reverse to clean the heat exchangers. A single electronic control module monitors engine performance and provides diagnostics to the operator.
With front-to-rear weight distribution optimized for stability in tough cuts, standard electronically controlled all-wheel drive maximizes traction and mobility for the new RM600 and RM800. Four height adjustable legs provide up to +/-12.5% (8 degrees) of slope on either side when working on uneven terrain or to maintain traction for challenging soil stabilization.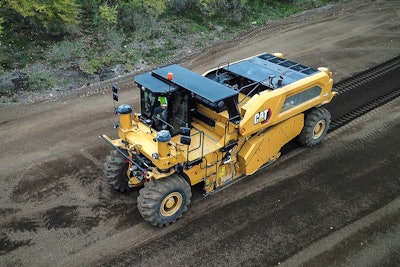 Two high-tensile, six-rib belts with automatic tensioning prevent slippage. The new models offer the power and performance to efficiently cut 2438 millimeters (96 inches) wide at up to 508 millimeters (20 inches) deep. Advanced electronic controls plus automatic load control maintain rotor mixing depth and optimum machine speed to deliver ideal mix quality. Adjusting the front and rear mixing chamber doors enables instant modification of material gradation. An easy-to-read indicator on the touchscreen display informs the operator of door positions. A rear rotor chamber door float feature simplifies operation by allowing the operator to select the desired down pressure. RM600 and RM800 also offer bidirectional cutting capability.
Increased Versatility
Wheel positioning at the corners lends to a highly maneuverable reclaimer/stabilizer design. The machines can navigate an incredibly small 3.1-meter (10.1-foot) inside turning radius. The RM600 and RM800 have four steering modes:
Front only
Rear only
Crab
Coordinated
These modes further improve on-site maneuverability. Offering up to +/-12.5% (8 degrees) of slope on either side when working on uneven terrain or to maintain traction in challenging soil stabilization applications, the four-post, adjustable-height design improves stability and cutting precision.
Water and emulsion spray systems are available, and the emulsion system features self-cleaning nozzles. It is designed to deliver water as well as bitumen emulsion. Computerized metering delivers accurate application rates with variable flow rates of 30 liters/minute (lpm) to 1,900 lpm—8 (gpm) to 500 gpm—for water and 30 lpm to 850 lpm (8 gpm to 225 gpm) for emulsion to meet site needs. The operator controls additive flow and customizes spray width from inside the cab.
The Cab
Inspired by the RM400 design, controls are grouped by function for quick and easy access. A small handwheel provides precise steering, removing the larger wheel and steering column, which could obstruct the operator's view. The operator can easily match machine speed and functions to gradation specification via the large, 25-centimeter (10-inch) color touchscreen displays and pushbutton controls.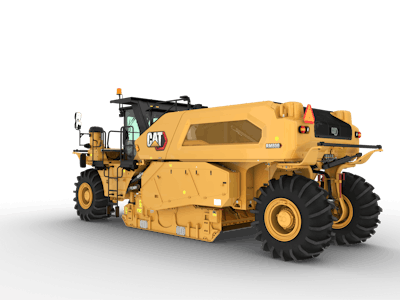 Hydraulically sliding side-to-side, the cab is easily positioned to enhance visibility to the front and sides of the machine.
"Beyond our power, we have a new cabin and controls for these machines really taken from our RM400 with the latest cat electronics, user friendly controls, very easy to learn and very easy to operate," said Mark Eiden, global sales consultant, Cat Paving. "A caterpillar exclusive feature is our fully left to right sliding cab, which really helps the operator find that comfortable visibility whether they're working from the right side of the machine or the left side of the machine."
Floor-to-ceiling glass and an angled pane on the right-hand side provide a clear view to the work ahead and the leading edge of the cutting chamber. The cab's pressurized design with air conditioning and heater/defroster provides a comfortable environment for the operator while keeping noise, dust and the elements out.
Standard and optional cameras augment performance and safety for the new RM600 and RM800. Enhancing fore and aft visibility, standard front- and rear-mounted cameras provide configurable guidelines on the touchscreen display. Two standard cameras mounted above the front and rear mixing chamber doors give operators visibility to obstructions and material gradation.
Reduced Maintenance
Long service intervals reduce owning and operating costs for the RM600 and RM800. Engine oil service intervals occur every 500 operating hours. Accessing maintenance points is easy with daily checkpoints centrally located on a secure platform.
The standard compressed air system can power pneumatic tools and offers two access points to reduce the time for rotor bit changes. Service mode allows the engine to run while the machine is locked out, supplying compressed air to safely service the rotor. Side service doors provide quick access to inspect or change end ring bits without reaching inside the rotor chamber. Further simplifying rotor maintenance, the rotor can be hydraulically powered to turn in either direction using a control pendant.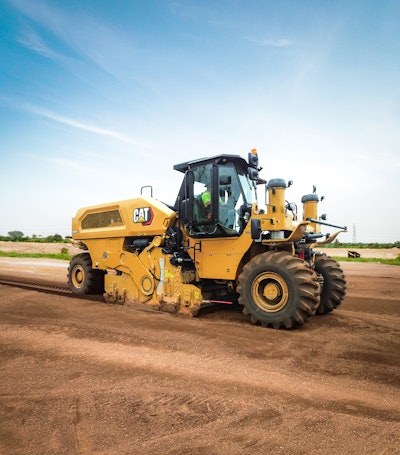 Connectivity
The new models feature built-in diagnostics to monitor machine systems, alert the operator of performance issues and simplify troubleshooting. Standard Product Link provides critical machine condition, operating and location data and enables the use of Cat Remote Services.
End User Feedback
During the media event, Scott Reynolds, CEO of ARS Companies, talked about his company's experience with the first two RM800 reclaimer/stabilizers. He said that some of the more useful features were in the cab. The design and ergonomics are attractive to younger operators, which is a benefit when facing the workforce shortages that the construction industry does. He also added that creature comforts in a cab allow operators to work longer and increase productivity.
More information on the Cat RM600 and RM800 reclaimer/stabilizers visit the Caterpillar website.