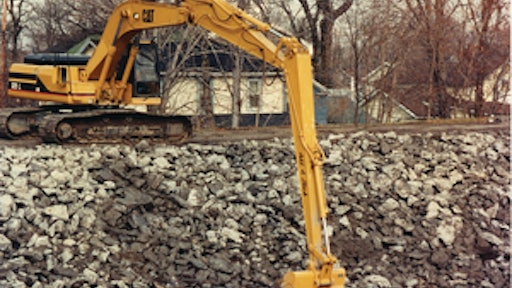 Add-A-Stick
The Add-A-Stick is available for installation on all major hydraulic excavators in the 30,000- to 250,000-lb. class.
Lengths from 8 to 26 ft.
Custom designed to meet specific application
Manufactured with A-514 T-1 steel
Small excavators can be transported with the stick installed
L & G Products Company, Inc.
F-Series Track
The over-the-tire F-Series tracks offers a wide range of traction applications for mid-size skid-steer loaders up to 120 hp with 10.00, 12.00, 14.00 or 15.50 tires.
Durable 4-in.-wide hammer-forged, self-cleaning steel pads
Threaded dura pins for long life and easy replacement
Provides optimal pad-to-ground contact for maximum flotation, while decreasing rutting and ground compaction
Turf-friendly beveled edges
Loegering Mfg. Co.
NOX Tilt-Rotator
Because it has no tilt cylinders, the NOX tilt rotator system is suitable for standard excavation work, as well as use in narrow working areas.
Less height and higher breakout force achieved due to the use of an elliptic rotary actuator for the tilting action
ADI (Austempered Ductile Iron) increases main body strength
Integral braking system and interior gear/worm gear run in a constant oil bath
Models offered in four sizes for excavators from 3 to 32 tonnes
Kinshofer North America
LiteFoot ATV Track System
Mattracks has added the LiteFoot XL and LiteFoot HD model series to its product lineup.
LiteFoot XL entry level all-terrain ATV track system features many of the same components used on other LiteFoot track systems on a durable structural steel frame
LiteFoot HD for heavier UTVs delivers a 4,200-lb. GVWR, plus offers XT and M3 tread options, heavy-duty components, a beefed up suspension, steel drive sprocket and metal hub wheels
Mattracks
Extendavator
The Extendavator is available in lengths from 4 to 50 ft. in six weight classes.
Possible to achieve over 100 ft. of ground reach on a 250,000-lb. machine
Allows use of buckets, hammers, grapples and universal processors without additional counterweight
Two-hour installation with no additional hydraulic valves required
Transportable with excavator
Custom-designed sticks available
Paul Wever Construction Equipment Co., Inc.
F Series Over-the-tire Bar Track
The F Series Over-the-tire Bar Track uses heavy-duty, contractor-grade components such as 1 1/4-in. hardened, field-replaceable bushings and 80,000 psi links to ensure durability.
Open side plates promote cleanout in the pivot area
Open cross bar design provides cleaning and exposes the tire to provide maximum traction, flotation and cleaning
2-in. wide bars
Improved sidewall design for heavy-duty tires
Available for 10.00, 12.00, 14.00 and 15.5 size skid steer tires
Grouser Products
Wedgelock Coupler
The Wedgelock Quick Coupler features the I-Lock backup locking system, which engages the front attachment pin without requiring the operator to activate the main locking mechanism.
Built-in time-out re-engages the I-Lock if attachment is not removed in a timely manner after the coupler is unlocked to disconnect
Fits makes and models from 5,000-lb. compact excavators up to 200,000-lb. mine shovels
Low-profile design ensures optimum breakout force and power at the bucket tip
Pin center variations accommodated automatically
Norco Attachments, LLC
4000 Vibratory Ripper
The 4000 vibratory ripper is a direct pin-on attachment with engineered mounts for most makes and models of dozers up to 200,000 lbs.
Designed to work in applications in compacted soil, shale, limestone rock and coal
Vertical-mounted shaker creates a hammer chisel with the single blade for easier cuts through hard compact conditions
Keeps dozer balanced for pushing material without the need for extra counterweights
All components fabricated using high-strength, abrasion-resistant steel
Bron
Aftermarket Skid Steer Enclosures
Aftermarket Skid Steer enclosures add comfort and value to your machines with all-weather protection.
Include safety glass in the door, electric wipers and choice of hard or soft sides
Available for many different makes, both new and old
Sims Cab Depot Corp.