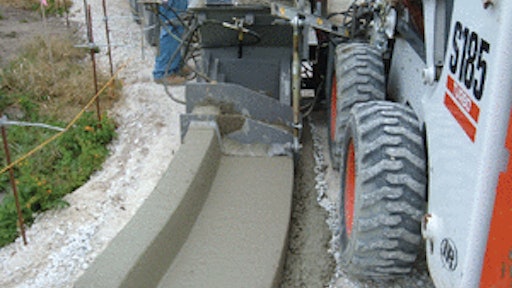 Curbcat
The Curbcat concrete slipform curb and gutter attachment from Creative Equipment Design provides automatic control of grade and steering using sensors and stringline.
Hydraulic vibrators and cylinders powered by skid-steer hydraulic system
Quick, easy hookup and disconnect
Molds changeable in minutes
Easily transported via pickup or trailer
Creative Equipment Design
EDGE Concrete Placing Bucket
The EDGE Concrete Placing Bucket is designed to carry and place concrete with a skid steer in places concrete trucks cannot go.
Available in 1/2- and 3/4-cu.-yd. capacities
30-in. chute extension available
Features include squared off corners and a backed-on powder coat finish
Hydraulically controlled dispensing door closes with a tight seal for accurate, multiple placements from the same load
CEAttachments Inc.
Gorilla Grapple
The heavy-duty Gorilla Grapple is designed to fit most skid steers to handle hurricane debris, large trees, brush, scrap and even crush concrete slabs.
Manufactured from high tensile 1-in.-thick steel with 400 BHN tips
Available in six- and 10-tine configurations
Sidney Manufacturing Co., LLC
HB1180 Hydraulic Breaker
The HB1180 hydraulic breaker attachment is in the 750-ft.-lb. impact energy class.
Internal design features fewer moving parts for reduced overall service time
Auto power feature serves as an automatic pressure regulator, plus limits excessive pressure at startup
Energy chamber diaphragm ensures constant nitrogen pressure with no periodic recharging required
Bob-Tach or X-Change attachment mounting systems
Bobcat Co. - Doosan Infracore
JRB VersaLoc Quick Coupler
The VersaLoc excavator quick coupler can handle hook widths from 9.75 to 17.18 in., and pin spreads from 13.7 to 16.6 in. up to 22.4 to 24.9 in.
Accommodate pin diameters from 60 to 110mm
Enable attachment changeout in seconds without leaving the cab
Lower offset and reduced weight allow more force to be available to the attachment
Pilot-operated check valve assures the cylinder is locked in the case of hydraulic pressure loss
Features a detent lock on the stick pin that retains the attachment
Paladin Heavy Construction
Portable Concrete Conveyor
This portable concrete conveyor is designed to attach to any front-end wheel loader with a 2.5-cu.-yd. capacity and larger that is equipped to accept attachments.
Operated from inside the cab of the machine using the hydraulic controls and the power of the wheel loader
Shown to place up to 300 cu. yds. of concrete per hour to the road grade using dump trucks hauling 11 cu. yds. per load
Can be detached from loader when no longer needed
E2 Systems, LLC
Side Grader
The Side Grader excavator attachment is designed to reduce sidewalk prep costs, while increasing productivity.
Utilizes Topcon technology to produce a finished grade within 3/16 in., enabling concrete forms to be set directly on
Depth of grade is guided by wheels rolling along the top of the curb
Sure Grip Controls multi-function joystick
Averages up to 2,000 ft. per day
Can be folded up for easy transport
Sidewalk Grading Systems, Inc.
SitePro SSGB-8 Grader Blade
The SitePro SSGB-8 grader blade is designed for asphalt, landscaping and concrete flatwork contractors.
 

8-ft. six-way hydraulically controlled moldboard with 25

° rotation/tilt

Features an in-cab remote, s

hear pin protection and a r

eversible cutting edge

Optional laser system controls
Worksaver Inc.