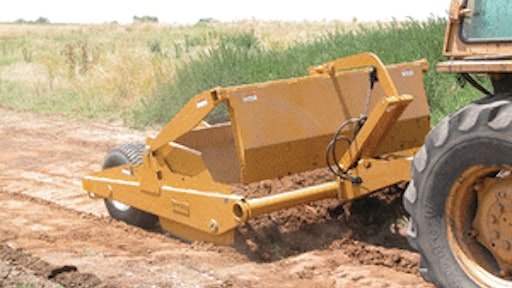 1300 Six-way Dozer Blade
The 1300 Dozer Blade is a 24-in.-tall, heavy-duty cast blade designed to fit rubber-tired and tracked skid-steer loaders.
5/16-in.-thick by 24-in.-high cast moldboard with a flush-mounted, 6-in. reversible cutting edge
6- to 8-ft. cast blade widths or 9-ft. blades welded with rolled moldboard
Hydraulic angle and tilt control
30° hydraulic blade angle left and right and 10° tilt
Adjustable skid shoes standard
Fits loader quick attach
Grouser Products
AP Cold Planers
These heavy-duty planers are equipped with high-torque, direct-drive motors.
Four-wheel front down design and center pivot eliminates bouncing and reduces noise and dust
Electric or hydraulic control options
All models pre-drilled for water kits
12 to 48-inch width sizes available
Patented design eliminates re-milling
Coneqtec / Universal
DB Series Scrapers
The "Dump Bowl" towable dirt scrapers are available in 4-, 5- and 6-ft. cutting widths and will carry from .9 to 1.3 cu. yds. of material.
Trunnion-style hitch and gooseneck frame provide for up to 90° turns with 30° of oscillation
Material can be spread thin or stock piled with full control of the bowl dump angle and blade height
Segmented frost bit-style cutting edge increases penetration in hard soil, while maintaining a flat cut
Can be pulled behind a 35- to 50-hp tractor
Hoelscher, Inc.
Ground Hog 2500 Scraper
The Ground Hog 2500 scraper attachment mounts to the universal quick attach of 70-hp and larger compact track loaders, or skid steers with steel tracks.
Suitable for finish grading, backfilling curbs and retaining walls, spreading topsoil, fine grading building pads and more
2.5-cu.-yd. heaped capacity
Front oscillating beam allows 38° of rotation for uniform cuts even on uneven ground
Oscillating front beam and large caster shoulder the larger portion of the weight, minimizing stress on loader arms
Ashland Industries Inc.
Model 210 Twin Vertical
The completely pneumatic Model 210 Twin Vertical concrete drill attachment is compatible with most skid steers and compact loaders for applications such as pulling patches, slab-jacking and under sealing.
Contains two adjustable vertical drills capable of drilling holes between 3/4 and 2 1/2 in. in diameter to a maximum drilling depth of 17 in.
Drill spacing adjusts from 5 to 10 ft. on center
Feed system includes an angular adjustment to allow drills to be positioned between 90° and 45°
Includes a remote for in-cab control
E-Z Drill, Inc.
PL and PLB Cold Planers
Simex offers asphalt and concrete cold planers to be matched with skid-steer loaders, loaders, backhoe-loaders and excavators.
Simex s.r.l.
Upgraded Grading Blade
Improvements to the grading blade include lowering of the mounting plate to facilitate opening the cab door, eliminating the trip bar on the skid-steer mounting plate and adding a step to ease entry to the cab.
Heat-treated wear pads added to corners of skid bars for extended life
Operate on 5 1/2- or 6-ft. skid bars
Side panels eliminate windrows
Twin blades operate on a slight angle to eliminate washboarding
Optional serrated cutting edge
Roadrunner Construction Equip
Vibratory Roller
EDGE vibratory rollers are available in 73- and 84-in. smooth or padded drums for compacting everything from clumpy, clay-type material to asphalt, dirt, sand, gravel or backfills.
Specially designed scraper wards off material buildup
Heavy-duty motor mounted outside the drum
Standard flow-control valve
Feature universal skid-steer mount, hoses and hydraulic flat-faced coupler
Produce compaction energies up to 130 in.-lbs.
CEAttachments Inc.