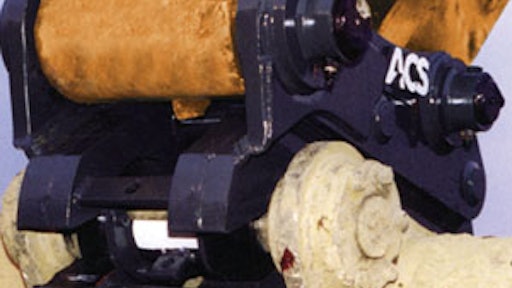 ACS Hydraulic Excavator Couplers
The ACS coupler locks by rotating the locking mechanism around the front bucket pin, increasing operator visibility and creating a safer work environment.
Low tip radius extension
Fully controlled from operator's compartment
Installation includes an audible alarm and pilot-operated check valve kit on locking cylinder
WagMann Wedgelock Pin Grabber Coupler
WagMann offers mechanical and hydraulic versions of its wedgelock pin grabber excavator coupler.
3,000- to 150,000-lb. available
Accommodates multi-pin centers
Mechanical can be quickly and easily upgraded to hydraulic
Werk-Brau Q-Tach Coupler System
The Q-Tach hydraulic coupler is available for most loader-backhoes from 14 to 19 ft. and most mini-excavators.
Enables quick, easy attachment changes without operator leaving the cab
High-strength steel used throughout with hardened bushings at all pivot points and hardened pins
Operates off a standalone independent hydraulic system
Stanley LaBounty Rapid Tach III
The Rapid Tach III quick-change coupler is approved to work with LaBounty mechanical attachments, including concrete pulverizers, shears, grapples and Universal Processors.
Tensioned wedge-locking device provides added force to maintain a tight fit for reduced pin wear
Safety latch prevents wedge from sliding out if locking device is unintentionally removed
Rapid Latch Mounting Pad allows easy attaching and removing of attachments utilizing stiff arms
Rockland ER Rocklock
The Rocklock hydraulic excavator couplers are fully automatic, so the operator never has to leave the cab when changing attachments.
Picks up attachments bracketed for different machines and enables attachment use in reverse position
Can be used with various machines regardless of make
Locking mechanism always visible from the cab
John Deere Hydraulic Quick Coupler
The Worksite Pro hydraulic quick coupler allows for quick pickup and switching between backhoe-loader attachments.
Designed for Deere 310G, 310SG, 410G and 710G backhoe-loaders
Single floating hydraulic cylinder
Control switch center mounted on front console
Kenco WedgeBolt Coupler System
The WedgeBolt Coupler System allows interchanging of attachments between all brands of excavators.
Installation and removal in under five minutes via two bolts
Easily adapts to fit any attachment
Maintains excavator breakout force and bucket tip radius
Hendrix II Quick Coupler
The Hendrix II coupler is available for excavators from 20,000 to 100,000 lbs.
Rotating locking mechanism incorporates a double-acting cylinder with check valve and integrated compression spring
Includes mechanical lock pin as redundant safety feature
Cast components in high wear areas
Liebherr LIKUFIX System
The LIKUFIX quick-coupler system is based on two connecting components attached to the existing Liebherr quick-coupler adapter and the hydraulic attachment.
All hydraulic connections made automatically for attachment changes within seconds without leaving the cab
For mechanical and hydraulic attachments fitted with quick-coupler adapter sizes 48 to 66
Suited for machines with 26,450- to 88,160-lb. service weights