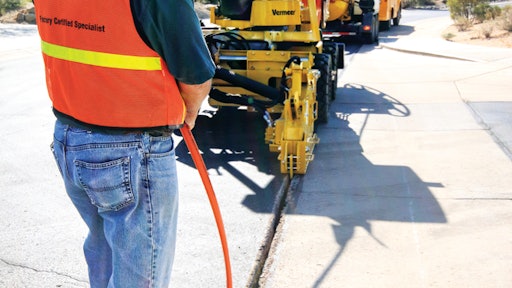 The growing popularity of microtrenching for fiber optic installations has a direct correlation to our society's thirst for data.
"The demand for bandwidth in urban areas is increasing dramatically," says Jon Kuyers, engineering and product manager, Utility Products, Vermeer Corp. "We want instant data and large volumes of it quite quickly. The infrastructure that currently exists today, while decent, isn't quite meeting what is currently occurring and the demand that is forecast."
Consequently, more and more fiber optic lines are being installed. Since much of it is being placed in congested urban areas, contractors are turning to less disruptive, more cost-effective methods of installation.
One such method is microtrenching. "Microtrenching has become popular mostly for two reasons," says Jason Proctor, heavy trencher product manager for the Ditch Witch organization. "In certain conditions, it is a more cost-effective method of installation. And it can be the only solution at times. Environmental limitations may prevent installation in the right-of-way or absence of right-of-way. It can be a bridge-gap between other forms of installation, such as directional drilling or plowing."
A narrow focus
Unlike traditional trenching, which is primarily used in soil and may cut to 4 ft. deep and 4 to 8 in. wide, microtrenching, as the name implies, is used to cut a narrow, shallower trench, generally from about 3/4 to 2 in. wide and to a maximum depth of about 12 in., although some attachments can go as deep as 24 in.
"Originally, microtrenching involved a process where a narrow, 1- to 1 1/2-in. trench was cut in a street to a depth of only 2 in.," recalls Gary Cochran, president, Coneqtec group of companies. "This utilized the actual base course of asphalt to support the cut and only cut through the top or wear course of the road.
"In many locations," he continues, "a deeper cut is now being specified because the... shallow cut can be vulnerable during road surface repairs and other circumstances."
"The intent is to trench deep enough to get underneath the solid upper layer, but shallow enough to stay above installation depths of existing utilities," Proctor explains. "The target zone is 6 to 12 in. in depth and up to 1.5 in. in width." However, depth and width will vary depending on the project requirements.
Microtrenching is primarily used to install fiber optic cable or conduit, though as Kuyers notes, "There could be potential for street lights or parking lot lighting."
Most cuts are made in asphalt. However, the Ditch Witch MT12 microtrencher, which can be mounted to either a 45- or 62-hp utility tractor, has been used successfully in some concrete applications, Proctor points out.
The core elements of a microtrenching system include the carrier, a microtrencher attachment and a vacuum system to clean up spoil. A reel carrier option may also be available.
This configuration allows for increased equipment versatility and utilization. "You can take the attachment off quite quickly and configure [the tractor] with a different attachment if there is other work that could be accomplished," says Kuyers.
Coneqtec-Universal offers two microtrenching attachments for use on skid steers. Both can be easily swapped out with other attachments as needed. "The value of these products... is that a 1 1/2-in.-wide microtrench can be cut by the first skid-steer attachment, and then exchanged with a second attachment on the same skid steer that mills to complete a 'T' cut (T-shaped repair)," says Cochran. "This provides a simple, one-machine solution for the microtrenching fiber-to-the-premises process."
Lower-cost option
Fishel Company, based in Columbus, OH, is a 75-year-old utility contractor specializing in water, sewer, gas, telephone and fiber optic installations. With 20 offices in 11 states, "Team Fishel" employs more than 1,100 teammates.
The company is using a Vermeer MTR12 microtrencher attachment on a project in and around Scottsdale, AZ. (See "Microtrencher Speeds Fiber Installation".) Kwigs Bowen, area manager of Team Fishel's office in Chandler, AZ, compares the advantages of microtrenching to the advent of rocksawing a couple decades ago.
"Back in the 1980s, [they] used rocksaws all over the country to install cable TV services," he says. "Microtrenching is kind of like a mini-rocksaw, because we are cutting a small trench with the microtrencher cutter wheel, then installing a small duct product and putting a microfiber cable in that product.
"Microtrenching helps reduce initial capital costs of the construction, and we can roll it out very quickly," he continues. "Production has been faster than traditional construction, so we can provide the service at a lower cost and with less disruption."
"Installation costs of cutting the trench are quite low compared with other methods," agrees Proctor. "The largest variable is restoration cost, and is job dependent. Restoration methods vary from re-using the spoils from the trench and capping with cold patch, to partially filling the trench with flowable grout and sealing with an overlay."
While restoration is still a factor, it is significantly less so compared to other methods. "If you use a traditional rock wheel or trenching system, you're going to create a lot more damage to the infrastructure," says Kuyers. "It's going to be a lot slower process and a lot more restoration."
Another advantage of microtrenching is the ability to cut above utilities in most cases. "That way, you don't have to pothole every utility crossing that you run into," Kuyers comments. "That saves an inordinate amount of time in cutting a patch out, using a vacuum to expose the utility and then backfilling it - and then you have the potential for a pothole."
That said, he advises, "Even though microtrenching cuts above the normal depth of utilities, we recommend that contractors work with One Call and ensure all of the utilities are identified. This will help save time and money in the long run in case a line was not placed at the correct depth."
Slim Lines Trenching Ltd has seen the benefits of cutting a narrower, shallower trench on a recent project in George Town in the Cayman Islands, located roughly 500 miles south of Miami in the Caribbean. Working at night, the company installed approximately 17,000 ft. of telecommunications conduit in just four months using a Ditch Witch RT45 with MT12 attachment and an FX60 vacuum excavator. (See "Small Start Brings Big Results".)
"We did two cuts on this project. One was 3/4 in. wide and 12 in. deep, and that was about 13,000 ft.," says Richard Corbin. The second cut, measuring .95 in. wide by 12 in. deep, made up the remainder of the footage, allowing for two conduits to be placed side by side for increased capacity.
"One of the reasons 12 in. was chosen - not only by the infrastructure contractor, but the telecom and the National Roads Authority here - is that all other utilities are deeper than 12 in.," he explains. "So crossings were not as much of an issue. There was reduced risk of interfering with or even severing any of the existing utilities."
It also provided maximum coverage for the conduit being installed. "It gave the telecom piece of mind that they had adequate coverage," says Corbin. "The conduit that we installed is 4 in. tall, so we ended up with 8 in. of cover. Any major road work that takes place normally would be only 4 to 6 in. deep."
A narrower, shallow trench meant restoration, using EZ Street cold patch, was completed quickly, with minimal disruption to the surrounding community. Oftentimes, local business owners weren't even aware the installation had taken place. "I had business associates and friends of mine say, 'When are you coming down in front of our building?' and I would say, 'Well, we did that a week ago or two weeks ago,'" notes Corbin. "They just didn't notice."
Know what you're getting into
Clearly, microtrenching offers a number of advantages. However, it's important to understand all of the variables involved before you start pursuing microtrenching projects.
"If a contractor bids on a microtrench job, they need to understand what's underneath the road and what the road is made of," says Kuyers. "If they bid it thinking it's 4 in. of asphalt and there is 4 in. of asphalt and 8 in. of concrete, they're going to be in big trouble. They need to know what kind of conditions they're going to be operating in."
The pavement materials can negatively impact the cost per foot. For example, harder or more abrasive materials can wear the blade or teeth more quickly, slowing the cutting process and reducing productivity. "Some teeth will cut faster than others, but they will also dull faster," says Kuyers. "When that happens, you have to replace the wheel more often and that slows the process down."
The condition of the subbase is another factor. "If it's very loose, the vac is going to fill up faster and you're going to undermine your cut," Kuyers cautions. "It will also equate to how much backfill material you will need. If you cut this narrow trench and the subbase is porous, you have to fill up twice the space than you were originally planning on. All of a sudden, the grout costs went from, say, $1 per foot to $2 per foot."
Backfilling is perhaps the most challenging part of microtrenching. "Some contractors think they can just backfill with any type of concrete mix," says Kuyers. "If you don't have the right type of grout, it will be difficult to work with and the grout could start cracking out and create problems with the road. You have to make sure you have the right mix with the right compressive strength."
Other things to consider include permitting requirements, restrictions set in place by the municipality and expectations from both the project owner and the surrounding community. "I've seen a job where a contractor cut down the middle of the road and he was all over the place... This was a private subdivision and there were a lot of people who were really upset," says Kuyers. "Those kinds of occurrences put a bad name on microtrenching. The contractor has to be really concerned about the quality of the job that they do."
So do your homework before you add microtrenching to your arsenal. "From a utility contractor's standpoint, this is one more tool in the tool belt. It's not going to be the best [solution] for everything," Kuyers states. "It's just another tool you can use to perform work cost effectively, and maybe less expensively, than other methods of utility construction."